Sommaire :
La série Franklin U
La série Franklin U est une série de 8 romances, chacun consacrée à un couple (gay) différent, qui se déroule dans la ville fictive californienne de San Luco.
Chaque tome est écrit par une autrice différente et peut être lu dans n'importe quel ordre. Vous pouvez retrouver la totalité des tomes, leurs résumé et mon avis, par ici :
La version originale : Making Waves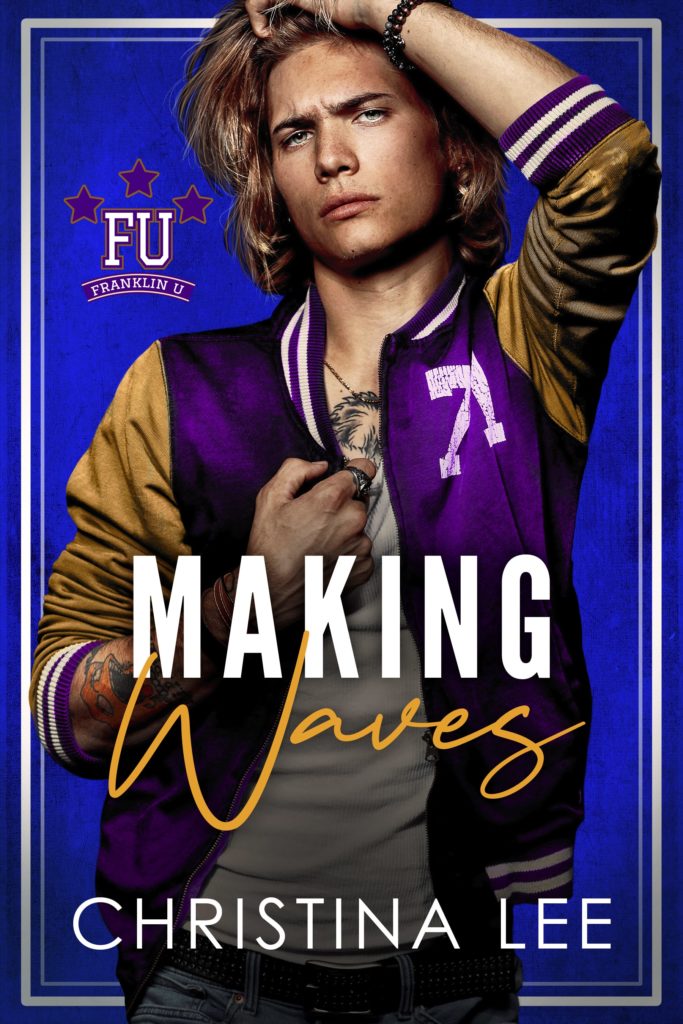 Alex Larsen
Remy Duval was my high school crush and secret first kiss, but he's also so much more. A painter, a tattoo artist, my best friend Bailey's older brother…and Bailey's sworn enemy. It was easier to keep my distance the past two years, but now that Bailey and I are attending Franklin University with him, I'm only drawn to Remy more. I should be loyal to my best friend, focus on classes and swim team, but the more I see Remy around campus, the harder it becomes to stay away.
Remy Duval
My brother hates me, but that's no surprise. I'll take the fall for ruining our family if it means doing the right thing. But as soon as my brother and his best friend show up on campus, I know I'm in trouble. Alex is all grown up, and I can't help wanting him, especially when he's in those tiny swim briefs that emphasize everything.
One kiss leads to more, and before we know it, we're tumbling into secret, no-strings-attached hookups. But who knew Alex would understand me in ways few others have? And I think, just maybe, I understand him too.
I keep telling myself it's temporary. Alex doesn't want to disappoint his best friend, and after what my parents went through, I'm not looking to settle down. Making waves is nothing new, but the further I fall, the more I drag Alex in the deep end with me.
La version française
Ce roman n'est pas encore traduit en français.
Mon avis
★★ 2,5/5
Je me suis lancée dans ce roman sans avoir particulièrement d'attentes mais il s'agissait d'un trope "Brother's best friend", un scénario que j'aime beaucoup d'ordinaire. Et malheureusement, j'ai trouvé ce roman loupé… Je m'explique ! Je vais essayer de ne pas trop spoiler mais c'est un peu compliqué si je veux illustrer mes propos.
On est ici sur une romance entre Alex et Remy, Alex est le meilleur ami de Bailey, le petit frère de Remy, or, Bailey en veut énormément à son frère depuis deux ans. Quand on apprend la raison pour laquelle Bailey est en colère contre son frère, on s'aperçoit que c'est complètement stupide. Et cela ne mérite absolument pas 2 ans de relation tendue.
Bailey apparaît comme un personnage obstiné et capricieux, et leurs parents, tout du moins leur mère, aurait du remettre les points sur les "i" bien plus tôt concernant son comportement qui n'est absolument pas normal. Vous l'aurez compris, il y a un problème de réalisme sur ce différend entre les deux frères. Bailey se retrouve à être une ombre sur la relation entre Alex et Remy et on a l'impression d'avoir presque plus de scènes avec lui qu'entre Remy et Alex. Toute l'histoire du roman semble tourner autour de Bailey. Centrer tout un roman sur un personnage secondaire très peu attachant et une problématique un peu bancale ? Mauvaise idée.
Deuxième point qui m'a gênée, j'ai eu l'impression de lire un roman en accéléré. Pas forcément parce que l'histoire d'amour allait trop vite mais parce que tout est raconté comme en avance rapide. C'est comme si tout était superficiel, l'autrice aborde une idée sans jamais la creuser. On passe du coq à l'âne d'un paragraphe à un autre, j'ai du relire certaines pages car j'avais l'impression d'avoir sauté une partie. Cette façon d'écrire ne permet pas de s'attacher aux personnages ni de s'intéresser vraiment à leur histoire.
Le pire ? La fin du livre. En deux chapitres, l'autrice crève l'abcès sur des années de tensions dans la famille d'Alex ET dans la famille de Bailey et Remy. Et si on ajoutait une dispute entre Remy et Alex pour marquer le tournant décisif du roman ? Allez, on n'est plus à ça près !
On a parfois l'impression que Christina Lee a une liste d'éléments à intégrer dans son roman qu'elle coche au fur et mesure. Mentionner Levi dans l'épilogue ? Check ! Je n'ai même pas compris ce que ça venait faire là, ça tombe comme un cheveu sur la soupe, cela n'apporte strictement rien.
Tout va tellement vite qu'on a à peine le temps de comprendre ce qui s'est passé et les associations d'idées qui ont conduit à l'enchainement des dialogues. Remy et Bailey parlent de leur père avec un élément qui est présenté comme une grande révélation alors que je pensais que tout le monde le savait depuis le début et ça enchaîne (dans la même discussion) sur la relation Remy et Alex avec Bailey présent. C'est à vous donner le tournis.
Bref tout ça pour dire que ce roman est définitivement celui que j'ai le moins apprécié de toute la série. Il se lit vite mais je n'ai franchement eu aucun attachement pour les personnages et l'histoire n'a pas de sens. J'avoue ne jamais avoir lu de romans de cette autrice donc je ne sais pas si c'est son style habituel ou non. En tout cas, j'espère qu'il vous aura plus d'avantage à vous !
J'ai de grands espoirs pour le dernier tome, j'espère vraiment qu'il sera au niveau du tome 6, Learning Curve, qui lui, était très réussi !