Sommaire :
La version originale – Unhinged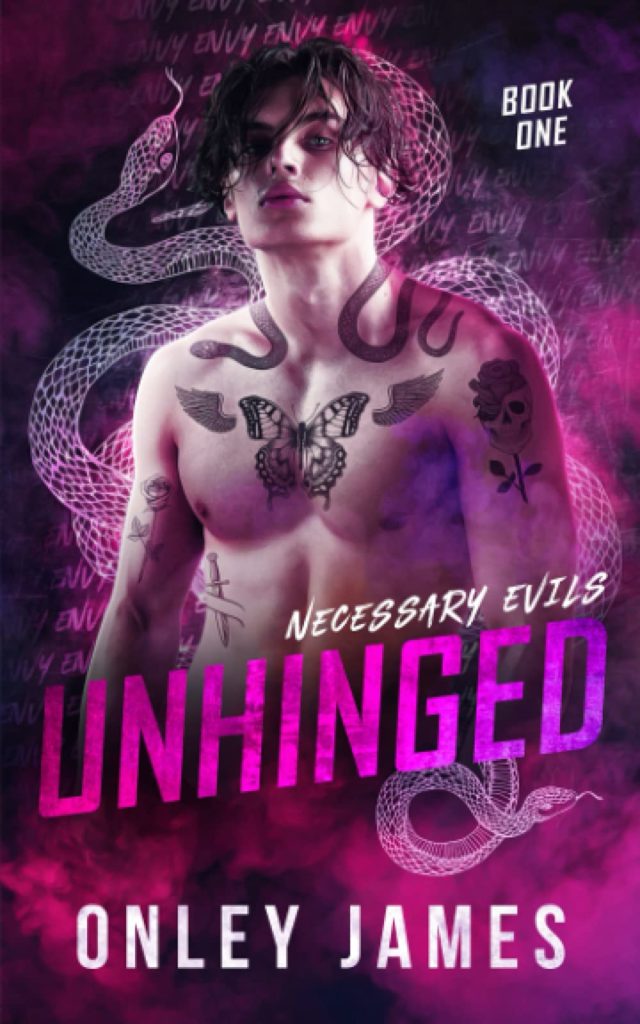 Adam Mulvaney lives a double life. By day, he's the spoiled youngest son of an eccentric billionaire. By night, he's an unrepentant killer, one of seven psychopaths raised to right the wrongs of a justice system that keeps failing.
Noah Holt has spent years dreaming of vengeance for the death of his father, but when faced with his killer, he learns a daunting truth he can't escape. His father was a monster.
Unable to ignore his own surfacing memories, Noah embarks on a quest to find the truth about his childhood with the help of an unlikely ally: the very person who murdered his father. Since their confrontation, Adam is obsessed with Noah, and he wants to help him uncover the answers he seeks, however dark they may be.
The two share a mutual attraction, but deep down, Noah knows Adam's not like other boys. Adam can't love. He wasn't born that way. But he refuses to let Noah go, and Noah's not sure he wants him to.
Can Adam prove to Noah that passion, power, and protection are just as good as love?
La version française
Ce roman n'est pas encore traduit en français.
Mon avis
★★★★ 4,5/5
Avec Necessary Evils, Onley James raconte l'histoire de la famille Mulvaney, une famille atypique composée de psychopathes (oui oui diagnostiqués psychopathes), où chacun vit une double vie.
⚠️ Attention, cette série est une série étiquetée "Dark Romance" et parle de nombreux thèmes difficiles : pédophilie, meurtre, viol, abus, victimes non crues et aidées etc. Si vous êtes sensibles à ces sujets, pensez à vérifier les triggers warnings avant de vous lancer dans la lecture des différents tomes.
Dans le cas de Unhinged, les triggers warnings sont les suivants : violence graphique, mentions de pédophilie (dans le passé).
Toute la série Necessary Evils est assez unique dans le sens où il est rare de trouver des Dark Romances avec des personnages qui ont autant d'alchimie. Les scènes de sexe ne sont pas du tout "vanilla" et pourtant on ne doute pas un seul instant des sentiments entre les deux personnages principaux.
Dans Unhinged, on suit l'histoire de Adam Mulvaney et Noah dont la rencontre a lieu quand Adam tue le père de Noah. Un début d'histoire peu commun… Pour un roman très prenant… Totalement peu commun. Ce roman est vraiment très insta-love mais le personnage de Adam est tellement intense que ce n'est pas dérangeant. Etant un psychopathe, Noah devient rapidement son obsession et ils se créent leur petite bulle.
Un des éléments que je préfère dans cette série ? Les interactions de cette famille hors norme qui viennent justement percer la bulle de Noah et Adam. La famille Mulvaney au sens large se compose de fortes personnalités, ils sont tous plus ou moins cyniques, blasés et complètement hermétiques à certains sentiments comme la culpabilité. Ils torturent et tuent comme certains prendraient le thé. Et ça donne un côté "léger"à chacun des tomes.
Ce qui manque pour donner 5 étoiles à Unhinged ? Ce premier tome contient des scènes de sexe plutôt hardcore, un peu violentes (mais toujours consentantes) qui ne sont pas ma tasse de thé (je file la métaphore) et que j'ai envisagé de sauter vers la fin du livre. Mais c'est totalement en adéquation avec les personnages !