Sommaire :
La série Franklin U
Franklin U, c'est une nouvelle série qui rassemble les meilleurs auteurs de M/M Romance (oui c'est subjectif). Chaque roman est écrit par un auteur différent et centré sur la relation entre deux personnages. On peut lire chaque tome dans n'importe quel ordre.
Les personnages sont tous scolarisés à Franklin University et gravitent les uns autour des autres. 8 tomes sont prévus et sortent chaque semaine pendant 8 semaines, du 25 août 2022 au 13 octobre 2022.
La version originale – Playing Games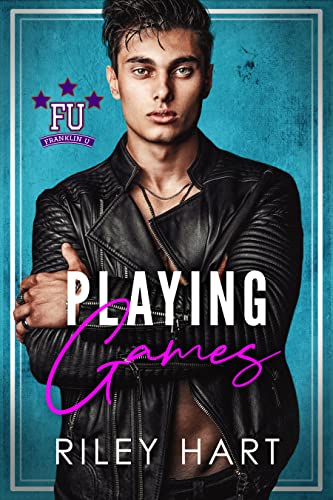 Brax
Tyson Langley thinks the king in Franklin University Kings is in reference to him. Star lacrosse player and God's gift to the female and male population, there's nothing the spoiled jock can't have.
It's impossible for us to be in the same room without talking crap to each other. But I also have a secret… As much as I despise Ty, I want him too. I revel in our banter and in never knowing what he'll say next.
I've spent too much time on the wrong side of the law for someone like Ty, though, and if I want to make it through college and escape my past, he's a distraction I don't need.
Ty
Braxton Walker needs to learn to lighten up. If you search brooding online, his name pops up. He's the bad boy with a leather jacket and a scowl. We couldn't be more different.
Finding ways to annoy him is like the longest foreplay session of my life. And when we end up working together, it gets harder to deny how hot he makes me.
What's a little hooking up between enemies?
We weren't supposed to become friends or share secrets. We weren't supposed to understand each other and all the complicated stuff we're going through.
I'm used to playing games, only the more time I spend with Brax, the less it feels like playing around and the more it becomes something real.
La version française
Ce roman n'est pas encore traduit en français.
Mon avis
★★★★ 4/5
Ce premier tome de Franklin U laisse présager de jolies choses. On retrouve ici une histoire d'opposés attirés inexorablement l'un vers l'autre. Ils sont tous les deux attachants et j'ai beaucoup aimé leur dynamique et leurs échanges.
En somme c'est une lecture assez simple, pas forcément mémorable mais qui met de bonne humeur. Les deux personnages sont bien écrits, on a un petit aperçu des personnages à venir dans les tomes suivants. Ils m'ont un peu fait penser à Bailey et Chad dans "Frat Wars: King of Thieves" de Saxon James (même si j'ai préféré King of Thieves).
C'est un roman qui se lit très vite, idéal pour oublier son quotidien le temps de quelques heures. Je n'avais pas lu de romans dans l'univers universitaire depuis un petit moment donc j'étais contente de retrouver ce cadre.
En revanche, je suis actuellement dans la lecture du tome 3 et j'avais déjà oublié les prénoms des deux personnages du tome 1 donc je pense que je ne garderai pas vraiment ce roman en mémoire.
Et vous, avez-vous commencé cette série ?