Sommaire :
La version originale – The Damning Stone (Tales from Verania #5)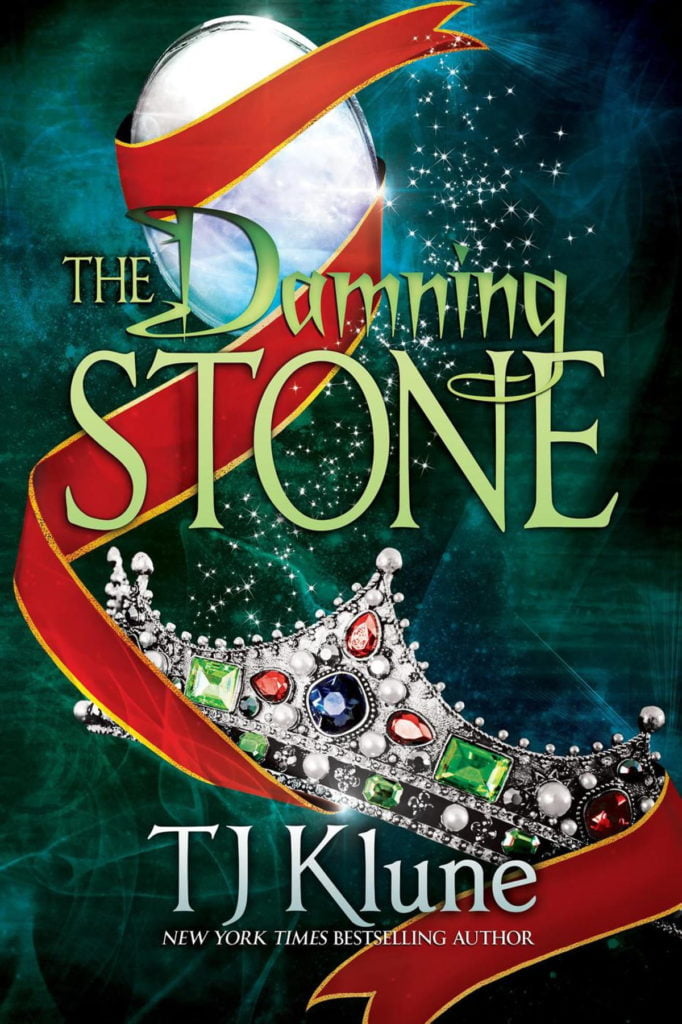 A year has passed since the Dark Wizard Myrin attempted to take control of the Kingdom of Verania. Though the scars of the final battle remain, Veranians have come together in unity in order to rebuild. Good King Anthony sits on the throne once more, with Morgan of Shadows at his side.
However, a king is not immortal. One day, Anthony will step down, paving the way for his son, Grand Prince Justin, to assume the throne.
And Justin wants anything but.
Unfortunately for him, he finds himself with bigger things to worry about than just becoming the ruler of a country. At the celebration of the might of Verania and its people, a delegation arrives, led by a man who calls himself a magician. This man represents the King of Yennbridge, who has come to claim what was promised to him years before: the hand of the firstborn son of the King and Queen of Verania.
With his ridiculous friends at his side—Sam, Ryan, Kevin, Gary and Tiggy—Justin sets out to make the visiting king's life a living hell. Which, of course, backfires spectacularly, and when the dust settles, Justin finds his friends changed in ways he can't expect, leaving him standing alone.
Except he's not as alone as he thinks, given the King of Yennbridge will do anything to prove he's worthy of the frozen heart of the Ice Prince.
Prince Justin has finally met his match.
Let the games begin.
La version française – La Pierre Maudite (Les Contes de Verania tome 5)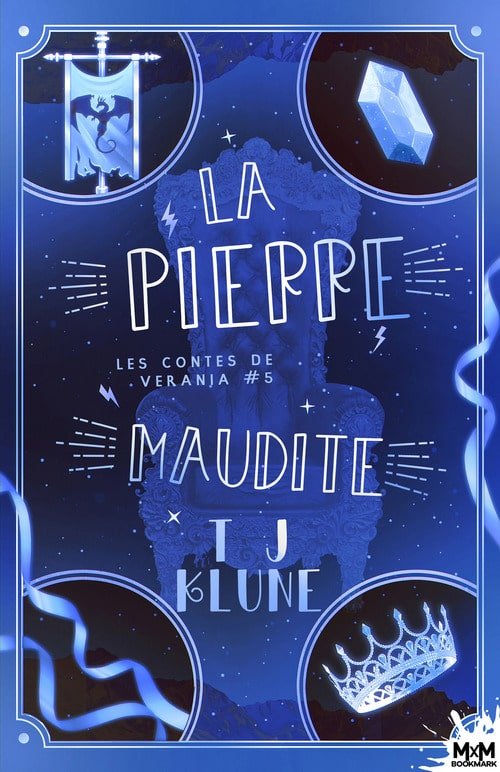 Le Prince Justin n'a aucune envie d'épouser le Roi de Yennbridge, et il compte bien lui faire vivre un enfer pour le décourager. Mais il n'avait pas prévu que le Roi soit déterminé à lui prouver qu'il est digne de lui…
Une année s'est écoulée depuis que Myrin, le sorcier Obscur, a tenté de s'emparer du Royaume de Verania. Bien que les cicatrices de cette ultime bataille demeurent vives, les Veraniens s'unissent afin de tout reconstruire. Le Bon Roi Anthony est de nouveau assis sur son trône, secondé de Morgan des Ombres.
Néanmoins, un roi n'est pas immortel. Un jour, Anthony se retirera et laissera la place à son fils, le Grand Prince Justin, qui prendra alors le pouvoir.
Et c'est la dernière chose que Justin souhaite.
Malheureusement pour lui, devoir diriger un pays est le cadet de ses soucis. Lors de la célébration de la puissance de Verania et de son peuple, une délégation menée par un homme qui se prétend magicien fait son entrée. Cet homme représente le Roi de Yennbridge et est venu réclamer ce qui lui a été promis des années auparavant : la main du premier fils du Roi et de la Reine de Verania.
Aidé de ses amis, Justin entreprend de faire de la vie de ce roi un enfer. Ce qui, bien sûr, se retourne remarquablement contre lui. Et, quand la situation s'apaise, Justin découvre que ses amis ont changé d'une manière qu'il n'aurait pu prévoir. Il se retrouve donc seul.
Enfin, pas aussi seul qu'il le croit, puisque le Roi de Yennbridge fera tout son possible pour prouver qu'il mérite le cœur gelé du Prince de Glace.
Le Prince Justin a enfin rencontré son égal.
Que la partie commence.
Mon avis
★★★★ 4/5
J'attendais ce roman depuis le tome 3 avec la plus grande impatience. Je mourrais d'envie d'en savoir plus sur Justin et surtout de rencontrer sa future moitié. Et je dois dire que, si j'ai apprécié ce roman, ce n'est pas vraiment ce que j'attendais.
Je vais commencer par les quelques points qui font que je n'ai pas mis 5/5 à ce tome. J'ai lu tous les tomes les uns à la suite des autres donc on va dire que je suis bien immergée dans l'histoire et ses personnages. Je n'ai toutefois pas toujours reconnu Justin dans ce tome. Il a toujours été très pudique dans l'expression de ses sentiments et relativement détaché, ce qu'on ressent bien dans ce roman mais j'avais tout de même l'impression d'avoir un personnage totalement différent en particulier dans sa relation avec Sam. C'était un virage peut-être un peu trop conséquent pour moi même si c'est plutôt bien amené.
Ce qui m'amène au point le plus important de ce tome. Je m'attendais à la construction d'une histoire d'amour contre laquelle Justin allait s'opposer corps et âme et j'attendais ça avec impatience. Et en fait… Pas du tout. J'ai eu un peu de mal avec le côté "choisi" de la relation amoureuse, comme si les deux personnages optaient pour une solution de facilité. C'est aussi en ça que je n'ai pas reconnu Justin, j'aurais aimé plus de combativité de sa part. On ressent leur complicité mais j'ai trouvé que Justin avait presque plus de pensées et de scènes avec Sam, que de moments avec Dylan. C'est un tome qui est bien plus centré sur la relation Sam <> Justin que sur Dylan <> Justin. Cela étant, j'ai lu ce tome en pensant qu'il serait le dernier de la série, ce qui n'a pas l'air d'être le cas vu l'épilogue. C'est une très bonne nouvelle car je pense qu'on a à peine les prémices d'une relation Dylan <> Justin, il faut qu'elle s'approfondisse.
Voilà pour les points qui font que je n'ai pas mis la note maximum à ce tome. Cependant, il y a des éléments qui font de ce tome un vrai plaisir en particulier la raison pour laquelle Justin doit se reposer sur Dylan. C'était une idée absolument géniale de la part de TJ Klune, cela donne des scènes à la fois drôles, émouvantes et tellement mignonnes. J'ai hâte de voir ce que nous réserve le tome 6 ! Je retrouverai Sam, Justin et toute leur bande avec grand plaisir ❤️