Sommaire :
La version originale – Power Plays & Straight A's (CU Hockey #1)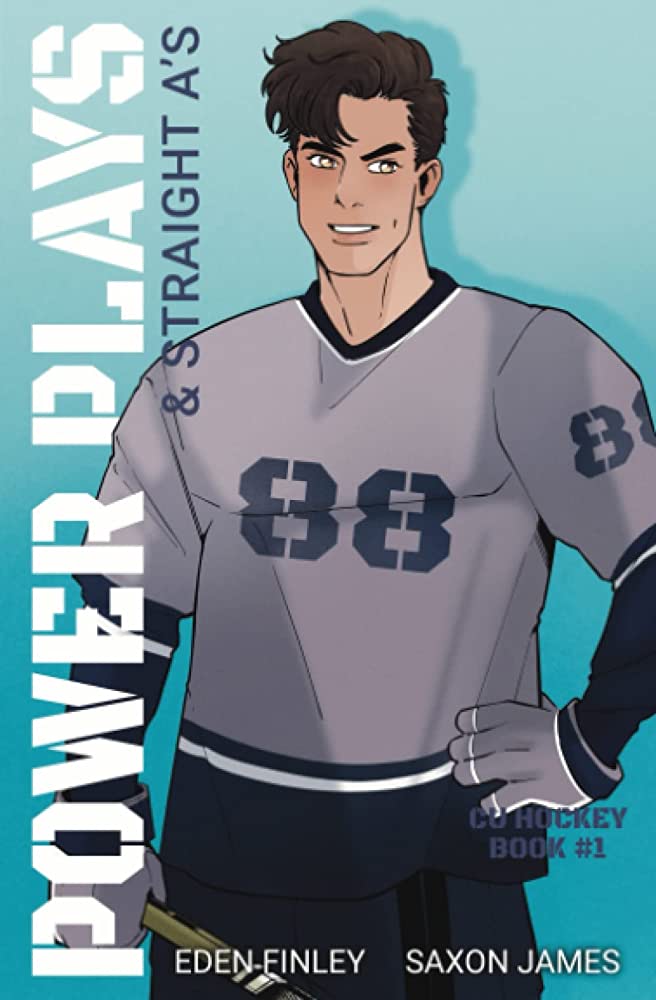 FOSTER
"Look out for Zach and don't hit on him."
My brother's request sounds easy enough. Keep an eye out for his best friend on campus and keep my hands to myself.
Easy.
Even if Zach is a quintessential nerd, who I've always thought was cute, I don't have the time to think with my … stick.
There's only one stick I should be focused on this year, and that's my hockey stick. My goal once I graduate is to get an NHL contract.
The last thing I need is a distraction. On or off the ice.
Only, keeping to the rules is harder than I thought it would be.
ZACH
People confuse me.
And no one more than Foster Grant.
I've barely spoken two words to him in the whole time I've known him, but the second I step foot on campus, he's impossible to shake.
I can never anticipate his next move. And whenever we're together, my next move is a total mystery as well.
I want to give in to him, but that might mean coming clean about something I've never been bothered about before.
I'm still carrying my V-card.
And I think it's time to turn it in.
La version française
Ce roman n'est pas encore traduit en français.
Mon avis
★★★ 3,5/5
Ce premier tome nous plonge dans l'histoire d'amour entre deux étudiants que tout oppose : Foster, un joueur de hockey bien parti pour entrer en NFL et Zach, le geek / intello plongé à 200 % dans ses études.
Zach est le meilleur ami du frère jumeau de Foster, Seth. Lorsque Zach change d'université, Seth demande à Foster de s'assurer que tout se passe bien pour lui dans sa nouvelle école.
C'est une histoire très bienveillante.
Les deux personnages sont aux antipodes l'un de l'autre.
Foster a un côté un peu "parfait", il est sportif, gentil, intelligent, populaire et assume complètement sa bisexualité. Il est aussi extrêmement attentionné auprès de Zach.
Zach de son côté est très dans son univers au point parfois d'être trop plongé dans ses études et de passer à côté de sa vie. Les relations et interactions humaines sont parfois compliquées à comprendre pour lui.
Si j'ai apprécié l'histoire, je n'ai pas poursuivi sur le tome 2 tout de suite, j'ai repris cette série plusieurs mois après. Foster était pour moi un peu trop parfait et Zach peut être trop stéréotypé. Je crois que je m'étais fait une idée de ce que j'attendais de cette histoire avant de la lire et je n'ai pas trouvé ce que je cherchais.
Si leur histoire est fluide, elle est assez "fade" à mon goût. Je ne sentais pas toujours la complicité entre les deux, je ne suis toujours pas sûre que le couple fonctionne dans mon imagination. Ce n'était pas une mauvaise histoire mais ce n'était pas particulièrement mémorable.
Cela étant, c'est une lecture plaisante et les tomes d'après gagnent à être connus. Une fois que j'ai eu le tome 2, j'ai enchaîné les 3 tomes suivants et j'attends le 5° avec impatience.
J'ai tout de même du relire en diagonale le tome 1 pour rédiger mon article, j'avais un peu oublié ce qui se passait dans ce premier volet.