Sommaire :
La version originale – Yours Truly (Part of Your World #2)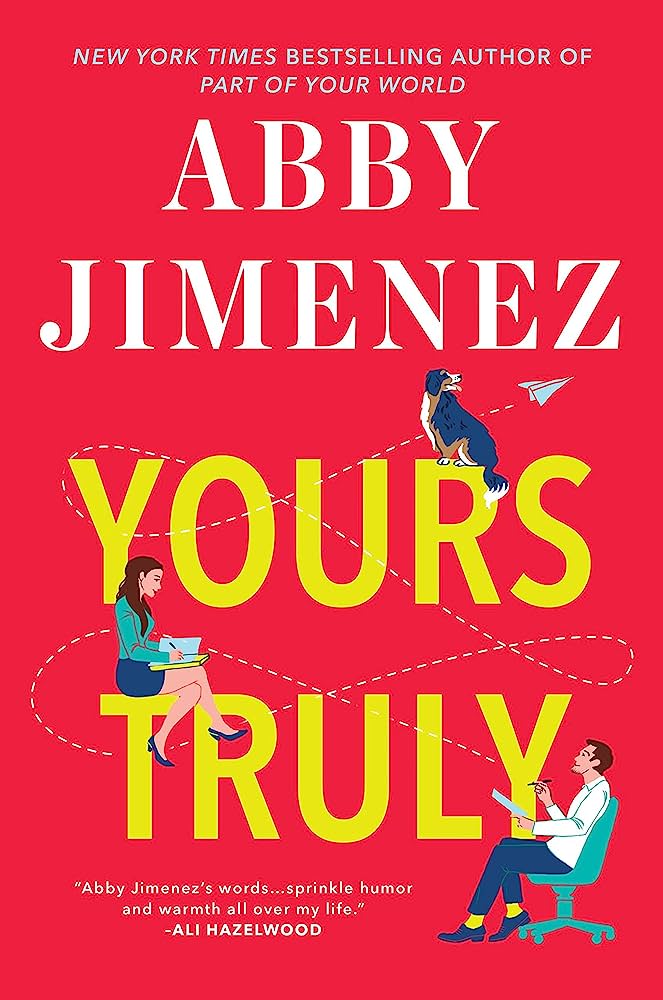 A novel of terrible first impressions, hilarious second chances, and the joy in finding your perfect match.
Dr. Briana Ortiz's life is seriously flatlining. Her divorce is just about finalized, her brother's running out of time to find a kidney donor, and that promotion she wants? Oh, that's probably going to the new man-doctor who's already registering eighty-friggin'-seven on Briana's "pain in my ass" scale. But just when all systems are set to hate, Dr. Jacob Maddox completely flips the game . . . by sending Briana a letter.
And it's a really good letter. Like the kind that proves that Jacob isn't actually Satan. Worse, he might be this fantastically funny and subversively likeable guy who's terrible at first impressions. Because suddenly he and Bri are exchanging letters, sharing lunch dates in her "sob closet," and discussing the merits of freakishly tiny horses. But when Jacob decides to give Briana the best gift imaginable—a kidney for her brother—she wonders just how she can resist this quietly sexy new doctor . . . especially when he calls in a favor she can't refuse.
La version française
Ce roman n'est pas encore disponible en français.
Mon avis
★★★★ 4,5/5
J'ai vraiment adoré la plume d'Abby Jimenez à la lecture de "Part of Your World", j'ai donc enchaîné sans attendre le tome 2, "Yours Truly", dédié à la meilleure amie d'Alexis, Bri. On avait rencontré Bri dans le premier tome et elle avait vraiment l'air top ! Dynamique, drôle, une super amie, j'avais hâte de découvrir son histoire et si j'ai vraiment passé un bon moment, j'ai trouvé que le livre avait 50 pages de trop.
Ce roman, tout comme le premier d'ailleurs, est un recueil de tropes, on en a dans tous les sens ! Un début façon Enemies to Lovers (mais qui n'en est pas du tout, juste une mauvaise première impression), un début de romance épistolaire que j'aurais adoré plus long, Fake Dating, Only One Bed, problème de communication et un dernier que je ne dévoilerai pas pour ne pas spoiler l'histoire. Ca fait beaucoup pour un roman de 330 pages (sur liseuse). Le livre aurait gagné à avoir 50 pages de moins, pour moi, le dernier trope arrive trop tard et est trop important pour être géré en seulement 50 pages. Soit il aurait du être développé plus tôt, soit il ne fallait pas l'inclure.
C'est bien un des rares points négatifs que je trouve à ce roman. Tout comme dans le premier tome, j'ai adoré Bri, elle a vraiment une personnalité géniale. J'ai également beaucoup aimé Jacob ! Il est extrêmement attachant, on a envie de le protéger, il est presque trop parfait. On voudrait tou(te)s avoir un Jacob à nos côtés.
C'est un roman qui se lit vite, qui nous fait rire et qui donne des pincements au coeur. Il y a un manque de communication assez flagrant entre les deux, on était à deux doigts d'être sur quelque chose de trop long mais au final, ça passe bien dans l'histoire.
C'était ma première série signée Abby Jimenez et ce ne sera pas la dernière, j'espère qu'on aura prochainement un roman pour Doug, j'adorerais une M/M romance pour lui 🙃