Sommaire :
La version originale – Part of Your World (Part of Your World #2)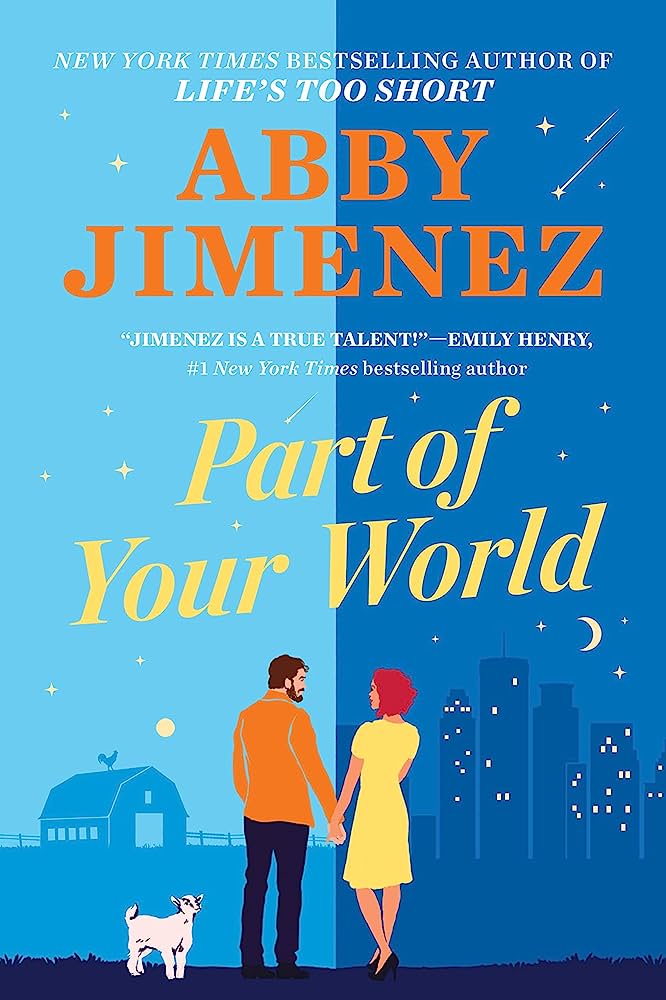 After a wild bet, gourmet grilled-cheese sandwich, and cuddle with a baby goat, Alexis Montgomery has had her world turned upside down. The cause: Daniel Grant, a ridiculously hot carpenter who's ten years younger than her and as casual as they come—the complete opposite of sophisticated city-girl Alexis. And yet their chemistry is undeniable.
While her ultra-wealthy parents want her to carry on the family legacy of world-renowned surgeons, Alexis doesn't need glory or fame. She's fine with being a "mere" ER doctor. And every minute she spends with Daniel and the tight-knit town where he lives, she's discovering just what's really important. Yet letting their relationship become anything more than a short-term fling would mean turning her back on her family and giving up the opportunity to help thousands of people.
Bringing Daniel into her world is impossible, and yet she can't just give up the joy she's found with him either. With so many differences between them, how can Alexis possibly choose between her world and his?
La version française
Ce roman n'est pas encore traduit en français.
Mon avis
★★★★ 4,5/5
J'avais ce roman dans ma PAL depuis plusieurs mois et je suis tombée sur le résumé du deuxième tome, "Yours Truly", qui m'a donné envie de me lancer dans la lecture de cette série. Et je dois dire que c'est une très belle découverte !
J'avais un peu peur des clichés dans cette lecture. En découvrant le résumé, on sait déjà que les deux personnages ont deux vies radicalement différentes, l'un à la campagne et l'autre à la ville. Un point que j'ai particulièrement apprécié, aucun des deux ne dénigre le milieu de l'autre.
Parfois dans les romans, les points qui bloquent une relation peuvent être peu crédibles. Ce n'est pas du tout le cas ici où les raisons sont de bonnes raisons. Cela dit, j'ai vraiment eu du mal parfois à accepter la façon dont la famille d'Alexis la traitait mais je comprenais ses réactions. J'aurais juste voulu qu'elle les envoie balader et qu'elle communique plus avec Daniel.
La lecture de ce roman est passée à la vitesse de l'éclair, il y a une vraie alchimie entre les deux personnages, on adore les voir interagir ensemble. Leurs dialogues font mouche, ils ont une vraie complicité, on a tous les bons pincements au coeur. En revanche, côté spice, on est plutôt sur des scènes porte close, c'est un peu dommage !
Une originalité de ce roman : le personnage féminin a 9 ans de plus que le personnage masculin ! C'est rare de voir un age gap dans ce sens et c'est très appréciable. L'âge n'est pas le point central du roman, Daniel a 28 ans et Alexis 37 donc on est sur deux adultes consentants 🙂
J'ai également aimé les personnages secondaires, que ce soit Bri, Doug ou la dynamique Brian / Liz. J'aurais beaucoup aimé un roman sur Brian et Liz mais je me contenterais de romans dédiés à Bri et Doug.
Pourquoi je n'ai pas mis 5 ? J'ai trouvé la dernière partie un peu trop mélo dramatique en particulier les réactions de Daniel. J'ai du mal à imaginer un homme de quasi trente ans réagir comme ça. Mais après c'est plus un problème personnel peut-être que cela ne vous gênera pas 🙂
En attendant, je ne peux que vous recommander ce roman, j'ai vraiment passé un très bon moment ! Je me lance de ce pas dans le tome 2 dédié à Bri.