Sommaire :
La version originale – The Amazing Alpha Tau Boyfriend Project (Alpha Tau #1)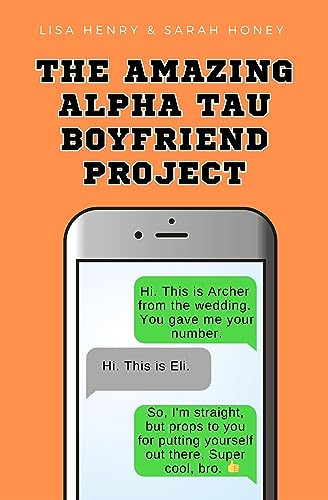 At first glance Archer Calloway is your typical frat boy—preppy, pre-law, privileged. But one thing he's not is a jerk. So when a shy guy at a wedding gives Archer his number, Archer is impressed by his courage in putting himself out there.
What starts as a courtesy call to the guy turns into friendship. Eli is awesome, and Archer can't understand why he's single. With the help of his fraternity brothers at Alpha Tau, Archer comes up with the perfect project for the Get Eli Fuller the perfect boyfriend or die trying.
It's a flawless plan and nothing could possibly go wrong.
The Amazing Alpha Tau Boyfriend Project is a lighthearted contemporary m/m romance containing banter, bad dates, and an oblivious frat boy who is about to discover something new about himself. Or something.
Uh oh.
La version française
Ce roman n'est pas encore traduit en français.
Mon avis
★★★★ 4/5
J'ai commencé à voir « The Amazing Alpha Tau Boyfriend Project » un peu partout sur les réseaux sociaux et à la lecture du résumé, il me tentait bien ! Je dois dire qu'en voyant la couverture, je ne m'attendais pas à grand chose et bien, ce fut une très bonne surprise. C'est un roman garanti sans prise de tête, avec beaucoup de bienveillance, on passe un très bon moment.
On part à la rencontre d'une bande d'amis issus d'un milieu assez favorisé, qui font partie de la même fraternité. Lors d'un mariage, Archer rencontre Eli qui prend son courage à deux mains et lui donne son numéro de téléphone. Archer recontacte Eli à la suite de ce mariage et ils apprennent petit à petit à se connaître.
Archer est un personnage absolument adorable, le genre de book boyfriend qu'on adore ! Eli est également très attachant avec un petit côté insolent très agréable. Les deux ensemble, ils ont une excellente alchimie et les dialogues font mouche. On ne s'ennuie pas ! Autour d'eux, on retrouve une bande d'amis bien loin des clichés sur les fraternités. Ils sont ouverts d'esprits, gentils, solidaires, drôles, de vrais amis sur qui compter !
En somme, un petit roman qui se lit très bien, qui vous laisse de très bonne humeur, avec un sourire sur le visage et l'envie d'en savoir plus sur chacun des personnages. Le petit élément qui manque ? Un peu plus de spice 🌶 aurait été parfait. En tout cas, j'ai hâte de découvrir la suite, je sens que cette bande d'amis va devenir ma bande d'amis 🙃 !