Sommaire
La version originale – You Can Count On Me (Christmas Daddies #2)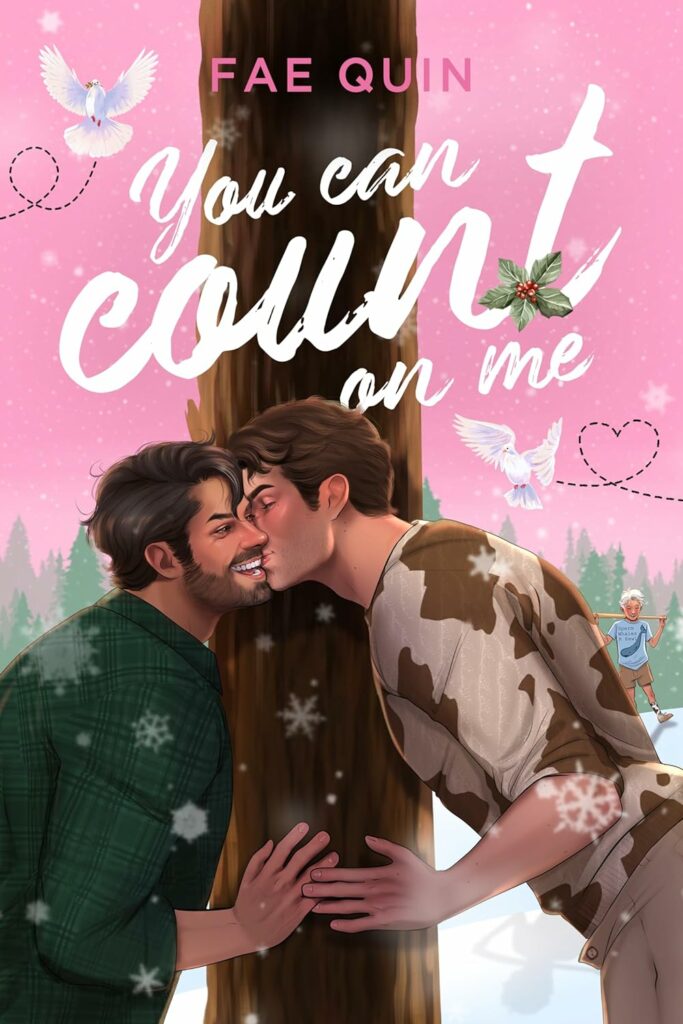 They say you should love thy neighbor, but I don't think they meant it the way I want to love mine.
Miles "Rooster" Johnson: As a young single-dad with a teaching job, I haven't had much opportunity to date. My son is my entire world, and though I would love to have a partner and someone to count on, the passing years have shown that it's just not in the cards for me. So when the gorgeous lumberjack of a man—the same man that I've had a massive crush on since the moment we became neighbors—suddenly asks me out on a date, I'm completely blindsided. Trent could have anyone he wants. He's charming, flirtatious, and outgoing—the exact opposite of my awkward, anxious self. I don't know what he sees in me. All I know for sure is that I absolutely need to make this date go well.
Trent Montgomery: I know I have a playboy reputation in our small town, but there's nothing wrong with playing the field. It's worked for me so far, even if I have felt some discontent lately. My mama thinks I need to settle down and find someone nice. But she doesn't understand that I'm just not ready. No matter how beautiful and tempting my neighbor Rooster is or how eager I am to get the silent mountain of a man to open up—no matter how adorable his little boy is, even when he's threatening me at bat-point to take his daddy out on a date—I know I can't be everything that they need. I agreed to ask Rooster out, but I think maybe I made a big mistake. All I know for sure is that I absolutely need to sabotage this date.
La version française
Ce roman n'est pas encore traduit en français.
Mon avis
★★★★ 4/5
Après avoir dévoré « Let your Hearts be Light« , j'ai immédiatement enchaîné sur le deuxième tome « You Can Count on Me ». J'ai eu de la chance car il venait tout juste de sortir ! C'est un roman vraiment mignon et digne d'un film de Noël super romantique.
J'ai adoré le début. L'anxiété de Miles, la personnalité de Trent, les scènes avec Bubba, tout était parfait ! Mais au fur et à mesure que l'histoire progressait, j'ai trouvé que certaines scènes clés étaient parfois un peu trop passées sous silence. Ce qui est dommage car le livre est long ! On avait le récit après de ce que chacun des personnages avait pu ressentir, façon monologue, mais en tant que lectrice, j'aurais aimé vivre directement ce moment, avec les sentiments qui vont avec, surtout quand on voit à quel point Miles ressent les émotions de manière brute. C'est ma petite frustration sur ce roman.
Miles et Trent sont adorables et ils sont entourés de deux personnages secondaires tout aussi attachants, Gram et Bubba. Si j'ai passé un excellent moment avec leur famille, j'ai trouvé le revirement de situation de Trent un peu trop brutal. On passe d'un électron libre, célibataire endurci, à une personne qui ne rêve que du grand amour en un claquement de doigt. C'était un peu trop un virage à 180° pour moi. Et surtout c'était trop de sentiments, trop vite de son côté. J'aurais aimé plus de slow burn de son côté.
A l'inverse, j'ai trouvé le personnage de Miles et son ressenti vraiment bien respecté. Le côté lent de l'histoire correspond parfaitement à ses besoins. Il m'a vraiment touché et je l'aimais beaucoup. J'ai juste eu un petit souci, je n'arrive pas à visualiser physiquement son personnage. Je ne sais pas pourquoi, peut-être parce que son physique et sa personnalité sont opposés mais je n'ai jamais réussi à construire une image mentale de Miles.
Et enfin, petite déception de ma part, j'ai trouvé que le roman aurait gagné à être plus spicy. J'avais été agréablement surprise du premier tome et j'aurais aimé un peu plus dans ce deuxième tome, surtout qu'on avait tout les ingrédients pour !
Cette série est en tout cas une jolie découverte, parfaite pour Noël. J'ai hâte de découvrir le tome 3 qui sera très certainement centré sur Ben et Robin. Je me demande ce que va donner leur histoire, cela risque d'être complexe de leur construire une vie ensemble vu le passé de Robin. Quoi qu'il arrive, je serai au rendez-vous !