Sommaire :
La version originale – The Fine Print (Dreamland Billionaires #1)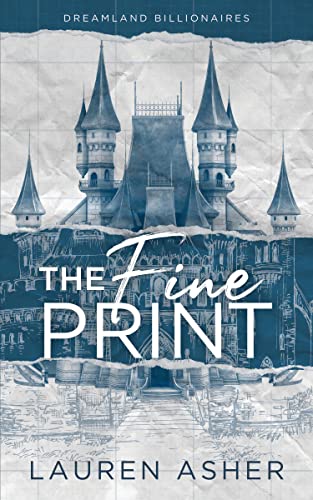 Rowan
I'm in the business of creating fairy tales.
Theme parks. Production companies. Five-star hotels.
Everything could be all mine if I renovated Dreamland.
My initial idea of hiring Zahra was good in theory, but then I kissed her.
Things spiraled out of control once I texted her using an alias.
By the time I realized where I went wrong, it was too late.
People like me don't get happy endings.
Not when we're destined to ruin them.
Zahra
After submitting a drunk proposal criticizing Dreamland's most expensive ride, I should have been fired.
Instead, Rowan Kane offered me a dream job.
The catch? I had to work for the most difficult boss I'd ever met.
Rowan was rude and completely off-limits, but my heart didn't care.
At least not until I discovered his secret.
It was time to teach the billionaire that money couldn't fix everything.
Especially not us.
La version française
Ce roman n'est pas encore traduit en français.
Mon avis
★★★ 3,5/5
J'ai la fâcheuse habitude d'être déçue quand je me lance dans la lecture d'un roman fortement recommandé sur Tiktok, j'ai donc plutôt tendance à les éviter. Cela étant, la couverture et le résumé de celui-ci me faisaient de l'oeil, je me suis donc laissée tenter. Mon bilan final ? On oscille entre un 3,5 et un 4/5, ce qui est plus ce que je pensais initialement !
J'ai passé un agréable moment à lire ce livre et je l'ai lu assez rapidement, malgré cela je l'ai trouvé un poil long. Il aurait pu être réduit de 100 pages, je pense que ça n'aurait pas changé grand chose à l'histoire.
J'ai beaucoup aimé la diversité des personnages dans ce roman, on a des personnages de couleurs, des personnages trisomiques, des personnes qui ont eu / ont des problèmes de santé mentale. C'est assez rare pour être souligné.
Du côté des personnages principaux, Zahra est un personnage féminin fort et attachant, qui sait ce qu'elle veut et ce qu'elle ne veut pas. On a ici un personnage solaire qui ne tombe pas dans le côté naïf / bonne poire.
L'élément qui me chiffonne un peu sur ce roman c'est vraiment le personnage de Rowan. Il a deux trois aspects intéressants (notamment sur sa santé mentale) mais j'ai réellement l'impression que l'autrice a glissé ces éléments pour le rendre plus attachant mais sans aller au bout de la construction du personnage et ça m'a laissé sur ma faim. J'aurais vraiment voulu en savoir plus sur ses traumatismes, découvrir l'enfant dont tout le monde parle, le créatif, le rêveur mais qu'on ne nous montre jamais (aucune idée ne vient de lui). C'est assez frustrant.
Qui plus est, cet homme est absolument abominable pendant toute une bonne partie de l'histoire. Les décisions qu'il prend, son comportement, son langage, rien ne va. Même avec Zahra, j'ai tiqué à plusieurs moments sur son comportement toxique et possessif. Quand il parle de virer toute présence masculine dans son entourage pour ne l'avoir qu'à lui ? Euhm, red flag. 🚩
Je l'ai aussi trouvé horrible quand il essaye d'emprunter le chemin de la rédemption, il manage ses équipes en fonction de critères totalement subjectifs et a une fâcheuse tendance au favoritisme et à l'impulsivité. Et malheureusement, ses quelques "bonnes" actions pour certains n'effacent en rien ses mauvaises actions pour l'ensemble. Je ne connais pas du tout le management aux Etats-Unis et nul doute que c'est très différent de la France mais il est très mauvais dans son métier.
Au final, je finissais pas me poser cette éternelle question : si le mec n'était pas beau et riche, est-ce qu'il serait toujours attachant et désirable ? Et je ne suis pas sûre de la réponse.
Toutefois, je mentirais si je disais ne pas avoir apprécié ce roman. La plume de Lauren Asher est vraiment agréable à lire (sauf quand il s'agit de ses métaphores pour les parties génitales féminines) et je vais peut-être me laisser tenter par le tome 2. J'avoue avoir plus envie de découvrir le tome 3 car l'intrigue du tome 2 me paraît complètement tirée par les cheveux mais je vais essayer de modérer ma tendance à lire les séries dans n'importe quel ordre. 🙃