Sommaire :
La version originale – Moth (Monstrous #5)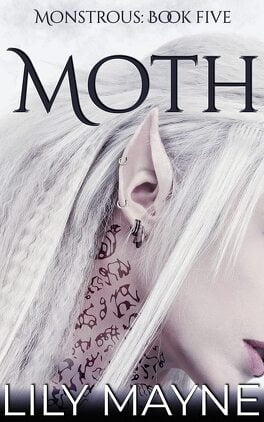 When I—along with my best friend and his big purple monster boyfriend—come across a fortress-like raider camp while journeying across the monster-infested Wastes, we stop to deliver a message.
Somehow, that simple pit stop turns into a seemingly impossible quest to get this camp's missing leader out of the prison where he's being held and forced to fight monsters and other humans. And I know exactly where it is, because I've been there.
Problem is, I'm making this journey with the prickliest and most arrogant guy I've ever met, who seems to immediately hate me on sight. Oh, and he's also half monster. So there's that. And he's in love with a raider who definitely does not love him back, and he seems determined to take it out on me. So there's also that.
But I'm not going to rise to his childish insults and barbed words. I'm not.
I'm also going to try very hard to ignore how mindnumbingly beautiful he is, even when he's scowling at me.
But the longer we're out here together, the more I learn about my prickly half monster companion Moth. I realise there's a reason he's so closed off and angry. There's a reason he hates everyone.
There are secrets he's been keeping, and when I find out what they are, I want to do everything in my power to help him—even though he's telling me he can't be helped.
La version française
Ce roman n'est pas encore disponible en français.
Mon avis
★★★★★ 5/5
Moth est le cinquième tome de la série Monstrous. Chacun des tomes peut être lu seul mais il est préférable de les lire dans l'ordre pour mieux comprendre l'univers et les liens entre les personnages.
A la fin du tome 4, Gloam, j'ai eu très envie de sauter ce tome pour aller directement au tome 6 consacré à Seraph. Mais le « mini cliffhanger » du tome 4 a eu raison de moi et je me suis décidée à suivre l'ordre normal de la série. Et je dois dire qu'à ma grande surprise, Moth est le roman que j'ai préféré de la série (pour le moment).
Pourquoi je n'étais pas trop disposée à continuer sur ce tome ? (Je l'aurais lu mais après) Tout simplement parce que je n'aime pas trop les romances où un des personnages est amoureux de quelqu'un d'autre au début de l'histoire comme c'est le cas ici pour Moth avec Ghost. Qui plus est, Charlie n'était pas un personnage que nous connaissions beaucoup donc je ne savais pas trop à quoi m'attendre.
Pourquoi j'ai adoré ? Déjà parce que je n'imaginais pas du tout Moth comme ça. Sur les tomes précédents, j'imaginais quelqu'un de confiant, un peu comme un elfe, quelqu'un qui a vu beaucoup de choses, qui a roulé sa bosse. Je l'ai totalement découvert dans ce roman comme un personnage très fragile, avec un paquet de complexes et de bagages. Il est en fait très jeune, beaucoup plus que ce à quoi je m'attendais. J'ai eu mal au coeur pour lui à de nombreuses reprises. Sa relation avec Ghost est abordée mais en bonne quantité, ce n'est pas un secret ni un sujet récurrent, cela ne m'a donc pas du tout gênée.
Dans une moindre mesure et dans un registre totalement différent, il m'a fait penser à Achille dans A Veil of Vines.
Quant à Charlie, il est tout simplement génial. Il est drôle, compétent, il arrive à apprivoiser Moth petit à petit de manière totalement naturelle. C'est vraiment un homme fiable, responsable. Ils ont une vraie complicité, sont une équipe totalement complémentaires. Je ne dirais pas non à une mini nouvelle qui leur soit consacrée ! Le roman est long mais ça avait presque un goût de trop peu.
Du côté de l'action, ils quadrillent The Waste en long et en large donc on a l'occasion de voir du pays. On a aussi une vision un peu plus large de ce qui se passe du côté de l'armée et surtout des villes. Cela soulève beaucoup de questions intéressantes pour la suite. J'ai hâte de voir ce qui va advenir de la secte dont faisait partie Samson, je pressens qu'il aura son livre prochainement. 👀