Sommaire :
La version originale – Thrown Off the Ice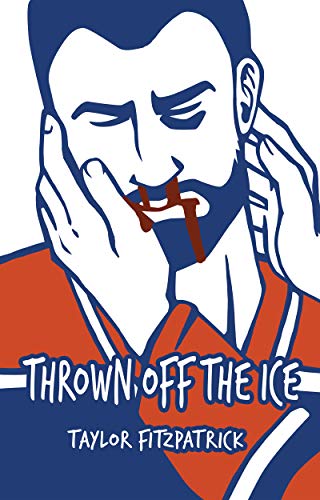 Mike knew he was making a mistake when he let the rookie climb into bed with him. He just didn't know it'd be a mistake that would follow him for the rest of his life.
La version française
A ma connaissance, ce roman n'est pas encore traduit en français.
Mon avis
★★★★ 4,5/5
J'avais repéré ce roman depuis un petit moment. Des notes extrêmement élevées, une jolie couverture et un résumé qui n'en dévoile pas beaucoup, j'étais pour le moins intriguée. Je me suis lancée dans ma lecture il y a quelques semaines et j'ai dévoré les premiers 20% du livre à une vitesse folle. Puis, je ne sais pas trop pourquoi, j'ai cherché des informations sur ce roman sur Goodreads et je suis tombée sur un élément que j'avais loupé au départ : ce roman n'a pas une fin heureuse.
Je ne savais pas vraiment quoi faire. Je n'étais pas dans un bon mood pour une fin triste mais j'avais vraiment accroché au début du roman. Je l'ai donc laissé de côté et je l'ai repris hier, pour le finir en une journée. (j'écris cet article fin novembre)
Cette romance est vraiment originale (et réussie). D'une part, dans sa construction puisqu'on a 15 années de relation dévoilée dans un peu plus de 200 pages mais aussi parce qu'on a un seul point de vue, celui de Mike, un personnage émotionnellement "constipé". Au fil des pages, on apprend à comprendre Mike et sa façon si particulière d'exprimer ses sentiments. C'est d'ailleurs la seule raison pour laquelle je n'ai pas mis 5/5 à ce roman. Parfois, Mike est vraiment vache envers Liam. J'ai adoré Liam, il est absolument fantastique. La construction de ces deux personnages et leur histoire, le réalisme du roman, lui donne une profondeur toute particulière.
La fin est particulièrement réaliste et triste. J'ai pleuré comme un bébé. Je pense que ce roman restera avec moi un moment. Je ne veux pas trop en dire sur l'histoire mais si vous cherchez du renouveau dans la romance et que l'absence de happy ending ne vous fait pas peur, foncez, vous ne le regretterez pas.
Je parle du fait qu'il n'y a pas de happy ending mais (attention mini spoil), les deux personnages sont confrontés à la réalité de la maladie et ont le temps de se dire au revoir. Est-ce que j'ai les larmes aux yeux à écrire cet avis ? Absolument, c'est pour vous dire l'effet que ce roman a eu sur moi.