Sommaire :
La version originale – Everything for You (Bergman Brothers #5)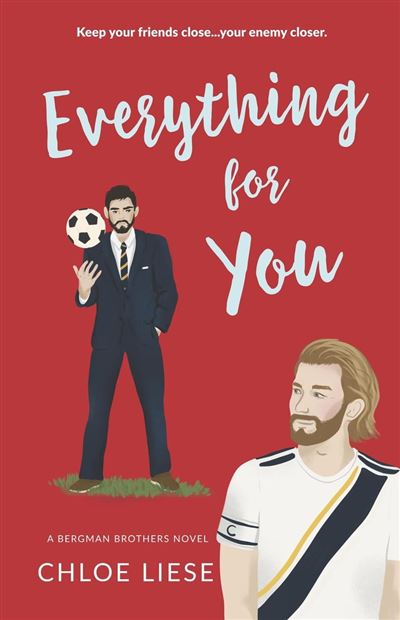 Gear up for an all-the-feels, steamy slow-burn in this enemies-to-lovers sports romance about fighting for love when life's taught you it's a losing game.
Gavin
We've been teammates for two years, but it feels like a lifetime that Oliver Bergman's been on my last nerve. A demanding captain and veteran player, I'm feared and friendless, while he's the beloved rising star, all sunshine smiles and upbeat team spirit. To make matters worse, he's obscenely attractive. In short: he's genetically designed to get under my skin.
Avoiding Oliver has been my survival tactic on and off the field. But when Coach drops the bomb that we're now co-captains, avoiding him becomes impossible, and keeping the truth from him–let alone my distance–is harder than ever.
Oliver
Life was great until soccer legend Gavin Hayes joined the team and proved he's nothing like the guy I grew up idolizing. Instead, he's a giant–albeit gorgeous–grump who lives to rain on my parade. I've sworn off pranks since entering the public eye, so rather than settle our differences the Bergman way, I've had to settle for killing Gavin with kindness. There's just one problem: killing him with kindness is killing me.
To make matters worse, Coach gives us an ultimatum: put an end to our enmity or say goodbye to being captains. I'm prepared to be miserable while we meet her demands and make nice, but the last thing I expect is to discover an explosive attraction we can't help but act on, and worse yet, to realize the man hiding beneath Gavin's gruff exterior is all I've ever wanted.
La version française
A ma connaissance, ce roman n'est pas encore traduit en français.
Mon avis
★★★ 3/5
J'ai choisi de lire ce livre en voyant les notes très positives mais je dois avouer que je n'ai pas vraiment accroché aux personnages. J'étais peut-être trop fatiguée quand je l'ai lu ou cela vient du fait que je n'ai pas lu les tomes précédents ? 
J'étais un peu perdue dans le nombre de personnages, on a 4 frères et soeurs et leur moitié + 2 frères et soeurs célibataires, ça commence à faire beaucoup à retenir. 
La promesse était intéressante mais j'avais l'impression de suivre deux personnages que je connaissais pas mieux à la fin du roman. Sans compter que les derniers chapitres sont vraiment très (trop) mièvre (en tout cas pour moi).
Je n'ai pas compris certains éléments de ce livre notamment les raisons pour lesquelles Gavin se comportait de la sorte et son changement radical de comportement à la fin du roman.
J'ai pris ce livre en ayant en tête une sorte de Kulti M.M mais ce n'est absolument pas le cas, j'avais peut-être un peu trop d'ambition ^^ J'ai trouvé que ce roman manquait un peu d'interactions entre les deux personnages pour provoquer un tel revirement de situation. Il y avait un peu trop de personnages pour que j'arrive réellement à m'y intéresser. Le seul à avoir véritablement capté mon attention est Viggo. Je me laisserai peut-être tenter par son tome 🙂