Sommaire :
La série Franklin U
La série Franklin U se compose de 8 romans dédiés à un couple gay différent et écrits par une autrice différente. Chacun des tomes se déroule à l'Université de Franklin à San Luco, une ville fictive de Californie. Chaque tome peut être lu seul et dans n'importe quel ordre.
La version originale – Football Royalty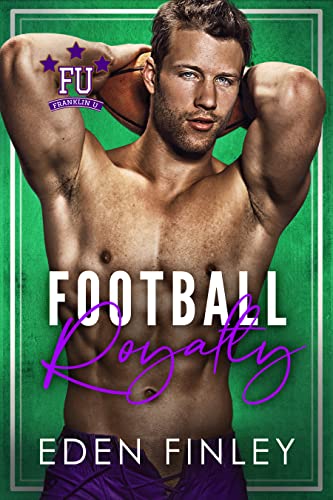 If you never fooled around with someone of the same gender, did you even go to high school?
PEYTON
My whole life I've had the pressure of being Marcus Talon and Shane Miller's football prodigy. I've been destined to follow in my NFL-playing fathers' footsteps since the day I was born. I usually thrive under pressure, but as senior year looms, it all gets too much, and I need an outlet. The last place I thought I'd find my release is at Levi Vanderbilt's graduation party. In his bed. With him.
It's a one-time thing. An experimentation. And while it was fun, we agree that being with guys isn't for either of us. I'm happy to accept that until he turns up in California.
I haven't had to think about him for four years, but now I can't get him out of my head.
LEVI
Coming to Franklin University for grad school to follow a boy I hooked up with once is the stupidest thing I could have done.
We said that high school didn't mean anything, but the truth is, that night made me realize who I truly am, and since then, I've been trying to find that sense of freedom again.
I'm hoping it can be with him, but everything I've heard around campus points to Peyton not having the same life-changing revelation I did.
And if that's the case, did I just move across the country for a straight guy?
Kill me now.
La version française
Ce roman n'est pas encore traduit en français.
Mon avis
★★★ 3/5
La série Franklin U est assez inégale, on a eu des tomes passables, un tome 6 particulièrement réussi. Je ne savais donc pas à quoi m'attendre. J'aime bien Eden Finley mais ces derniers romans n'étaient pas des coups de coeur. Mon avis sur Football Royalty ? Je suis déçue.
J'ai vu une review sur Goodreads qui résume assez bien ce que j'ai pensé de ce roman : il n'y a pas de romance. On a deux personnages qui ont une relation physique et bim, ça y est ils sont amoureux. Le grand geste arrive beaucoup trop tôt. Je l'ai d'ailleurs trouvé très maladroit, je ne veux pas spoiler mais rien n'avait été discuté au préalable, j'ai donc trouvé ça assez égoïste et peu réaliste compte tenu de tout ce qui est en jeu pour Levi et Peyton à ce moment là.
J'ai vraiment eu l'impression que ce tome était destiné aux nostalgiques de la série Fake Boyfriend. On retrouve avec plaisir des personnages de la série mais on dirait presque que ce tome est totalement fait pour ça au détriment du couple dont il est question. On dirait que Brady, le frère de Peyton, a plus de complicité avec Levi que Peyton. Pas du tout le même genre de complicité certes mais leur relation a plus de sens et est bien mieux construite.
Je vais être honnête, il n'y a rien de mémorable dans ce roman, je pense que je vais l'oublier très rapidement. C'est bien dommage, le résumé laissait présager de belles choses.
Je suis un peu déçue de cette série, à l'exception de Learning Curve de N.R. Walker, j'ai trouvé tous les tomes un peu bâclés, comme si Franklin U était un projet secondaire pour pas mal d'autrices. Bon après, ça reste des lectures rapides et feel good mais malheureusement peu mémorables.
Et vous, qu'en avez-vous pensé ?