Sommaire :
La série Necessary Evils
Necessary Evils est une série de 7 Dark Romances qui suit la famille Mulvaney, des tueurs psychopathes uniques en leur genre. Cette série contient de nombreux trigger warnings, pensez à la consulter avant de vous lancer ! Il est recommandé de lire la série dans l'odre mais chaque tome peut être lu seul. Vous pouvez retrouver la totalité de la série par ici :
La version originale – Headcase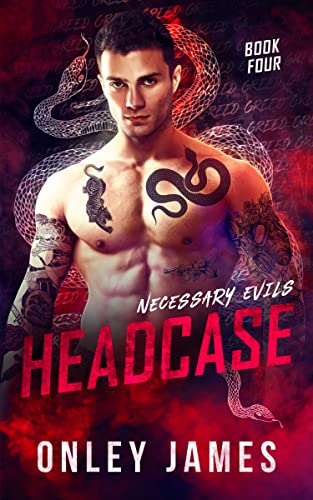 Asa Mulvaney is half of a psychopathic whole. He and his twin brother live together, party together…kill together. In the Mulvaney family, murder is the family business and business is good. When an experiment separates Asa and his brother, Asa is forced to navigate the world on his own for the first time in his life.
Zane Scott is a small-time crime blogger and amateur sleuth, but he dreams of a byline in a major paper someday. When he winds up at a boring fundraiser beside Asa Mulvaney, they share an intensely passionate encounter that leaves Zane with an ache in his chest and a story idea that could make his career dreams a reality.
At a nearby college, a cluster of suicides isn't what it seems. When Asa's father asks him to look into it, he sees the perfect opportunity to see his little crime reporter again. And Asa needs to see him again. Zane's suspicious of Asa's motives, but he won't say no to a chance to peek behind the Mulvaney family curtains.
As the two unravel a sinister plot, Asa's obsession with Zane grows and Zane finds being Asa's sole focus outweighs almost anything, maybe even his career–which is good for Asa because loving a Mulvaney is a full-time job. Can he convince Zane that he's worth navigating a family of psychopaths and his pathologically jealous twin, or will Zane learn the hard way that the Mulvaney boys always get what they want? Always.
La version française
Ce roman n'est pas encore traduit en français.
Mon avis
★★★★ 4/5
Headcase est le quatrième tome de la Necessary Evils et se concentre sur le personnage de Asa, l'un des jumeaux Mulvaney. On retrouve ici un scénario « les opposés s'attirent » comme dans le tome 2, Psycho, avec la rencontre entre Asa, architecte le jour et tueur psychopathe la nuit, et Zane, un blogueur spécialisé dans les crimes qui se rêve journaliste.
J'ai bien aimé ce roman mais il n'est clairement à mettre entre toutes les mains. Asa est certainement le frère Mulvaney le plus intense et le plus flippant à mes yeux (bien que ce soit August qui a le plus souvent le titre du Mulvaney le plus creepy). Il aime faire mal. Les scènes de sexe de ce roman sont donc assez extrêmes (toujours consentantes) et à l'opposé total de ce qui peut-être considéré comme « vanilla » mais curieusement, Zane et Asa fonctionnent. Aucun des deux n'est très sain d'esprit mais ils ont une alchimie indéniable et se complètent à la perfection.
Ce tome explore aussi la relation entre Asa et Avi, son frère jumeau. Les jumeaux ont toujours eu une connexion et si jamais vous vous posez la question, il n'y pas de scène de « partage » dans ce quatrième tome. Asa et Zane sont exclusifs.
Il me semble que Onley James a imaginé des scènes érotiques où on peut croiser ensemble les jumeaux et leur moitié sur son Patreon mais elles ne sont pas présentes dans les romans. Je ne suis pas 100% sûre car je ne suis pas abonnée mais c'est ce qui était induit. N'hésitez pas à me corriger dans les commentaires si besoin !