Sommaire :
La version originale – Rule (Marked Men #1)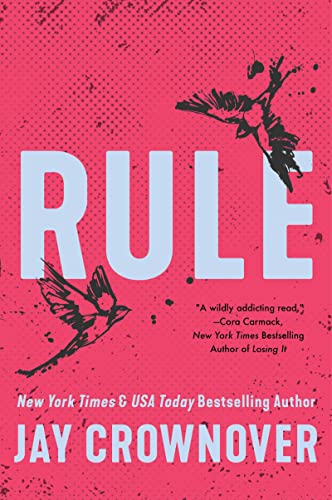 Opposites in every way . . . except the one that matters
Shaw Landon loved Rule Archer from the moment she laid eyes on him. Rule is everything a straight-A pre-med student like Shaw shouldn't want—and the only person she's never tried to please. She isn't afraid of his scary piercings and tattoos or his wild attitude. Though she knows that Rule is wrong for her, her heart just won't listen.
To a rebel like Rule Archer, Shaw Landon is a stuck-up, perfect princess-and his dead twin brother's girl. She lives by other people's rules; he makes his own. He doesn't have time for a good girl like Shaw-even if she's the only one who can see the person he truly is.
But a short skirt, too many birthday cocktails, and spilled secrets lead to a night neither can forget. Now, Shaw and Rule have to figure out how a girl like her and a guy like him are supposed to be together without destroying their love . . . or each other.
La version française – Marked Men tome 01 : Rule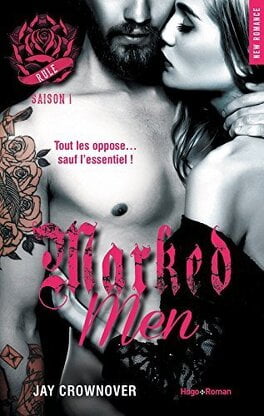 Rule est la première saison d'une série passionnante sur l'univers du tatouage et du métal.
Lorsqu'elle était adolescente, les très riches parents de Shaw Landon se sont peu occupés d'elle. Elle a alors trouvé refuge dans la famille Archer où elle était particulièrement proche de Remy, frère jumeau de Rule, aujourd'hui décédé dans un accident de voiture. Elle est liée à cette famille plus qu'à la sienne.
Mais Shaw est depuis toujours secrètement amoureuse de Rule, ce qui l'empêche d'avoir de véritables relations avec d'autres hommes. Rule, lui, voit en elle une fille à papa, trop sérieuse et surtout la petite amie de son défunt frère. De plus tout les oppose : de nature rebelle et fêtard, il est tatoueur et tatoué, a des piercings et les cheveux de toutes les couleurs.
Avec son look classique, elle est sage et concentrée sur ses études de médecine. Mais parfois il suffit d'une jupe courte et de quelques cocktails pour que le regard que l'on porte sur quelqu'un change. Les secrets sont révélés et que rien ne sera plus jamais comme avant
Rule et Shaw tenteront de comprendre ce qu'ils ressentent et d'être ce que l'autre attend. Mais entre les traumatismes de leurs familles respectives, les habitudes de coureur de jupons de Rule, l'emploi du temps chargé de Shaw et son ex qui la harcèle, ces deux-là auront bien du mal à se trouver.
Leur amour sera-t-il plus fort que leurs différences ?
L'ambiance de cette série est celle d'un salon de tatouage, de concerts de métal, le tout agrémenté de délires de colocataires et de virées dans leur ville natale.
Mon avis
★★★ 3.5/5
En ce moment, je publie des articles dédiés à mes premières lectures de romance ! A l'occasion de la sortie prochaine du film adaptée de la série Marked Men, je vous propose un article dédié au premier tome : Rule.
Si j'avais mis 4/5 à ce roman à l'époque, je pense qu'aujourd'hui, je lui mettrais plutôt 3.5/5. Je me souviens avoir passé un bon moment à la lecture de ce premier tome mais j'avais trouvé que le personnage de Rule était assez immature par moment. Je pense que j'ai eu un peu de mal avec lui car il présente des traits de caractère que j'aurais beaucoup de mal à supporter dans la vraie vie.
Du côté de Shaw, je n'ai jamais vraiment réussi à l'apprécier, je l'ai trouvée froide. Heureusement qu'il y avait des scènes avec Rémy, le frère jumeau de Rule, malheureusement décédé, pour l'apprécier un peu plus. Si vous vous posez la question à la lecture du résumé d'un éventuel "triangle" amoureux, sachez que ce n'est pas le cas. L'intrigue autour de Shaw et Rémy est au contraire vraiment bien amenée dans ce roman.
A côté de ça, l'histoire est assez prenante et on découvre une bande d'amis très soudée ce qui donne des scènes plutôt sympas et des personnages secondaires très attachants (Nash ❤️). Je n'ai pas relu le roman avant d'écrire cet avis mais j'ai en tête quelques scènes qui peuvent avoir mal vieillies, à voir ! J'ai du le lire il y a 5 ou 6 ans et de tous les tomes de Marked Men, j'ai souvent relu Nash et Rowdy.
Je préfère prévenir, je n'ai jamais lu le tome 2, Jet, car je n'aimais aucun des deux personnages lors du premier tome et j'ai vraiment du mal avec les romances autour de musiciens. Il n'y aura donc pas d'article sur Jet. Mais la série se lit très bien sans ce tome !
Une adaptation de Rule en film en préparation
Jay Crownover a annoncé sur son compte Instagram qu'une adaptation de Rule en film était en préparation pour une sortie début 2024. Au casting, on retrouve Chase Stokes qu'on a notamment pu voir dans Outer Banks et Sydney Taylor.
Si le film fonctionne bien, il est possible que la suite de la série soit adaptée à son tour. Vous pouvez retrouver le casting complet et les dernières informations sur le film sur le site officiel de Jay Crownover.