Sommaire :
La version originale – The Rycke (Monstrous #3)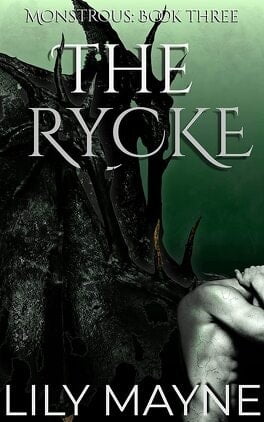 Life as a raider in the Wastes, where monsters roam and the military lurks, is as easy as it sounds.
I've been out here for a long time, and the fear that courses through my blood every time I have to step outside our camp walls to scavenge never fades. No matter how many monsters you face—and have to run for your life from—it doesn't ever get easier.
But when I come across a bound and injured monster in an abandoned military base, I can't leave him behind. His presence in our camp is causing tension, but I can't bring myself to care when I get to see a different side to him—when he starts to show me who he is, beneath the pain and lingering trauma.
But despite his gentle nature, I soon discover why others are so desperate to own him. Why the military, and now this stranger lurking outside our camp, want to put him back in chains and take him away from me.
There's something hiding under his skin. Something that threatens to upend my entire life, the one I've spent my years carefully protecting out here.
There's a reason why all other monsters fear him.
La version française
Ce roman n'est pas encore traduit en français.
Mon avis
★★★★ 4/5
The Rycke est le troisième tome de la série Monstrous. Je vous recommande de les lire dans l'ordre pour bien comprendre l'univers.
Ce troisième tome commence dans un cadre différent des deux premiers volets. Au revoir l'armée, bonjour les camps de "raiders" qu'on pourrait traduire par "pilleurs". Comprendre les gens qui vivent dans les régions inhabitées et qui doivent piller pour survivre.
The Rycke nous met tout de suite dans l'ambiance avec deux raiders envoyés pour fouiller les décombres de l'ancienne base militaire détruite par Wyn dans le premier tome. Ils tombent sur le Rycke, ce monstre qu'on nous a présenté comme étant au sommet de la chaîne alimentaire depuis le tout début. Un être qui fait tellement peur que même les monstres l'évitent.
J'ai adoré le fait que le Rycke ait un tempérament diamétralement opposé à l'idée de ce que je me faisais d'un personnage aussi puissant. On a ici un personnage brisé, réservé, solitaire, perdu. Il va alors rencontrer un humain tout aussi solitaire et réservé et ils sont s'apprivoiser petit à petit. J'ai vraiment adoré la façon dont leur relation se construit. Ils sont irrémédiablement attirés l'un par l'autre tout en restant un peu maladroit par rapport à leur attirance et c'est adorable. J'ai aussi beaucoup aimé les nouveaux personnages introduits dans ce tome : Moth, Lilac, Rig…
J'aime beaucoup le fait qu'on n'ait pratiquement qu'un point de vue unique sur l'ensemble du roman, cela permet de tout voir sous le prisme de Ghost. C'est assez drôle de voir la perception différente du tome suivant, du point de vue de Rig. Je pense notamment à la relation entre Moth et Ghost que Rig ne perçoit pas du tout de la même façon que Ghost.
Maintenant, j'ai trouvé que le roman changeait un peu vers la fin et j'étais un peu moins captivée par l'histoire. J'ai trouvé ça… Trop facile ? J'ai un goût de trop rapide / pas assez fini sur ce tome. Je sais que le prochain est dédié à Rig, donc peut-être que ce sentiment va se calmer avec le tome 4. On va voir !