Sommaire :
La version originale – Seraph (Monstrous #6)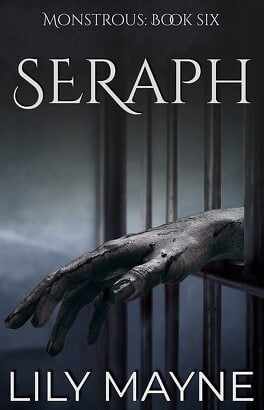 I've already mentally prepared myself to kill the screaming, murderous monster in the cage outside our camp.
I'm used to it. It's what I do here. Kill monsters and other people. And this monster, Seraph, is particularly unstable—has been since the moment he arrived from Collector Mary's monster menagerie to the west, where the military stashed him away.
He's in pain. I can see it. But he's not a mindless beast. Not like some of the others think.
When I start guarding him in his cage every night, I begin to see the person beneath the agony that tortures his every waking moment. I begin to see who Seraph could have been if he hadn't been twisted into this monstrous creature.
I realise that I wouldn't be able to bring myself to kill him, even for his own sake, but it doesn't matter anyway. He's already dying, and there's nothing I can do to stop it. Not even when new visitors at our raider camp bring with them secrets about Seraph. Secrets the military has tried to hide.
Secrets that reveal the true extent of the horror he's been put through.
And now… Now, I will kill anyone who tries to hurt him again.
La version française
Ce roman n'est pas encore traduit en français.
Mon avis
★★★★ 4/5
Seraph est le sixième tome de la série Monstrous. Si chaque tome peut être lu indépendamment il est préférable de les lire dans l'ordre.
Seraph était un des romans que j'avais le plus envie de lire parmi les 6 tomes de la série Monstrous parus. J'adore Lilac et le mystère autour de Seraph laissait présager de jolies choses. Si j'ai apprécié ce tome, je l'ai moins aimé que ce que je pensais à cause de quelques longueurs. Il a souffert de la comparaison avec Moth, le tome précédent, que j'avais lu juste avant.
On connaissait chacun des deux personnages principaux des tomes précédents. Lilac était un des personnages les plus mystérieux de la série. Rencontré dans le tome 3, The Rycke, il est le tueur du camp de Raiders, celui qui ne laisse rien transparaître et dont personne (ou presque) ne connaît le passé. Même ses amis ne savent pas qu'ils sont ses amis.
Arrive Seraph, un monstre dont même les monstres ignorent tout, rendu fou à cause d'une douleur invisible. Petit à petit, Lilac va commencer à calmer puis créer une vraie relation avec Seraph. J'ai adoré voir leur relation se tisser au fil du temps. Lilac est véritablement patient et empathique, deux qualités qu'on ne lui voyait pas dans les tomes précédents.
C'est un tome où on retrouve beaucoup des personnages de la série. J'ai adoré voir naître l'amitié improbable entre Wyn et Lilac. Une amitié qui est en fait très logique puisqu'ils sont assez semblables dans la façon dont ils traitent leur partenaire. Ils aiment une personne, leur personne, et supportent les autres (à quelques rares exceptions près). Ils n'ont aucun scrupule à tuer pour protéger leurs proches, ce qui créé un respect mutuel entre les deux.
J'ai enchainé toute la série, et je dois admettre qu'après toute l'action et les changements continus de paysages de Moth, Seraph est un roman assez statique, qui manque un peu de péripéties à mes yeux. Vers la fin, j'ai décroché à deux trois reprises et j'envisageais de faire une pause pour lire un autre roman. Ce que je n'ai pas fait, et je n'ai pas regretté, mais ça ne m'était pas arrivé avec les autres tomes de la série. Je pense que c'est parce que je ne m'attendais pas à un tel changement de rythme. Vous n'aurez peut-être pas du tout ce ressenti si vous les lisez petit à petit.
En attendant, je vais prochainement m'attaquer à Lor, le tome 7, qui a l'air très différent des autres. L'article arrive !