Sommaire :
La version originale – Tell me it's real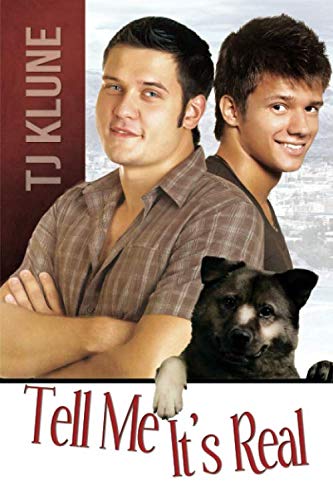 Do you believe in love at first sight?
Paul Auster doesn't. Paul doesn't believe in much at all. He's thirty, slightly overweight, and his best features are his acerbic wit and the color commentary he provides as life passes him by. His closest friends are a two-legged dog named Wheels and a quasibipolar drag queen named Helena Handbasket. He works a dead-end job in a soul-sucking cubicle, and if his grandmother's homophobic parrot insults him one more time, Paul is going to wring its stupid neck.
Enter Vince Taylor.
Vince is everything Paul isn't: Sexy, confident, and dumber than the proverbial box of rocks. And for some reason, Vince pursues Paul relentlessly. Vince must be messing with him, because there is no way Vince could want someone like Paul.
But when Paul hits Vince with his car – in a completely unintentional if-he-died-it'd-only-be-manslaughter kind of way – he's forced to see Vince in a whole new light. The only thing stopping Paul from believing in Vince is himself – and that is one obstacle Paul can't quite seem to overcome. But when tragedy strikes Vince's family, Paul must put aside any notions he has about himself and stand next to the man who thinks he's perfect the way he is.
La version française – Dis-moi que c'est réel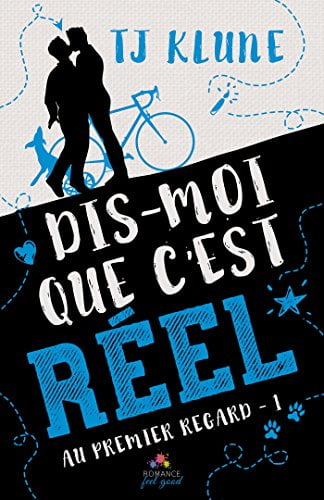 Est-ce que vous croyez au coup de foudre ?
Ce n'est pas le cas de Paul Auster. Paul ne croit pas à grand-chose du tout. Il a trente ans, quelques kilos en trop, et ses meilleures qualités sont son esprit acerbe et les commentaires hauts en couleur qu'il distribue pendant que sa vie se déroule devant ses yeux. Ses amis les plus proches sont un chien à deux pattes nommé Roulettes et une drag queen quasiment bipolaire nommée Helena Handbasket.
À cause d'un travail sans avenir, il bosse dans un box qui vide lentement son âme, et si le perroquet homophobe de sa grand-mère l'insulte encore une fois, Paul va lui tordre le cou. Débarque alors Vince Taylor.
Vince est tout ce que Paul n'est pas : sexy, confiant en lui, et pas vraiment une lumière. Et pour une raison quelconque, Vince drague Paul sans relâche. Vince doit se ficher de lui, parce qu'il n'y a pas moyen que Vince veuille quelqu'un comme Paul.
Mais quand Paul renverse Vince avec sa voiture ? de façon complètement involontaire style s'il-meurt-ce-ne-serait-pas-un-homicide ? il est forcé de voir Vince sous un nouveau jour. La seule chose qui empêche Paul de croire en Vince, c'est lui-même ? et c'est un obstacle que Paul ne semble pas tout à fait capable de surmonter. Mais quand la tragédie frappe la famille de Vince, Paul doit mettre de côté toutes les notions le concernant et se tenir au côté de l'homme qui pense qu'il est parfait comme il est.
Mon avis
★★★★ 4,5/5
Vous avez envie d'une M/M romance sans prétention avec des personnages hilarants qui se retrouvent dans des situations plus rocambolesques les unes que les autres ? Ne cherchez pas plus loin !
"Tell me it's real" raconte l'histoire de Paul, un jeune homme timide à l'imagination débordante, qui rencontre Vince, qui lui semble en tout point son opposé. Paul a donc beaucoup, beaucoup, beaucoup de mal à imaginer que quelqu'un comme Vince puisse s'intéresser à quelqu'un comme lui.
Ajoutez à cela un meilleur ami drag queen, une famille qui n'a aucun notion de vie privée, un perroquet homophobe et un chien handicapé équipé d'un chariot à roulettes et cela vous donne un aperçu de ce roman.
Je l'ai dévoré en deux jours. TJ Klune arrive à associer des scènes drôles avec des sentiments sincères et des personnages plus vrais que nature. Il offre des romans absolument géniaux qui vous font oublier votre quotidien.
J'ai adoré Paul, j'ai adoré Vince, j'ai adoré leur entourage. Mais j'ai plus que tout aimé l'amitié entre Paul et Sandy qui est un fil rouge tout au long de ce premier tome. Ils ont vraiment une relation de vieux couple. C'est un peu comme deux frères, ils se chamaillent mais sont toujours là l'un pour l'autre !
J'avoue que j'hésitais à lire le deuxième tome avec l'aspect "Drag Queen" mais je me dis que ce premier tome était tellement réussi que ce serait dommage de ne pas poursuivre. Surtout que Sandy est vraiment un personnage haut en couleurs et j'aime beaucoup le côté "les opposés s'attirent" de Sandy et Darren.
(je sais pas pourquoi je tente d'installer un suspens, j'ai d'ores et déjà téléchargé le deuxième tome, see you soon!)
Bon à savoir : ce roman existe aussi en roman graphique. Je ne l'ai pas lu sous ce format mais je me dis que certains peuvent préférer le roman graphique au roman classique !