Sommaire :
La version originale – The First and Last Adventure of Kit Sawyer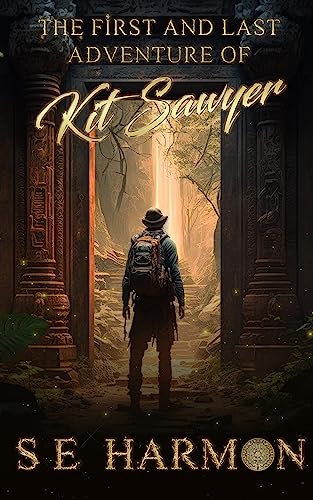 In the archaeology community, Christopher "Kit" Sawyer's family is a legacy. And while he may be a historian, not a treasure hunter, he thinks he does a pretty good job of living up to the Sawyer name. He's a book-smart research fanatic and does his best work at his tidy desk. No fedora and whip for him, if you please—a nice cup of coffee and a comfy chair will do. But decoding an ancient relic soon gives him more adventure than he bargained for.
Unwittingly, he unleashes a force he doesn't know how to control. And now he has to reunite the relic with a powerful Aztec God. The trouble with that? Kit doesn't where to find the Tlaloc's temple. No one does, in fact. Finding it could be a discovery for the ages. It could also lead to his untimely death. So…yay? But it's not like he has a choice. So off to the Mexican jungle he goes.
At least he isn't going alone.
Ethan Stone, former stepbrother and overall pain in the rump, horns in on the expedition. An experienced archaeologist, he's only coming along at their grandfather's request—which annoys Kit to no end. But he knows Ethan is just the right person to get them through the jungle safely. It's just too bad someone is trying to beat them to the temple. And he's willing to do anything to get there first.
Ethan thinks Kit is in over his head. Kit is secretly afraid he just may be right. In manners of archaeology…and manners of the heart….
La version française
Ce roman n'est pas encore traduit en français.
Mon avis
★★★★ 4,5/5
Une M/M Romance qui allie deux demi-frères que tout oppose, une expédition à la recherche de recherche d'une cité perdue dans la jungle mexicaine, je signe !
Je suis tombée un peu par hasard sur ce roman mais étant une férue d'histoire, une fan de la Momie et d'Indiana Jones, je ne pouvais pas passer à côté de cette lecture. J'ai vraiment passé un excellent moment avec Kit et Ethan.
Kit est un chercheur en archéologie, petits fils et fils d'archéologues célèbres. Un héritage qui est parfois plus un poids qu'une bénédiction quand il ne pourrait pas être plus différent de ses parents. Epileptique, Kit a passé une bonne partie de son enfance alité et suivant des traitements lourds. Après le décès de sa mère, Kit a 12 ans quand son père se remarie avec une femme ayant déjà un enfant d'une précédente union : Ethan. Un jeune garçon du même âge que Kit et qui représente tout ce que Kit n'est pas : casse-cou, aventurier, sportif. Au fil des années, Ethan devient le fils que Kit n'a jamais pu être pour le père de Kit.
Ce roman peut être présenté comme une romance Enemies to Lovers mais c'est plutôt une rivalité à sens unique. Et malgré cette rivalité, Kit a toujours apprécié Ethan. Son animosité est plutôt lié à son père. J'ai beaucoup aimé la relation qu'entretiennent Ethan et Kit. Ils se connaissent bien et n'ont pas peur de se dire les choses. Même quand ils se rapprochent, ils continuent de se chamailler et n'ont pas peur de se taquiner l'un l'autre. J'aurais juste aimé un peu plus de scènes spicy. L'une des seules scènes à laquelle on a le droit est assez peu réaliste.
Du côté de l'intrigue, on a vraiment une histoire qui s'installe petit à petit avec une volonté de nous faire comprendre les tenants et aboutissants. Cependant, j'ai trouvé la résolution peut-être trop rapide, et certains éléments de l'histoire semblent n'avoir servi à rien dans le scénario, ce qui m'a un peu laissé sur ma faim.
Au global, je me demande si l'aspect paranormal / fantastique de l'histoire n'aurait pas du être un tout petit peu plus subtil… Mais ce sont vraiment des points de détails, j'ai vraiment passé un très bon moment et la fin peut laisser présager une suite. Le cas échéant, je serai au rendez-vous 🙂
Amateurs d'archéologie, n'hésitez pas, ce roman est pour vous !