Sommaire :
La version originale – The New Guy (Hockey Guys #1)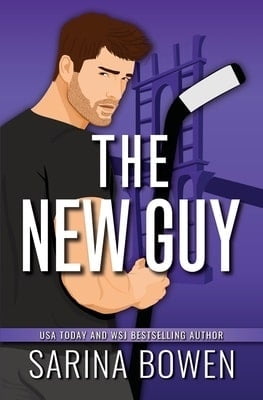 My name is Hudson Newgate, but my teammates call me New Guy.
That was my nickname in Chicago, too. And Vancouver. That's what happens when you keep getting traded. Brooklyn is my last chance, especially after my poor performance last season.
But I can make this work. The new guy knows to keep his head down and shoot the puck. The new guy puts the game first.
What he doesn't do is hook up with the other new guy—a hot athletic trainer who lives in my building. Gavin needs this job with my team. He's a single dad with responsibilities.
We can't be a couple. My arrogant agent–who's also my father–will lose his mind if I'm dating a dude. And my team needs me to score goals, not whip up a media circus.
Too bad Gavin and I are terrible at resisting each other…
La version française
Ce roman n'est pas encore disponible en français.
Mon avis
★★★ 3/5
Sarina Bowen est une autrice que j'adore et ses livres (tout du moins ses M/M) sont une lecture instantanée pour moi. Quand j'ai vu qu'elle ressortait une romance gay après plusieurs mois (années ?) sans, je me suis jetée sur ce nouveau roman, « The New Guy », premier tome d'une nouvelle série nommée « Hockey Guys ». Et je dois dire que c'est une déception pour moi.
Je ne sais pas si vous avez déjà ressenti cette impression de lire un roman en avance rapide ? C'est exactement la sensation que j'ai eu avec ce roman. On a des scènes de première fois : première rencontre, première rencontre au travail, premier baiser, première fois etc. Et entre les deux des ellipses de temps. J'ai donc l'impression d'avoir lu une histoire sans vraiment m'y intéresser, de finir sans réellement connaître ce couple. Je n'ai pas ressenti du tout leur alchimie.
Chaque personnage a des éléments intéressants dans sa construction mais ce n'est pas poussé assez loin pour faciliter l'immersion du lecteur dans cette histoire. On dirait presque que les « disputes » ne sont que des prétextes pour que l'autrice puisse créer des scènes de réconciliation mais elles n'ont pas vraiment de fondement. J'avoue ne pas avoir compris du tout la raison derrière leur première séparation.
On est sur un roman qui se lit vite, bien qu'il ait quelques longueurs. On recroise des personnages de la série Brooklyn Bruisers mais comme je n'ai lu que le premier tome de cette série, ça ne m'a pas fait grand chose. En somme, c'est un livre très peu mémorable. Il y a quelques personnages secondaires qui peuvent être intéressants donc je me laisserais peut-être tenter par le deuxième tome mais je suis assez déçue de ce premier volet. Il aurait pu avoir tant de potentiel !
S'il s'agit du seul roman que vous ayez lu de Sarina Bowen, ne vous y fiez pas, on lui doit tout de même la formidable série Him en collaboration avec Elle Kennedy. Une série parfaite pour vous initier au genre M/M 🙂