Sommaire :
La version originale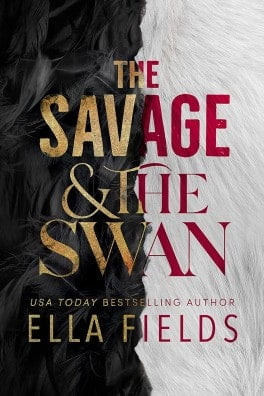 The king of wolves was more beast than man, more tyrant than king, and so much more than he seemed.
Raised to avenge his murdered parents, he'd been trained and conditioned until nothing but violence and hatred lined the walls of his dead heart.
For nearly four years, I'd done all I could to help my kingdom as we faced the wolf king's unconquerable evil—hardly anything at all.
As the only heir to the Gracewood line, I'd been relegated to menial tasks that would keep me and my secrets safe.
A chance to do more than fret behind our castle walls arrived when I breached them after overhearing my parents' plans for my future. Fleeing, I unknowingly raced into a fate we'd all desperately hoped to avoid.
By the time I saw him coming, it was far too late. For my family. For my kingdom.
For my heart.
Before I could staunch the bleeding, the king had me under his giant paw, and one wrong move after another caused those razor-sharp claws to sink deeper and deeper beneath my bruised skin.
I might have been trapped, naïve, and furious, but I still had a kingdom to save—and a plan. Yet when we collided, the bloodshed, the fear, his atrocities… all of it dissolved like stardust upon the night sea.
The stars had mapped out our destiny, but it didn't matter what they or my heart wanted. I refused to see the enigmatic male, the heartless lost boy with a soul beneath the flesh of a monster.
The savage king who'd destroyed everything I loved would fall—even if my heart fell with him.
La version française
Ce livre n'est pas encore traduit en français.
Mon avis
DNF – ★★ 2/5
J'avais beaucoup d'attentes pour ce livre. Il y avait une promesse intéressante, une jolie couverture mais le début est un peu (beaucoup) confus. Je crois que ce livre sera un DNF chez moi.

Pourquoi un début un peu confus ?
Un personnage principal qui manque d'émotions et de personnalité
Comment peut-on être "juste" en colère quand on découvre qu'on a été manipulée / trahie ? Comment peut-on être "juste" en colère face à une personne qui a massacré votre peuple, votre famille ? Je ne comprends pas, je m'attendais à une relation "love / hate" beaucoup plus profonde, avec une construction lente mais plus logique dans ce contexte.
Une façon d'écrire parfois un peu perturbante
Cela peut venir de moi, l'anglais n'étant pas ma langue maternelle mais après avoir écrit ma review, j'ai regardé sur Goodreads et je ne suis pas la seule à avoir fait cette remarque. Il y a des enchainements rapides et confus par exemple : elle parle d'une fois où elle a écouté aux portes quelques mois plus tôt et au paragraphe suivant, on revient au moment présent sans véritablement de transition. J'ai du relire plusieurs passages plusieurs fois pour comprendre comment on en était arrivé là.
Autre exemple : elle cherche son père, elle ne voit personne et en 2 secondes, on est en pleine bataille là où 2 minutes plus tôt il n'y avait rien… Ca fait un peu de bruit une armée quand même…
Un univers très peu développé et difficilement accessible : l'auteur emploie des termes qu'elle ne définit pas toujours et j'ai quelques problèmes à bien appréhender son univers et ses limites.
J'ai commencé le roman sans relire le résumé et j'avais oublié le prénom de l'héroïne, j'ai du attendre le 2° chapitre pour comprendre que "Opal" était le prénom du personnage principal.
Opal n'a normalement pas le droit de s'éloigner de son palais mais elle arrive à pied à atteindre les bois les plus éloignés au nord sans croiser personne mais tombe sur son ennemi… C'est un royaume dans un mouchoir de poches ? Sans aucun garde ?
Je suis à 30 % du livre et je crois que je ne vais pas le poursuivre… Malheureusement, le manque de construction de l'univers et le côté insipide des personnages aura raison de moi… Le seul élément que je retiens c'est qu'ils ont très envie de coucher ensemble mais qu'ils sont ennemis – sur le papier du moins car cela ne se ressent pas dans leurs interactions. Ce n'est pas une intrigue suffisante pour capter mon attention.
Ce livre est beaucoup comparé à ACOTAR et From Blood and Ash et je trouve que ce n'est clairement pas du même niveau. Dans ACOTAR et From Blood and Ash, on a une réelle construction de l'univers. On est sur des séries longues, avec des personnages bien construits qui ont une vraie personnalité. Là je n'arrivais pas à m'intéresser aux personnages. On dirait une nouvelle inscrite dans un univers existant, c'est comme s'il manquait un tome.
L'auteur se perd un peu dans son discours. Elle fait des références à des éléments qui ont l'air évident alors que pas du tout. Les successions de scènes n'ont pas toujours de sens, on se demande si on n'a pas loupé un paragraphe ou une page. Le côté amour instantané et le double point de vue sont aussi un peu trop "faciles" à mon sens.
J'ai toujours un peu de mal avec les livres qui traitent des Faeries. Les auteurs ont tendance à s'inspirer d'un univers ancré avec des normes (un peu comme pour les vampires ou les loups garous) mais ce n'est pas si connu que ça… Enfin du moins pas chez moi.
Et mine de rien, chaque auteur se l'approprie et créé de nouvelles spécificités. Je sais que quand j'ai commencé Cruel Prince, je ne connaissais rien au monde des Fae et il m'a fallu un sacré temps d'adaptation pour bien comprendre leurs forces, leurs faiblesses, leurs limites. Mais bon au moins j'étais prête pour Acotar après 🙂
Ici on a deux types de Faeries qui s'affrontent mais sans trop d'explications sur le pourquoi du comment, leurs différences, l'origine de leurs affrontements. Là où j'en étais, les raisons évoquées paraissaient un peu disproportionnées et peu stratégiques.
Bref pour moi c'est un loupé et je pense que je ne le finirais pas, je tente de me motiver mais je n'ai vraiment pas assez d'intérêt pour me forcer… J'ai des livres bien plus tentants qui m'attendent sur ma liseuse. Je suis étonnée du nombre de notes positives sur ce roman (même s'il est récent) car il a vraiment des lacunes dans sa construction et le style d'écriture est vraiment particulier.
Je suis peut-être une exception !