Sommaire :
La version originale – When Gracie Met the Grump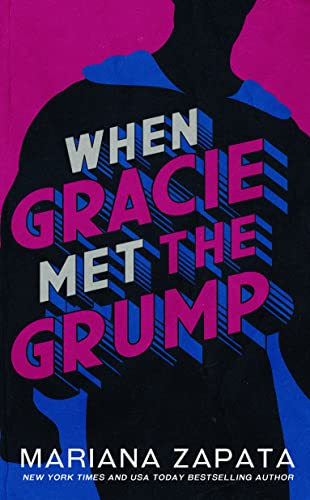 Of all the things that could have landed in her yard… it had to be him.
For most people, finding a half-naked superbeing in their yard might be a dream come true.
Unfortunately for Gracie Castro, it's the exact opposite.
Especially when he's grouchy, rude, and shows no signs of leaving anytime soon.
But when a hero of mankind needs you, you do what you have to.
Even if it compromises everything you know.
And totally changes your life.
La version française
Ce roman n'est pas encore traduit en français.
Mon avis
★★★ 3/5
Dire que j'attendais avec impatience le prochain Mariana Zapata serait un euphémisme. Je suis une fan incontestée de son travail et j'ai lu tous ses romans, sans exception.
Je me suis donc lancée avec plaisir dans cette nouvelle lecture où elle prend le risque de sortir de sa zone de confort en proposant une nouvelle Fantasy, une première pour elle. Mais voilà… Je ne m'attendais absolument pas à avoir autant de mal à le lire. Le roman commençait pourtant plutôt bien et j'étais investie mais après le premier changement de "décor", c'est comme si l'histoire s'arrêtait. 
On se retrouve avec une succession de chapitres sans aucun dialogue, seulement des introspections. Alors oui ce qui se produit est traumatisant et le personnage principal peut se poser des tonnes de questions mais en tant que lecteur, on n'a pas forcément besoin de voir ces questions répétées incessamment pendant presque 100 pages avec une histoire qui stagne, sans réponse ni dialogue.
Je vais être franche, si ça n'avait pas été écrit par Mariana Zapata, je crois que je n'aurais pas forcé. Mais j'ai réussi à ne pas abandonner (je me suis fiée aux notes et commentaires Goodreads, merci à eux) et au final, j'ai réussi à l'apprécier mais je garde quand même cette impression qu'il y a un problème de rythme et de fond dans ce roman. On a 100 pages qui trainent péniblement et une fin qui paraît passer en accéléré, sans véritable résolution ou explication du pourquoi du comment. Au final, j'ai vraiment la sensation d'avoir eu un scénario inutilement compliqué qu'il ne faut pas analyser trop en détails au risque de trouver de nombreuses incohérences.
Du côté de l'histoire d'amour, je n'ai pas ressenti la complicité entre les deux héros comme Mariana Zapata arrive si bien à le faire. J'avais l'impression qu'ils étaient très attirés physiquement l'un par l'autre mais que, hormis ça, il n'y avait pas grand chose. C'était même frustrant au début de l'histoire de voir Gracie s'extasier constamment sur son physique. Je suis dubitative sur leur relation, on ne peut pas dire que ce soit trop rapide, on est ici sur du slow burn et il n'y a rien de physique entre les deux héros avant 90 % du roman, mais j'ai un peu loupé la transformation de leur relation. J'avais un peu la sensation d'un rapprochement "forcé" parce que c'était le plus simple pour eux. Il manquait cruellement de l'alchimie.
En somme, j'aurais trouvé ce roman plus intéressant s'il avait été le premier tome d'une série. Là, j'ai l'impression qu'on a les bases d'un univers trop complexe pour être traité via un tome unique. Et au final, on en vient vraiment à se demander si c'était vraiment nécessaire d'avoir des éléments fantastiques dans une histoire comme celle-ci. Ca m'embête vraiment d'écrire ça d'un roman de Mariana Zapata car j'adore ce qu'elle fait et hormis "The Best Thing", j'ai toujours adoré (et dévoré) ses livres. Ce n'est pas un mauvais roman mais ce n'est pas son meilleur, loin de là.