La version originale – Fast Connection (Cyberlove #2)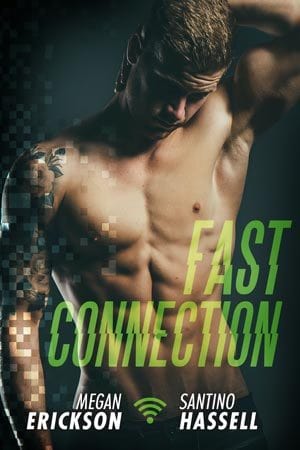 After a decade of serving in the Army, everyone still expects me to be Dominic 'Nicky' Costigan–the skirt-chasing player. They don't know I've been spending my days trying to figure out my post-military life. Including how to pick up guys.
When I meet Luke on a hookup app, he makes it clear it's for one-night only. That's fine with me, because I'm down to see what this silver fox can do. But after I arrive at his doorstep, it doesn't take long to realize we have serious chemistry, and we end up meeting again.
He's got more walls around his heart than a military base, but I think he's as addicted to me as I am to him. He can't resist me for long. I mean, who can? Except Luke's rules exist for a reason, and when I test his limits, things get complicated. Maybe too complicated.
La version française – Fast Connection (Amours en ligne tome 2)
Je n'ai pas vraiment trouvé de traces de ce roman en français hormis un résumé traduit de manière assez hasardeuse.
Mon avis
★★★★ 4/5
Après le sujet des rencontres sur les chats en ligne, voici… Les relations via une application de rencontres ! Si j'ai adoré le tome 1, Strong Signal, je me demandais un peu ce qu'allait donner ce tome 2 car je n'avais pas particulièrement d'attache vis à vis du personnage de Dominic, qu'on croise dans le premier volet.
Et finalement, le charme opère. Les deux personnages sont très différents l'un de l'autre (même si Luke n'est pas sans rappeler Garrett par moment, des similarités très assumées) mais ils fonctionnent très bien ensemble. On sourit, on a des pincements au coeur et on vit cette relation avec eux. Tout comme dans le tome 1, on a des personnages qui ont des "problèmes" dans leur vie personnelle et qui tentent de trouver un équilibre entre ces problèmes et leur relation. Cela donne une profondeur très appréciable à l'histoire.
A la suite de ce tome 2, les auteurs ont publié un bonus, la rencontre entre Kai et Garrett et Dominic et Luke intitulé "The Visit". C'est très court mais ça fait plaisir de voir tous ces personnages interagir ensemble, ça aurait même un petit goût de trop peu.
Je me lance dans le tome 3 consacré aux deux modérateurs de Kai. Cela étanchera peut-être mon envie de recroiser de nouveau tous ces personnages ensemble ?