Sommaire :
La version originale – A Wish Upon The Stars (Tales from Verania #4)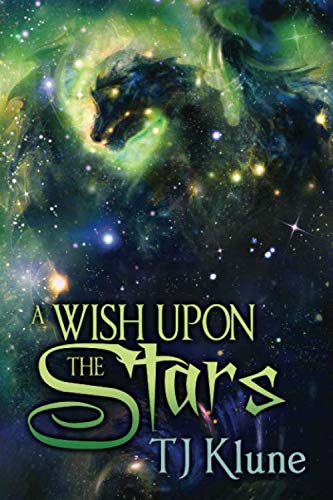 Nearly a year ago, blinded by grief and betrayal, Sam of Wilds made a desperate decision to follow the Great White into the Dark Woods. Now, he emerges to a world changed.
The City of Lockes is a prison. The King has been locked away in the dungeons. The Kingdom of Verania has fallen, and the Dark wizard Myrin sits on the throne.
But soon after his return, Sam learns of a resistance fighting in his name led by a courageous knight, a defiant prince, a pissed-off unicorn, and a half-giant who wants to smash everything in sight. If he has any hope of defeating the villains who have taken their home, Sam must face the consequences of his choices—and the friends he left behind.
La version française – Un Voeu à travers les Etoiles (Les Contes de Verania tome 4)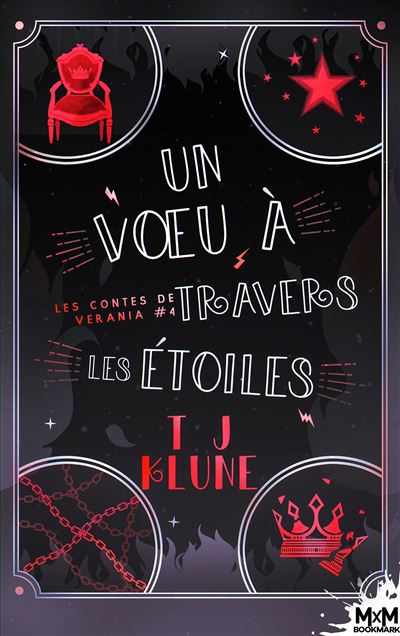 Aveuglé par la colère et la trahison, Sam l'Indomptable a pris la décision désespérée de suivre le Grand Dragon Blanc dans les Bois Obscurs.
Mais un an plus tard, le monde a bien changé : la Cité de Lockes est devenue une prison. Le Roi a été enfermé dans le donjon. Le Royaume de Verania s'est effondré et Myrin, le Sorcier Obscur, est assis sur le trône.
Fort heureusement, tout espoir n'est pas perdu, car Sam apprend l'existence d'un groupe de résistants qui se bat en son nom. Il est mené par un chevalier courageux, un prince rebelle, une licorne échauffée et un demi-géant qui veut tout casser.
S'il souhaite avoir la moindre chance de vaincre ceux qui se sont emparés de son royaume, Sam devra faire face aux conséquences de ses actes, mais surtout aux amis qu'il a abandonnés.
Mon avis
★★★★★ 5/5
Si j'ai mis un peu de temps entre le deuxième et le troisième tome, j'ai dévoré le quatrième tome en 2 jours seulement. Ce roman passe à la vitesse de l'éclair, on retrouve un Sam changé de bien des manières mais toujours fidèle à lui même. C'est vraiment un personnage attachant, qu'on a envie de protéger.
Il est, encore et toujours, accompagné de sa bande d'amis qu'on ne présente plus et qu'on aime d'amour. J'ai vraiment de plus en plus hâte de découvrir le tome de Justin, qui est sans aucun doute le personnage qu'on connaît le moins de tout le groupe. Il y a vraiment un potentiel de fou autour de son personnage !
J'ai beaucoup aimé ce dernier tome centré sur Sam mais je dois admettre que je ne m'attendais pas vraiment à ce genre de fin. Je me suis demandée dans quelle mesure le plan de Sam était réellement indispensable pour arriver à ce dénouement. Et si j'étais heureuse de la fin, je crois que j'aurais préféré qu'il ne puisse pas faire ce fameux dernier voeu. Ce sont bien les seuls reproches que j'ai pu faire à ce quatrième tome.
J'attaque dès à présent le 5° tome et je suis plus qu'impatiente de découvrir le futur de Justin 🙂