Sommaire :
La version originale – Icebreaker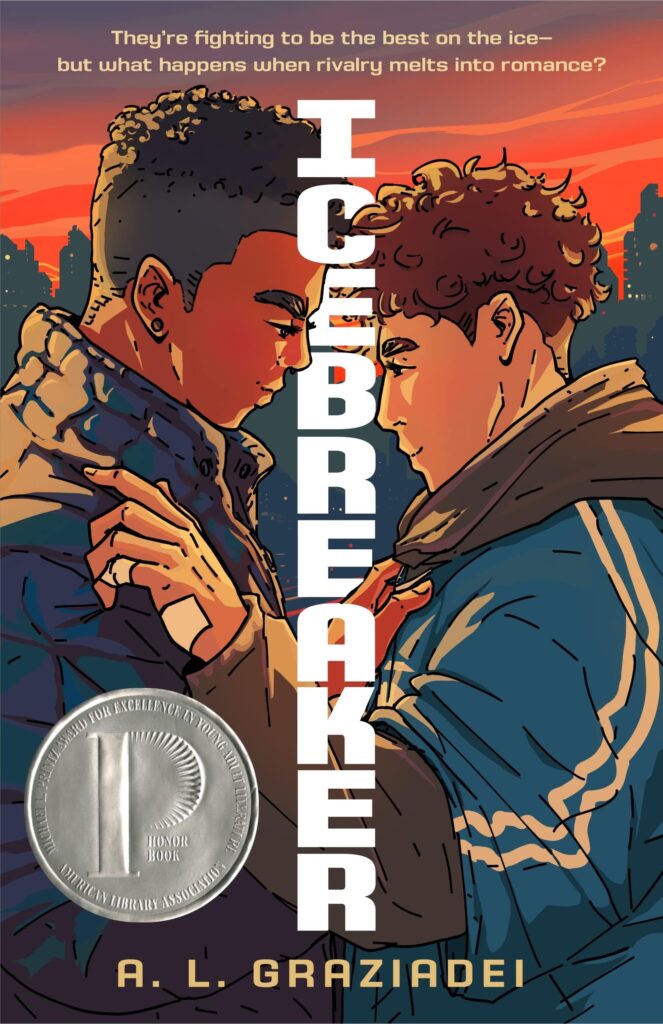 Seventeen-year-old Mickey James III is a college freshman, a brother to five sisters, and a hockey legacy. With a father and a grandfather who have gone down in NHL history, Mickey is almost guaranteed the league's top draft spot.
The only person standing in his way is Jaysen Caulfield, a contender for the #1 spot and Mickey's infuriating (and infuriatingly attractive) teammate. When rivalry turns to something more, Mickey will have to decide what he really wants, and what he's willing to risk for it.
This is a story about falling in love, finding your team (on and off the ice), and choosing your own path.
La version française
Ce roman n'est pas encore traduit en français.
Mon avis
★★★ 3,5/5
Je suis une vraie passionnée des romances dans le milieu du hockey. Si on ajoute à ça une couverture plus que réussie, vous pouvez être sûre que je serais au rendez-vous ! Si j'ai passé un bon moment avec Icebreaker, je n'ai pas eu de coup de coeur pour ce roman, je vous explique toute de suite pourquoi. 🤓
Tout d'abord, Icebreaker est présenté comme une romance "Enemies to Lovers" à la lecture de la couverture et du résumé du roman. Or dans les faits ? J'ai trouvé que la romance n'était pas du tout l'élément principal de ce livre.
Le personnage principal de Icebreaker n'est autre que la santé mentale de Mickey et le chemin qui va l'amener à accepter et traiter sa dépression. Pour le côté "Enemies to Lovers", c'est un peu pareil, on a deux rivaux sans cesse mis en compétition par les médias mais la période où ils sont ennemis reste assez courte. Le vrai ennemi de Mickey n'est pas du tout Jaysen dans cette histoire.
L'auteur a une belle plume, c'est certain mais j'ai eu du mal à croire dans cette histoire d'amour. On a peu d'échanges "visibles" (ou lisibles ?) entre les deux personnages principaux. Beaucoup de leurs interactions se passent hors du récit.
Comme on est sur un roman Young Adult, on a aussi des scènes de sexe qui ne sont pas descriptives. On sait qu'ils ont eu des relations sexuelles consenties mais cela se limite à ça. Est-ce que c'est problématique ? Non mais le souci c'est que si on n'a pas accès à leurs échanges quels qu'ils soient, on a du mal à voir et comprendre leur relation. On nous le dit mais on ne nous le montre pas, on ne le ressent pas.
Conséquence ? Dès que j'ai eu terminé Icebreaker, je me suis tournée vers une relecture de Heated Rivalry (et par extension sa suite, The Long Game), deux romans qui traitent des mêmes sujets (enemies to lovers, hockey, rivalité, santé mentale) mais beaucoup plus en profondeur.
Enfin, je terminerai ma chronique sur l'élément qui m'a frustrée au plus haut point : la fin. Je comprends que l'auteur veuille faire un fin un peu choc mais on ne peut pas construire un roman sur une intrigue pour ne pas la conclure. Non, je suis désolée, ce n'est pas acceptable, non, non, non, je refuse.
Pour conclure, c'est un roman qui se lit vite et qui est plutôt bien construit, il manque juste un peu de profondeur au niveau de la romance. Mais je pense que j'ai cette impression car je m'attendais vraiment à trouver une romance. Si vous ne le lisez pas sous ce prisme, votre impression sera peut-être totalement différente.
⚠️ Attention toutefois, ce roman a des triggers warnings et touche des sujets très sensibles liés à la santé mentale, pensez bien à les consulter avant de commencer votre lecture.