Sommaire :
La série Necessary Evils
La série Necessary Evils est une série Dark Romance composée de 7 tomes, chacun consacré à un frère Mulvaney. Une fratrie très spéciale, tous adoptés par le millionaire Thomas Mulvaney et élevés pour devenir des tueurs en série. Les différents livres de la série abordent des thèmes sensibles, pensez à bien vérifier les triggers warnings avant de vous lancer.
La version originale – Lunatic (Necessary Evils #6)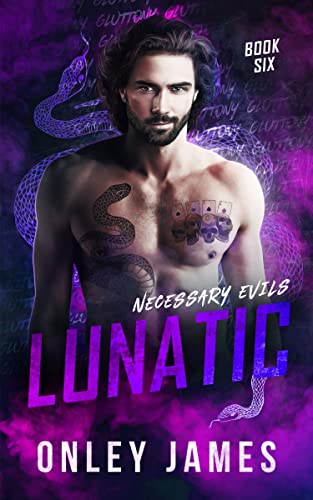 Every psychopath in the Mulvaney family has a role to play. Archer Mulvaney is the gambler, a drunken reprobate making his living as a high-stakes poker player. Very few people know the real Archer, not even his brothers. But there is one man who knows far too much.
Mackenzie Shepherd spends his days photographing endangered wildlife. He's also the brother of a psychopath and son to the woman who literally wrote the book on raising one. When his mother asks him to head a secret government project, it seems like the perfect excuse to run away from his life.
But running from his past has Mac colliding straight into Archer. And that's a problem. For this project to be successful, Mac and Archer have to agree on every decision, and the two see eye-to-eye on nothing. Except, maybe the sex. The sex is off the charts.
When Mac's old life comes back to haunt him, Archer insists on putting their differences aside to help keep him safe. But Mac, like Archer, is used to solving things on his own. Can they finally stop fighting each other to find the truth, or is their relationship the next thing on the endangered species list?
La version française
Ce roman n'est pas encore traduit en français.
Mon avis
★★★★ 4/5
On connaissait Archer Mulvaney comme étant l'alcoolique de la fratrie. Celui qui était constamment à boire ou à récupérer de sa cuite de la veille. Son personnage était présenté comme ayant tout du pirate, de son physique au comportement adopté. J'étais donc un peu mitigée en commençant ce roman, je me demandais comment Onley James allait me faire apprécier un personnage avec une addiction comme celle-ci. Et je dois dire que j'ai trouvé que la réponse apportée était un peu facile. C'est comme si on découvrait un tout nouveau personnage. Je m'attendais à une histoire un peu plus complexe.
J'ai tout de même apprécié le roman mais je l'ai trouvé assez peu mémorable. J'écris cet avis plusieurs semaines après avoir lu Lunatic et je dois admettre ne pas trop me souvenir de la relation amoureuse entre Mac et Archer. Ce n'est pas vraiment l'élément qui m'a le plus marqué dans ce roman. En revanche, je me souviens bien du cliffhanger du dernier chapitre.
On voit que cet avant dernier roman commence à tisser la toile nécessaire à la mise en place du dernier tome, Maniac, dédié à Aiden (qui est sans conteste mon préféré de tous les Mulvaney). La fin de ce roman a déclenché chez moi un besoin viscéral de l'avoir entre mes mains. J'attends ce tome depuis que j'ai lu le premier livre de la série. J'ai lu l'intégralité de la série à la recherche de la moindre mention de Aiden. C'est LE roman que j'attends le plus en 2023. J'espère vraiment pouvoir voir tous les Mulvaney collaborer tous ensemble dans ce dernier tome.
Au moment où j'écris cet article, je m'aperçois que Maniac a été repoussé en février alors qu'il devait sortir dans 2 semaines 😭 Je m'en vais donc pleurer dans mon oreiller. Dramatique ? Moi ? Nooon
---
Si vous avez aimé Mac, vous pouvez découvrir l'histoire de son frère jumeau, Shep, dans le roman Captivating (Elite Protection Services #2). J'ai beaucoup aimé apprendre à connaître Shep, que j'ai trouvé très attachant !