Sommaire :
La version originale – Prince and Assassin (Perilous Courts #1)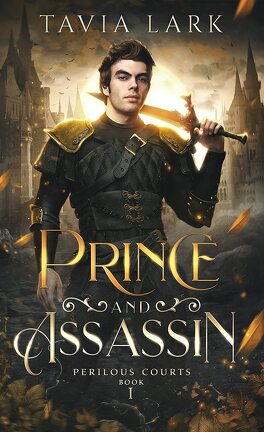 He's supposed to kill Prince Julien. Not fall for him.
Whisper doesn't remember his real name. All he knows is the elite assassin guild that raised him—and controls him with the threat of blood magic. Plagued by nightmares, he doesn't get to refuse assignments, even when his new job doesn't make sense:
Infiltrate Prince Julien's court, protect him until the signal arrives, then kill him.
Julien hides his own schemes behind a sordid reputation. He trusts nobody besides his brothers, and he certainly doesn't trust the aloof, beautiful new stranger at court. But he doesn't have to trust the stranger to be drawn to him, especially when he saves Julien's life.
Then Julien saves Whisper too, and Whisper's reserve shatters.
Beneath Julien's playboy facade is a warmth Whisper can't resist. Whisper's never been comforted before. He's never been cared for like this. As his nightmares darken, Julien's touch is his only solace—but falling in love could ruin them both.
Because Whisper's mission hasn't changed, and the price for failure is worse than death.
La version française
Ce roman n'est pas encore traduit en français.
Mon avis
★★★★★ 5/5
Je dois dire que je ne m'attendais pas à aimer autant ce roman ! Certes, la promesse était intrigante, un de mes tropes préférés, mais j'ai vu beaucoup ce type de sujet mal traité, avec une relation qui avance beaucoup trop vite pour être crédible (Bridge Kingdom c'est de toi dont je parle).
Prince and Assassin a des personnages très bien construits et est un vrai plaisir à plaisir. Le personnage de Julien me rappelait un peu celui de Nikolai Lantsov dans Shadow and Bone. Charmeur, sociable mais qui porte un masque pour survivre dans un monde de requins. Son manque de confiance dans tout son entourage et par extension sa paranoïa sont exactement ce qui manque dans ce trope habituellement !
Mon vrai coup de coeur reste Whisper, un homme qui n'a absolument pas choisi sa vie, qui se retrouve à devoir faire des actions qui le détruisent à petit feu. Je l'ai trouvé tellement touchant et attachant tout en étant fort. J'avais envie de le protéger pour qu'il puisse respirer un peu.
L'intrigue est plutôt bien pensée, mais je pense qu'il ne faut pas y regarder de trop près. J'ai perçu quelques incohérences dans le récit. Le twist de fin, par exemple, m'a laissée dubitative. Je ne suis toujours pas convaincue de la révélation. Pour moi, l'histoire aurait été encore plus cohérente (et un coup de coeur) si le personnage avait joué un triple jeu. Après on n'a pas vraiment de "retour" après sur ce point, donc c'est toujours possible (j'essaye d'être claire sans spoiler, ce n'est pas simple).
Un autre point m'a un peu perturbé. L'autrice peut parler d'éléments fictifs, tout droit sortis de son imagination, et expliquer 70 pages plus tard de quoi il s'agit. C'est peut-être la barrière de la langue qui fait ça mais ça rend le récit un peu confus par moment. Cela étant, j'ai passé tellement un bon moment avec eux que j'ai décidé que ces couacs n'allaient pas influencer ma note.
J'ai d'ores et déjà enchainé sur le deuxième tome, j'ai vu que le troisième sortait le 30 janvier (c'est d'ailleurs comme ça que j'ai découvert la série). Il a l'air très différent et je ne suis pas sûre de l'aimer autant que j'ai aimé le premier mais je vous tiens informés ! 👀