Sommaire :
La série Franklin U
La série Franklin U se compose de 8 tomes, chacun consacré à un couple différent. Tous les livres peuvent être lus séparément et dans n'importe quel ordre. Le point commun ? Ils se déroulent tous à l'Université Franklin et son bar Shenanigans. Vous pouvez retrouver tous les tomes par ici :
La version originale – Bet You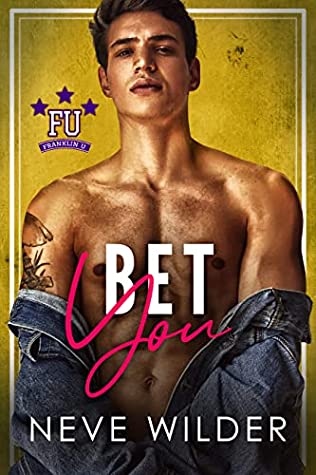 Spencer
Whose brilliant idea was it to build university housing next to one of Franklin U's most notorious party frats?
I'm a real student—the kind who actually came to college to learn, not some dumb frat bro who sees Franklin U as a four-year challenge to consume the most booze and throw out the best pick-up line.
Their all-hours lifestyle is driving me crazy. Not to mention, the jerks keep taking my assigned parking spot.
But the worst offender might be Cory Ingram. Sure, he has a smile that could melt a polar ice cap, but no way will I ever be one of his minions. I'm pretty sure I made that clear when I blew my top at him. So I have no idea why he's suddenly everywhere around me, turning on the charm like I might actually fall for it.
Nope. Not gonna happen.
Cory
From the first day I set foot on Franklin U's campus, everything has been golden. I have a ton of friends, endless parties to be the life of, and whoever I want in my bed on any given night. Sure, I'm a shameless party boy, but I'm not a jerk. Ask anyone. Seriously.
Even the crotchety old groundskeeper waves and smiles at me when I pass.
Then there's Spencer Crow. I've never seen a guy's face get so red over a parking spot. Even when I try to make it right, he proceeds to give me the tongue-lashing of a lifetime—which is about the moment I notice that, in addition to being irrationally irate, he's also crazy hot.
My friends think I've finally met the one person I can't seduce…
Bet you I can.
La version française
Ce roman n'est pas encore disponible en français.
Mon avis
★★★ 3,5/5
De tous les tomes qui composent la série Franklin U, « Bet You » était celui que j'attendais avec le plus d'impatience. D'une part pour le résumé, qui me faisait bien envie et d'autre part, parce que le roman était signé Neve Wilder. J'aime vraiment beaucoup cette autrice qui m'avait beaucoup surprise avec Want Me.
Au final, j'ai bien aimé ce roman même si j'en attendais plus. J'aurais voulu être prise un peu plus par les sentiments, je n'étais pas si impliquée que ça dans leur histoire. J'ai bien aimé les personnages mais je trouvais qu'il manquait vraiment un aspect fusionnel à leur relation.
Neve Wilder avait fait tellement fort avec Want Me pour créer deux personnages attachants, fusionnels et ayant une relation très très hot que j'avais de grandes ambitions pour ce roman, peut-être de trop grandes ambitions car je l'ai trouvé un peu plat et assez peu mémorable. Malheureusement, c'est un sentiment que j'ai depuis le début de cette série.
J'espère que les prochains romans vont dynamiser un peu l'ensemble !