Sommaire :
La version originale – Blindsided (Fake Boyfriend #4)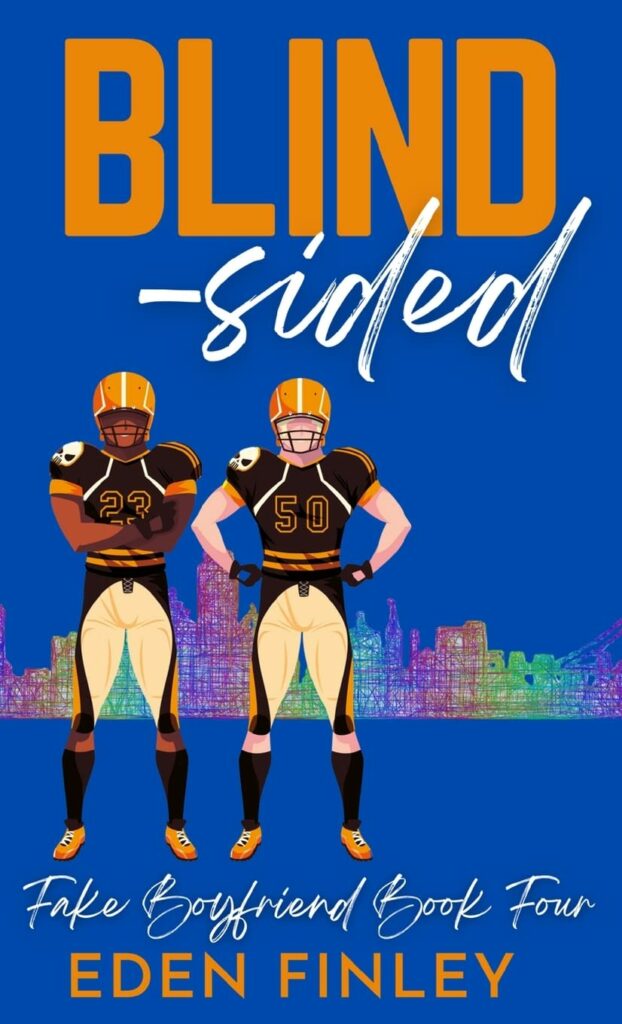 Miller
When Talon left to play pro ball six years ago, the hole in my chest confused me. I focused my heartache into making my own NFL dreams come true, and by the time I was drafted, the longing I had for my best friend was buried deep.
Now he wants everything to be like it was in college, but we can't have threesomes and be reckless like we once were. The media storm would be enough to break both our careers.
That's not my biggest concern though. The torch I had for him burns brighter after so long apart, and there's nothing I can do about it. Marcus Talon is straight.
I need to stay away from him.
Talon
Years ago, Miller and I made a pact that we'd win a Super Bowl together. When I'm offered a position on his team in Chicago, I don't hesitate. I move across the country to chase a dream that's a decade old.
Only, now that I'm here, he's avoiding me every chance he gets. If he was anyone else, I'd cut my losses.
But this is Shane Miller–the guy who makes everything better just by existing in my universe. The guy I'd do anything for. The guy who's more to me than a brother, a friend, or even a teammate.
I'm not going to let him get away.
La version française – Charmeur (Faux Petit-Ami tome 4)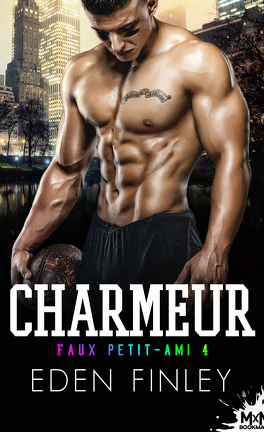 Miller
Lorsque Talon est parti jouer au football américain chez les pros, j'ai été surpris par le trou béant qu'il a laissé dans ma poitrine. Pour me remettre, je me suis focalisé sur mon rêve de me qualifier dans la NFL et, une fois recruté, j'ai refoulé ce manque créé par mon meilleur ami.
Il veut désormais que tout redevienne comme à l'université, mais nous ne pouvons pas faire des plans à trois comme à l'époque et prendre des risques. Une tempête médiatique suffirait à briser nos carrières respectives.
Ce n'est cependant pas ce qui me préoccupe le plus. Mes sentiments sont encore plus forts après avoir passé si longtemps loin de lui, mais je suis coincé. Marcus Talon est hétéro.
Je dois garder mes distances.
Talon
Il y a quelques années, Miller et moi avons fait le pacte de gagner le Super Bowl ensemble. Lorsqu'on m'offre une place dans son équipe à Chicago, je n'hésite pas. Je déménage à l'autre bout du pays pour chasser ce rêve de plus de dix ans.
Le truc, c'est que, maintenant que je suis là, il m'évite à chaque occasion. Si c'était quelqu'un d'autre, je m'en serais tenu là.
Mais c'est de Shane Miller qu'il est question : le mec dont la simple existence rend tout plus beau. Le mec pour qui je ferais n'importe quoi. Il est plus qu'un frère, un ami ou même un coéquipier.
Je ne le laisserai pas me filer entre les doigts.
Mon avis
★★★★ 4/5
Blindsided est le quatrième tome de la série Fake Boyfriend mais peut-être lu seul bien que tous les personnages de la série soient amis et se croisent régulièrement. Vous risquez donc un peu de spoils si vous ne lisez pas les tomes dans l'ordre.
On est ici sur un trope Friends to Lovers, deux meilleurs amis qui ont l'habitude de "s'amuser" ensemble avec d'autres femmes jusqu'à ce que l'un des deux s'attache et décide de prendre ses distances.
Ce tome est en général l'un des préférés de ceux qui ont lu la série. On a une personnalité forte, Talon, et une personnalité plus posée, Miller, qui se complètent à merveille. Je dois admettre que de mon côté, j'ai toujours eu un peu de mal avec Talon que je trouve un peu trop exubérant. Mais je suis une exception, ce personnage fait en général l'unanimité à tel point qu'on le recroise dans plusieurs romans d'Eden Finley comme par exemple Football Royalty.
Si ce n'est pas mon préféré, on passe tout de même un bon moment. Tout comme les autres tomes de la série, on a ce trope "Found Family" en fil rouge de tous les romans et c'est un vrai plaisir de retrouver toute la bande à chaque livre. Si vous recherchez une série sans prise de tête, je ne peux que vous la recommander !