Sommaire :
La version originale – Hat Trick (Fake Boyfriend #5)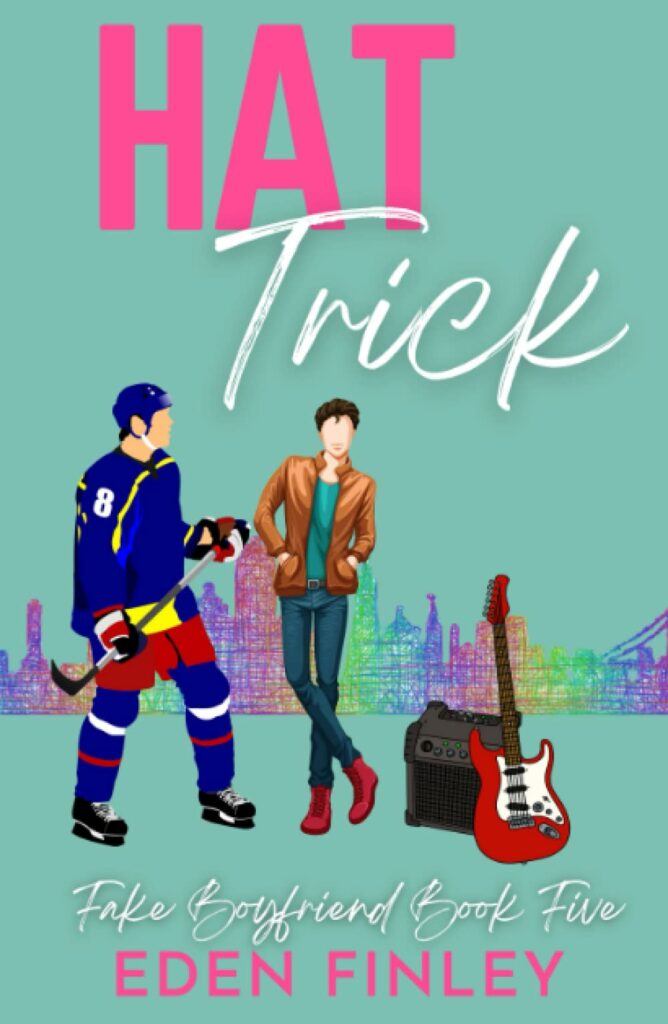 Soren
You know what's not fun? Going on a Fiji vacation with four other couples. Especially when recently single.
What's even worse is when a past hook-up arrives unannounced.
Not only do we have a history, but he's ten years younger and a famous rock star. Most importantly, he's my friend's little brother.
Being trapped on an island with Jet Jackson is going to be sweet torture because all I want is another chance.
I just don't think he's going to give it to me.
Jet
You know what's not fun? Escaping one guy who broke my heart only to run into another.
Being on the road for three years has left me exhausted. The last thing I want is for Caleb 'Soren' Sorensen to try for round two.
I can't fight my draw to him. I've never been able to.
I'm suddenly back to being the naive kid who stupidly lusted after a hockey player.
All I can think is if I let Soren get close, I'll walk away from this vacation with a double broken heart.
La version française – Séducteur (Faux Petit-Ami Tome 5)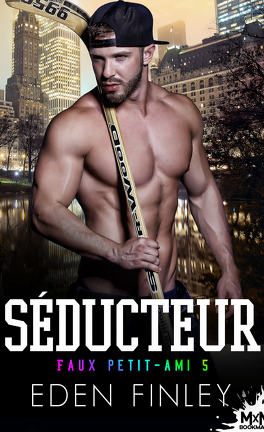 Leur histoire ne s'est pas bien terminée, mais le destin semble ne pas en avoir fini avec eux. Lorsque Soren et Jet se retrouvent en vacances ensemble, leur proximité va réveiller une vieille attirance… et des sentiments qu'ils pensaient enfouis.
Soren
Vous savez ce qui n'est pas marrant ? Partir en vacances aux îles Fidji avec quatre autres couples. Surtout lorsque vous êtes célibataire depuis peu.
Alors, quand un type avec lequel j'ai couché débarque à l'improviste, je ne fais pas le fier.
Il a dix ans de moins que moi. C'est une véritable rockstar. Mais surtout, c'est le petit frère d'un de mes amis.
Être coincé sur une île avec Jet Jackson… ça va être de la torture. Car tout ce que je demande, c'est une autre chance.
Et je ne pense pas qu'il soit prêt à me l'accorder.
Jet
Vous savez ce qui n'est pas marrant ? Fuir un type qui m'a brisé le cœur… pour me retrouver nez à nez avec un autre.
Ces trois années sur la route ont été éreintantes. Alors, la dernière chose que je veux, c'est que Caleb Sorensen, « Soren » pour les intimes, tente de me reconquérir.
Je suis incapable de faire taire l'attirance que j'éprouve pour lui. Je n'ai jamais eu cette force.
En un claquement de doigts, me voilà redevenu ce jeune un peu naïf qui en pinçait pour un joueur de hockey.
Une chose est sûre : si je laisse Soren m'approcher, je rentrerai de vacances avec le cœur doublement brisé.
Mon avis
★★★★ 4,5/5
Hat Trick est le cinquième et dernier tome de la série Fake Boyfriend et un de ceux que j'attendais avec le plus d'impatience.
Nous avions rencontré Jet, le frère de Matt, dans le deuxième tome de la série, Trick Play. Eden Finley avait glissé deux trois interactions entre Soren et Jet dans les tomes précédents, juste assez pour créer de l'impatience sur cet ultime tome.
Jet et Soren c'est un peu le syndrome du "right guy, wrong time". Ils se sont rencontrés plusieurs années auparavant mais aucun des deux n'avaient vraiment la possibilité de se lancer dans une vraie relation et pourtant ils sont comme deux magnets impossibles à séparer. Dès qu'ils se retrouvent proches l'un de l'autre, c'est comme s'ils ne pouvaient pas faire autrement que de converger l'un vers l'autre. Aucun des deux ne s'est vraiment remis de leur rencontre et des actes manqués qui les ont réunis au fil des années.
J'ai bien aimé l'ensemble de la série Fake Boyfriend mais je crois que ce tome est vraiment mon préféré, ils ont ce côté "âmes-soeurs". J'aurais juste aimé un peu plus de profondeur, de "pining" à leurs interactions et aux flashbacks, qu'ils se languissent l'un de l'autre et qu'on ressente des petits pincements au coeur.
Hat Trick est aussi le tome qui fait le lien avec une série spin-off que j'ai trouvé assez réussie, "Famous", qui a elle-même sa série spin-off "de la série "Mike Bravo Ops" (série toujours en cours mais prometteuse). Le premier tome est centré sur le personnage de Harley, l'ex de Jet. Si je ne l'ai pas aimé dans Hat Trick, je l'ai apprécié et surtout mieux compris à la lecture de Pop Star.
Attention donc si vous commencez la série Fake Boyfriend, vous avez tout un univers qui va s'ouvrir à vous 🙂