Sommaire :
La version originale – Hell & High Water (THIRDS #1)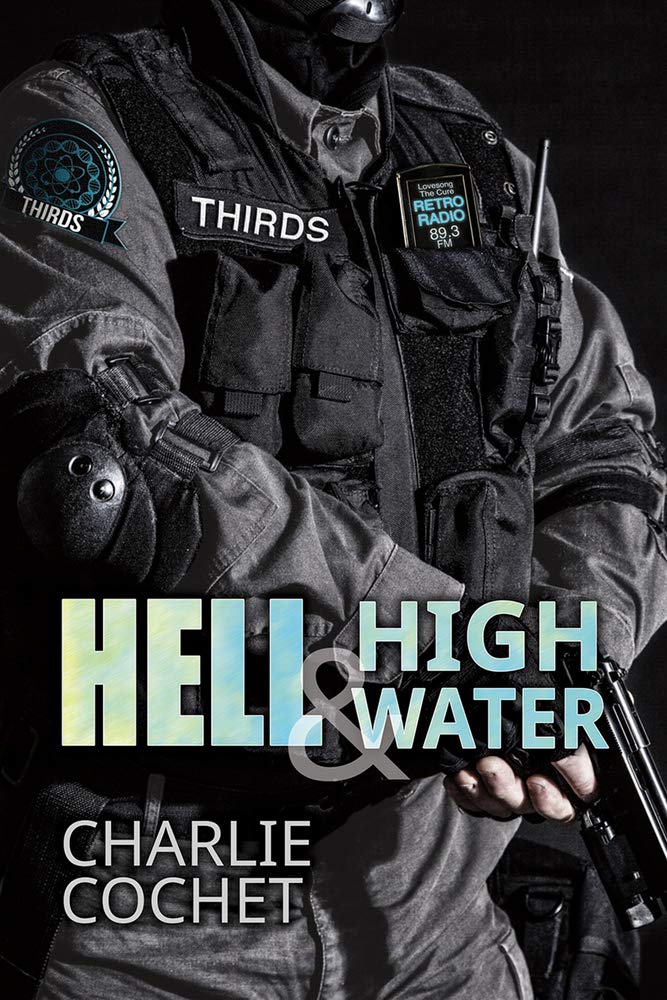 Action. Comedy. Romance. And that one weird guy.

When homicide detective Dexter J. Daley's testimony helps send his partner away for murder, the consequences – and the media frenzy – aren't far behind. He soon finds himself sans boyfriend, sans friends, and, after an unpleasant encounter in a parking garage after the trial, he's lucky he doesn't find himself sans teeth. Dex fears he'll get transferred from the Human Police Force's Sixth Precinct, or worse, get dismissed. Instead, his adoptive father – a sergeant at the Therian-Human Intelligence Recon Defense Squadron otherwise known as the THIRDS – pulls a few strings, and Dex gets recruited as a Defense Agent.

Dex is determined to get his life back on track and eager to get started in his new job. But his first meeting with Team Leader Sloane Brodie, who also happens to be his new jaguar Therian partner, turns disastrous. When the team is called to investigate the murders of three HumaniTherian activists, it soon becomes clear to Dex that getting his partner and the rest of the tightknit team to accept him will be a lot harder than catching the killer – and every bit as dangerous.
La version française – Contre Vents et Marées (THIRDS #1)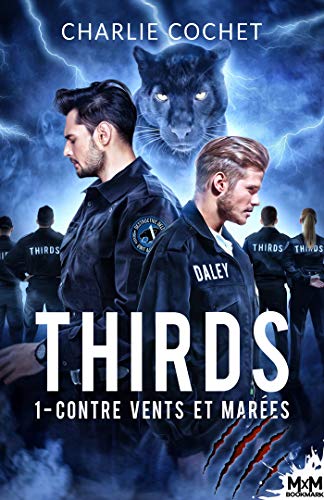 Quand le témoignage du détective Dexter J. Daley aide à envoyer son partenaire en prison pour meurtre, les conséquences – et la frénésie des médias- ne sont pas bien loin. Il se retrouve rapidement sans petit ami, sans amis, et, après une rencontre déplaisante dans un parking, il a de la chance de ne pas se retrouver sans ses dents.
Dex craint d'être transféré de la Sixième Division des Forces de Police Humaines, ou pire, d'être renvoyé. Au lieu de ça, son père adoptif – un sergent de l'Escadron de Défense et de Renseignements Therian-Humain plus connu sous le nom de THIRDS – tire quelques ficelles, et Dex est recruté comme Agent de Défense.
Déterminé à remettre sa vie dans le droit chemin, Dex a hâte de commencer ce nouveau travail. Mais sa première rencontre avec le Chef d'Equipe Sloane Brodie, qui se trouve être également son nouveau partenaire Therian Jaguar, tourne au désastre.
Quand l'équipe est appelée pour enquêter sur les meurtres de trois activistes Humani Therians, il devient vite évident pour Dexq ue se faire accepter par son partenaire – et par le reste de son équipe soudée – sera plus difficile que de coincer le tueur… et tout aussi dangereux.
Mon avis
★★★★★ 5/5
Je sais, je sais, j'arrive très en retard sur cette série dont le premier tome a été publié en 2014. Je croise Charlie Cochet très souvent dans les listes des meilleurs romans et j'avais sa série THIRDS depuis un moment. Après avoir commencé 2-3 livres sans succès, j'ai fini par me laisser tenter par ce livre et j'ai vraiment passé un super moment !
Je ne suis pas très romans policiers, c'est en partie pour ça que j'ai attendu si longtemps avant de débuter cette série. J'ai donc commencé ce roman en m'attendant à trouver un roman sensiblement similaire à Cut & Run. Si j'ai bien aimé Cut & Run, les enquêtes étaient souvent assez faibles scénaristiquement parlant, c'était plus un prétexte pour la romance.
Et bien je dois dire que j'ai été très agréablement surprise par Hell & High Water. Bon, l'enquête n'est pas la plus passionnante et mystérieuse qui soit, j'avais trouvé le coupable et le modus operandi très rapidement.
Mais j'ai trouvé les personnages extrêmement bien construits. Dex est charmant, très drôle, un peu beauf sur les bords et adorable. Sloane le contre-balance à la perfection, il est tellement touchant ! Je pensais trouver un enemies-to-lovers et ce n'est pas le cas ici, on est plutôt sur un homme qui arrive dans une équipe en deuil, qui a du mal à avancer après la mort de leur coéquipier.
Bien qu'il ait des éléments du genre fantastique / paranormal, c'est un roman très réaliste dans la relation entre les différents membres de l'équipe, dans les dialogues, dans les personnages, leurs forces, leurs faiblesses.
Je n'ai qu'une hâte, commencer le deuxième tome ! Je sens que ce n'est clairement pas mon dernier roman de Charlie Cochet, j'aime beaucoup sa plume. Je n'en dirais pas plus pour ne pas dévoiler l'intrigue mais je ne peux que vous recommander de vous laisser tenter par cet univers si vous ne le connaissez pas encore !