Sommaire :
La version originale : Borrowing Blue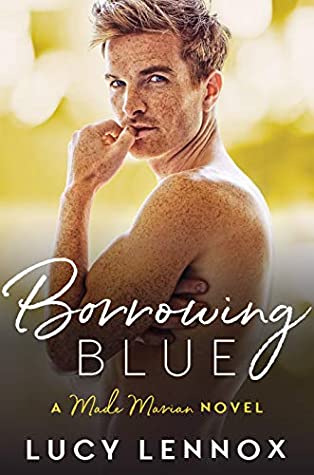 Blue: When my ex walks into the resort bar with his new husband on his arm, I want nothing more than to prove to him that I've moved on. Thankfully, the sexy stranger sitting next to me is more than willing to share a few kisses in the name of revenge. It gets even better when those scorching kisses turn into a night of fiery passion.
The only problem? Turns out the stranger's brother is marrying my sister later this week.
Tristan: I have one rule: no messing with the guests at my vineyard resort. Of course the one exception I make turns out to be the brother of the woman my brother's about to marry. Now we're stuck together for a week of wedding activities, and there's no avoiding the heat burning between us.
So fine, we make a deal: one week. One week to enjoy each other's bodies and get it out of our system. Once the bride and groom say I do and we become family, it'll all be over between us. Right?
La version française – Le Clan Marian, Tome 1 : Blue
Blue : Quand mon ex entre dans le bar avec son nouveau mari à son bras, je ne veux rien de plus que lui prouver que je suis allé de l'avant. Heureusement, l'inconnu sexy assis à côté de moi est plus que disposé à partager quelques baisers au nom de la vengeance. Cela devient encore meilleur lorsque ces baisers brûlants se transforment en une nuit de passion ardente.
Le seul problème ? Il s'avère que le frère de l'étranger épouse ma soeur plus tard cette semaine.
Tristan : J'ai une règle : ne pas jouer avec les invités de mon vignoble. Bien sûr, la seule exception que je fais est le frère de la femme que mon frère est sur le point d'épouser. Maintenant, nous sommes coincés ensemble pendant une semaine d'activités de mariage et nous ne pouvons pas éviter la passion qui brûle entre nous.
Alors d'accord, nous concluons un marché : une semaine. Une semaine pour profiter du corps de l'autre et le sortir de notre organisme. Une fois que les futurs mariés répondront « oui » et que nous serons devenus une famille, tout sera fini entre nous. Pas vrai ?
Mon avis
★★★ 3/5
Je suis assez partagée sur le roman Borrowing Blue. Après avoir lu et adoré deux romans de Lucy Lennox, celui-ci est le premier qui me laisse un peu mitigée. D'une part, l'écriture est toujours aussi agréable, il y a des dialogues vraiment qualitatifs mais d'autre part, il y a un gros problème de rythme dans ce roman. Je m'explique.
La première partie du roman est passée très vite, un peu trop insta love pour moi mais pourquoi pas… Le côté Fake Boyfriend est pratiquement oublié le chapitre suivant la mise en place mais on passe un bon moment.
J'avoue qu'en découvrant le livre, j'étais surprise de voir qu'il faisait plus de 300 pages, c'est long pour ce type de romance. Et clairement… Ce roman aurait du être plus court. Comment le raccourcir ? SUPPRIMER LES 10 000 SCENES DE SEXE.
Si vous consultez les romans qui figurent sur ce blog, vous verrez que je ne suis pas contre les romans qui intègrent du sexe, bien au contraire. Mais là, stop. Un chapitre sur deux contient une scène de sexe et celles-ci ne sont pas forcément bien écrites et n'apportent pas grand chose à l'histoire. Je vais être totalement honnête, au bout de 60 % du livre, j'ai même fini par sauter les pages de ces fameuses scènes car je voulais que l'histoire avance et ça commençait à m'agacer.
Enfin, un autre point avec lequel j'ai eu du mal. Le nombre de personnages. On parlait parfois de personnages et je ne savais pas même plus à qui on faisait référence. Je cherche toujours qui est Jack ! Je comprends que l'autrice veuille présenter les différents membres de la famille dans le premier tome (et encore certains sont mentionnés sans qu'on les voit vraiment). Mais enfin, si Jeremy n'est apprécié de personne dans la famille, pourquoi est-il invité au mariage ?? Sa présence est l'élément déclencheur de l'histoire d'amour et elle n'a aucun fondement. On rencontre beaucoup trop de personnes et à l'exception de Simone et Jude, toutes ces rencontres restent très superficielles. Au point où je me suis demandée si c'était une bonne idée de placer l'histoire dans ce cadre "préparation de mariage". On voit à peine Blue parler à Simone où l'aider avec quoi que ce soit.
Bref, c'est une lecture rapide et agréable mais qui a quelques couacs. Je pense que je vais continuer car les notes des suivants sont vraiment positives et je suis curieuse de découvrir l'histoire de Jude (le tome 3), mais j'espère que l'autrice aura réduit les trop nombreuses scènes de sexe. De ce que j'ai pu voir, le tome 2 est déjà beaucoup plus court !