Sommaire :
La version originale : The Lightning-Struck Heart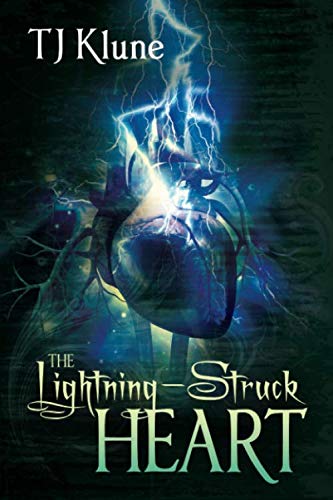 Once upon a time, in an alleyway in the slums of the City of Lockes, a young and somewhat lonely boy named Sam Haversford turns a group of teenage douchebags into stone completely by accident.
Of course, this catches the attention of a higher power, and Sam's pulled from the only world he knows to become an apprentice to the King's Wizard, Morgan of Shadows.
When Sam is fourteen, he enters the Dark Woods and returns with Gary, the hornless gay unicorn, and a half-giant named Tiggy, earning the moniker Sam of Wilds.
At fifteen, Sam learns what love truly is when a new knight arrives at the castle. Sir Ryan Foxheart, the dreamiest dream to have ever been dreamed.
Naturally, it all goes to hell through the years when Ryan dates the reprehensible Prince Justin, Sam can't control his magic, a sexually aggressive dragon kidnaps the prince, and the King sends them on an epic quest to save Ryan's boyfriend, all while Sam falls more in love with someone he can never have.
Or so he thinks.
La version française : Le coeur de foudre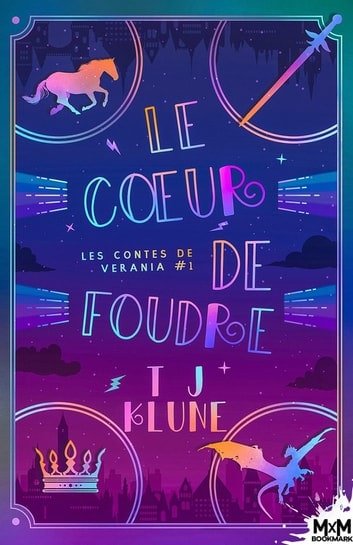 Il était une fois, dans une ruelle des quartiers pauvres de la Ville de Lockes, un jeune homme plutôt solitaire, du nom de Sam Haversford.
Quand celui-ci transforme – tout à fait accidentellement – un groupe d'adolescents débiles en pierre, il attire bien malgré lui l'attention d'une puissance supérieure qui l'arrache au seul monde qu'il connaît pour devenir l'apprenti du plus important sorcier du royaume, Morgan of Shadows.
À l'âge de quatorze ans, il pénètre dans la forêt de Dark Woods d'où il revient avec Gary, la licorne gay sans corne et un semi-géant du nom de Tiggy, ce qui lui vaut le surnom de Sam of Wilds. À l'âge de quinze ans, il comprend ce qu'est vraiment l'amour quand un nouveau chevalier arrive au château. Sir Ryan Foxheart l'incarnation du plus beau rêve qu'on puisse imaginer.
Mais tout tombe à l'eau quand, au fil des ans, Ryan s'éprend du répréhensible prince Justin, que Sam ne peut pas contrôler sa magie, qu'un dragon sexuellement agressif kidnappe le prince, que le roi les envoie à son secours, et que Sam tombe de plus en plus amoureux de la seule personne qu'il ne pourra jamais avoir.
Enfin, ça c'est ce qu'il croit.
Mon avis
★★★★★ 5/5
Et si on mélangeait un conte de fées avec Shrek, The Princess Bride, un "soupçon" d'érotisme, un langage et des situations définitivement interdites au moins de 16 ans ? En théorie, rien ne devrait fonctionner dans ce livre. Et pourtant c'est un vrai bijou !
Comme tous les romans de T.J. Klune, on a ici un savant mélange de situations plus invraisemblables les unes que les autres, de l'humour, de l'amour et de l'amitié. Des situations qui font rire, qui donnent des pincements au coeur. Ce roman est un peu indescriptible, c'est un peu un conte de fée gay pour adultes et encore, cette description ne permet pas de lui rendre justice.
J'ai commencé à lire ce livre dans l'avion pour aller à l'étranger, donc entourée de personnes qui pouvaient potentiellement lire par dessus mon épaule et voir des titres de chapitre tels que "I'd swallow anything for you" ou "Ducks, Blueberries, and Accidental Almost Hand Jobs".
D'ailleurs, c'est peut-être les titres de chapitres qui permettent de mieux comprendre ce roman. Un conte de fée absolument génial, complètement décalé avec des personnages attachants et drôles. J'ai hâte de découvrir la suite.
Je ne vous en dis pas plus sur le contenu de l'histoire mais je vous le recommande chaudement ! On retrouve tous les ingrédients d'un bon roman de T.J. Klune et même si on retrouve des similarités entre les personnages de ce roman et ceux de ses autres romans, c'est toujours aussi génial.