Sommaire :
La version originale – Deke (Fake Boyfriend #3)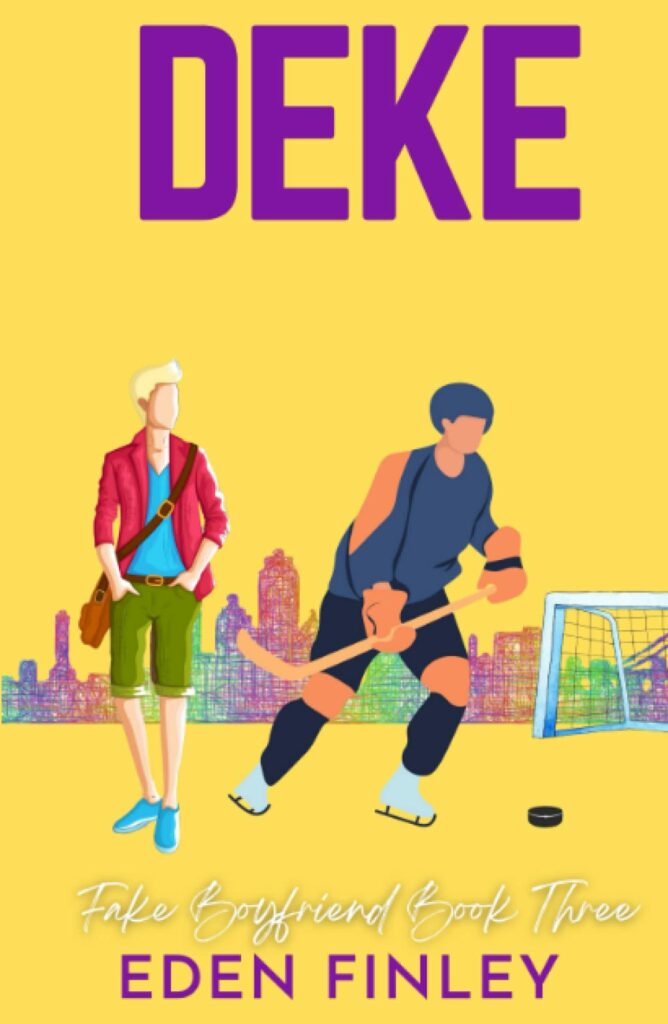 Ollie
Word of advice: don't come out to random guys in public restrooms. Even if they're charming and adorably nerdy and offer to help.
My family believe I can't be happy if I'm not out to the world. I have a bitter ex-boyfriend and an unstable NHL career to show for it. A fake boyfriend seems like an easy and quick solution to get my family off my back, and this guy is volunteering. I take him up on it without asking his name.
I really should've asked for his name.
Lennon
Word of advice: learn how to introduce yourself properly.
In my defense, I don't recognize Ollie Strömberg right away. I cover football, not hockey.
I'm not supposed to see him again, and he's never supposed to find out I'm a reporter.
That all changes when my editor reassigns me.
It's a lesson I should've learned by now. Nothing's changed since high school. Jocks still hate nerds. But even worse, athletes hate journalists. Especially ones who know their secret.
La version française – Joueur (Faux Petit-Ami – Tome 3)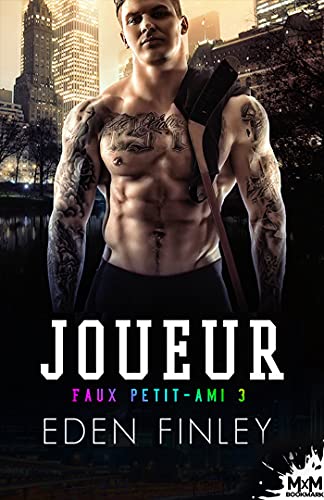 Ollie
Note à moi-même : ne jamais – jamais – faire son coming out à un parfait étranger dans des toilettes publiques. (Même si cet étranger est un adorable intello super mignon.)
Ma famille est persuadée que je ne serai jamais heureux en restant dans le placard. Mon hargneux ex-petit ami ainsi que ma carrière en berne peuvent en témoigner. Alors un faux petit-ami me semblait être la solution parfaite pour que ma famille me fiche la paix. Et j'avais même trouvé le mec parfait. Peut-être que j'aurais dû commencer par lui demander son nom ?
Lennon
Note à moi-même : éviter d'omettre une information capitale quand on se présente peut sauver des vies (ou des carrières).
Quand j'ai fait la rencontre de la star du hockey Ollie Strömberg, je ne l'ai pas reconnu. Je suis journaliste sur le foot, pas le hockey ! Et puis, nous n'étions pas censés nous revoir. Mais voilà, mon rédacteur en chef en a décidé autrement.
Ceci est une leçon que j'aurais dû retenir depuis le lycée : les sportifs n'aiment pas les intellos. Pire, les athlètes de haut niveau détestent les journalistes. Surtout ceux qui connaissent leur plus grand secret.
Mon avis
★★★★ 4/5
Le troisième tome de la série Fake Boyfriend est consacré à Ollie, un joueur de hockey et Lennon, un journaliste sportif. En somme, une histoire d'amour qui peut paraître impossible compte tenu des conflits d'intérêts en jeu.
Si j'ai trouvé la mise en place et le côté "Faux petit-ami" un peu tiré par les cheveux, j'ai vraiment beaucoup d'affection pour les deux personnages. Ils sont vraiment complices et sont tous les deux des gars biens 🙂 Leurs échanges sont adorables et on retrouve avec plaisir les personnages des tomes précédents. J'ai aussi beaucoup aimé la famille de Ollie qui donne vraiment une dynamique à l'histoire.
Le seul petit bémol que j'aurais sur ce roman vient de la (trop) grande présence de Ash, l'ex de Ollie. Que ce soit dans les discussions, les pensées de Ollie etc. Certes, c'est réaliste et compréhensible, mais je trouvais ça un peu malsain par moment.
D'ailleurs, Eden Finley a écrit une nouvelle dédiée à Ash et Max, le frère de Ollie (oui, oui) nommée "It's Complicated". Je suis pas méga fan du trope "je suis amoureux de l'ex de mon frère" mais je l'ai lu et c'est mignon même si tout n'est pas toujours crédible (à mes yeux) vis à vis de ce qu'on a pu découvrir dans Deke.
C'est une lecture simple, rapide, qui met du baume au coeur 🙂