Sommaire :
La série Necessary Evils
Maniac est le septième et dernier tome de la série Necessary Evils. Si chaque tome est centré sur un couple différent, il est tout de même préférable de les lire dans l'ordre pour bien comprendre qui est qui et les intrigues en cours.
⚠️ Attention cette série est une série Dark Romance, pensez bien à lire les triggers warnings, des thèmes très sensibles sont abordés.
La version originale – Maniac (Necessary Evils #7)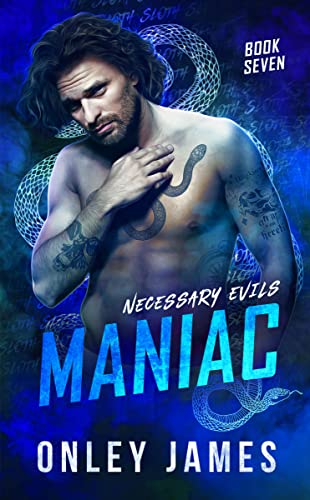 Thomas Mulvaney was just a child when an error in judgment cost him everything. He vowed then that he would do anything to atone for his mistake. And he did. He never strayed from the right path. Until Aiden.

Aiden Mulvaney doesn't exist. He's a lie created by the father who disowned him and by Thomas Mulvaney, the only man Aiden had ever begged to love him. But that was years ago, when he'd still believed in fairytales. Before Thomas rejected him.

Thomas has spent years trying to have Aiden in his life while keeping him at arm's length, but Aiden's done with half-measures. He's done with Thomas the martyr. He's just done. So, he's kept his distance. Trouble is, now, someone is threatening to expose a secret that affects them all.

No, not that one. A secret so shameful, Thomas won't even utter it out loud. Can he and Aiden revisit the past and keep the family name intact, or will they both be buried beneath the weight of their memories as their old feelings resurface?
La version française
Ce roman n'est pas encore traduit en français.
Mon avis
★★★ 3.5/5
Maniac était sans aucun doute le roman que j'attendais plus de toute l'année 2023. Aiden et Thomas sont un couple dont on nous parle depuis le tout premier tome de Necessary Evils. Et comme souvent quand on nous tease un couple depuis 6 tomes et demi, on a des attentes énormes pour ce dernier tome. Et je dois dire que de mon côté… Ce roman n'était malheureusement pas ce que j'attendais.
Pour être honnête, je n'en demandais pas beaucoup, je souhaitais principalement :
Une excellente raison qui explique pourquoi Thomas et Aiden n'étaient toujours ensemble au bout de 20 ans (20 ANS !)
Des moments privilégiés entre Thomas et Aiden qui se languissent l'un de l'autre, de la possessivité, de la jalousie
Des flashbacks de l'histoire de Thomas et Aiden, leur rencontre, leur premier baiser, les scènes de rapprochement au fil des ans, l'annonce de leur relation au père d'Aiden
Une quête d'un vrai gros méchant et une tuerie en famille parce que c'est ça qu'on aime dans Necessary Evils (en mode séminaire Mulvaney)
Des moments tous ensemble
Le mariage de Noah et Adam
Au final, on a une histoire d'amour qui est plus suggérée que racontée. Quand enfin arrivent les moments qu'on attendait avec impatience, ils se trouvent un peu bâclés ou pire, passés sous silence. J'ai l'impression que beaucoup d'éléments qui auraient du se trouver dans ce tome vont être publiés sous la forme de nouvelles et je trouve ça assez frustrant.
J'ai un peu l'impression d'une histoire pas finie / mal finie. Je comprends l'envie de préparer le public aux séries spin-off mais Maniac aurait gagné à avoir au moins 100 pages de plus. J'espère vraiment que Onley James va nous donner un peu plus car je reste un peu sur ma faim. La série spin-off qui arrive me fait de l'oeil mais je n'ai pas envie de commencer une nouvelle série sans que la précédente soit réellement terminée. Au moins une nouvelle avec le mariage de Noah et Adam ? C'est quand même un élément qu'on nous promet depuis le tout premier tome…
J'ai mis 3.5/5 car malgré ma frustration j'ai eu beaucoup de plaisir à retrouver les frères Mulvaney et leur moitié. Cette série n'est pas parfaite mais je suis vraiment attachée aux différents personnages et je pense que le spin-off sur les enfants de Jericho me fera le même effet !