Sommaire :
La version originale – Edin (Monstrous #2)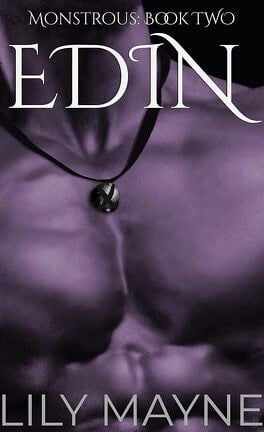 I was just a boy when the monsters rose on earth, forcing humans to flee to the coastlines and live in cramped, dirty, military-controlled cities. I enlisted as soon as I could to escape.
Now, I've been in the military for twelve years and have the scars—and missing body parts—to prove it. As a hardened soldier who's spent his fair share of time out in the Wastes—the dangerous place where monsters roam free—I didn't think anything could surprise me anymore.
But then circumstance forced me together with a big, annoying purple monster who's arrogant and bossy and pushes all my buttons in the worst—and best—ways. I need his help, and I hate needing anyone's help. But the more time I spend with him, the more I realise that maybe there's more from him that I need. And that he might need things from me too.
But I'm still a soldier. I still have responsibilities. It doesn't matter how I feel about Edin, because we can't be together. It's too dangerous.
That doesn't stop me wanting him, though.
La version française
Ce roman n'est pas encore disponible en français.
Mon avis
★★★★ 4/5
Ce roman est le deuxième tome de la série Monstrous, si chaque tome peut être lu seul, il est préférable de les lire dans l'ordre.
Après avoir passé un très bon moment avec The Soul Eater, j'ai décidé de continuer la série Monstrous avec le deuxième tome. On y retrouve Edin, le meilleur ami de Wyn, dont on avait fait la connaissance dans le premier tome.
Edin était déjà présenté comme un personnage solaire, gentil, taquin et protecteur envers ses proches. On retrouve tous ces traits de personnalités et bien d'autres dans ce second tome. On fait la connaissance de sa moitié, Hunter. Mention spéciale à un personnage avec un handicap, une jambe amputée sous le genou. On ne croise pas souvent de personnages avec un handicap dans les romans donc c'est toujours important de le souligner. 🙂
J'ai vu que l'autrice disait avoir des doutes sur le fait que les lecteurs apprécient Hunter au début du roman. Personnellement, je n'ai eu aucun mal à l'apprécier. J'ai compris ses choix, son tempérament et plus généralement son attitude envers Edin au début du roman. Leur relation est crédible, ils ont une vraie complicité.
L'autrice a aussi expliqué avoir corrigé des éléments qui n'étaient pas toujours crédibles sur le premier tome notamment tout ce qui concerne les dates de péremption de la nourriture et les voitures en état de fonctionnement. Personnellement ça ne m'avait pas dérangé plus que ça mais je peux comprendre que pour certains, cela soit bloquant pour l'immersion dans l'histoire.
Le roman n'est pas un coup de coeur pour moi, peut-être à cause du rythme. Le livre est long et parfois assez monotone. Bien que je ne me sois jamais réellement ennuyée, j'aurais aimé un peu plus d'action. Il y a toutefois de très bons éléments et beaucoup de points soulevés qu'on souhaite voir creuser dans les tomes suivants.
A l'heure où j'écris cette review, j'ai déjà lu 30 % du tome 3, The Rycke, et je suis à fond dedans !