Sommaire :
La version originale – For the Fans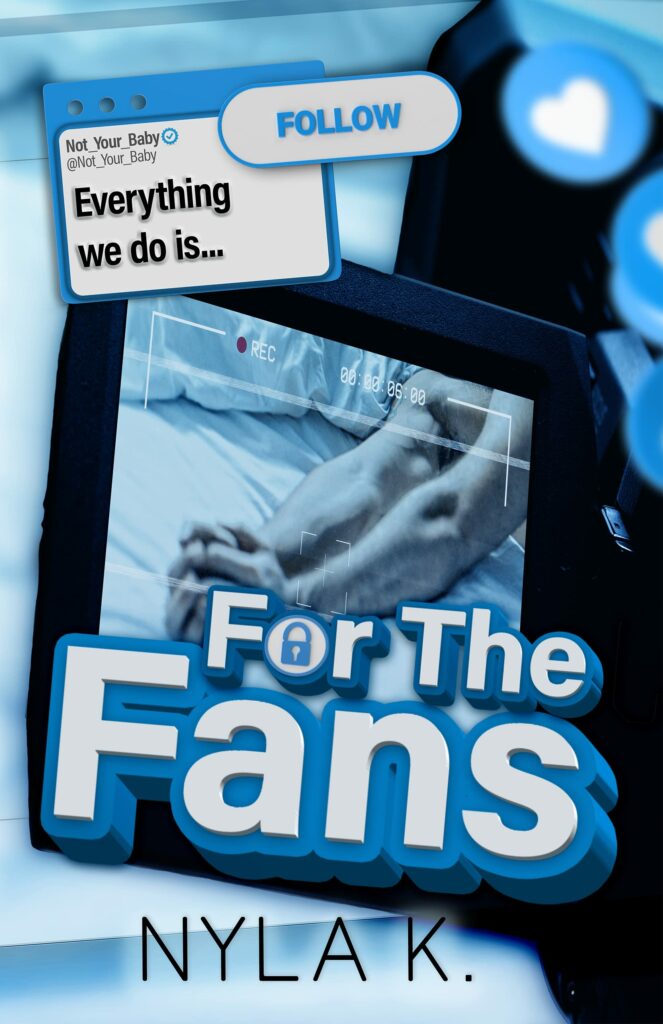 Kyran Harbor is everything I'm not.
Rich. Popular. A superstar football player who's awfully broody for someone who has it all. Basically, he's a preppy jock who hates me. Oh, and he's also my stepbrother.
That's right. We're stuck together, sharing a school, a house… A bathroom. Honestly, I wouldn't care… If he wasn't such an uptight control-freak who messes with me just because we're different.
I had every intention of avoiding him when we got to college… Until abrupt misfortune forces us both into a compromising position.
Now the grouchy jerk I was hoping to evade might be the only person who can help me out of it.
Avi Vega is everything I despise.
A dreamer. A flake. An artist who smokes too much weed and thinks aliens exist. And by some sick cosmic joke, he's now my stepbrother, following me on what should've been my escape plan.
It was already a disaster. Add a sudden financial disruption to the mix, and let's just say my options are heavily limited.
If I want to stay an all-star quarterback on the way to the NFL, I'll need to do something drastic. Unfortunately for me, and my desperate desire for control, the perpetually smiling stoner has a plan.
Maybe we can stop hating each other just enough to pull this off. As long as we remember we're only doing it… for the fans.
La version française
Ce roman n'est pas encore traduit en français.
Mon avis
★★★★ 4,5/5
Et bien, je dois dire que ça fait longtemps que je n'avais pas apprécié un roman comme ça ! Je voyais souvent ce livre sur mes réseaux sociaux dernièrement et à la lecture du résumé, j'ai décidé de bousculer un peu mes plans pour me lancer dans la lecture de "For The Fans". 0 regret !
En commençant ce livre, je n'avais pas fait attention au nombre de pages, on est quand même sur un très beau bébé de 736 pages ! Un format très long pour une romance mais je peux vous dire que je n'ai pas vu les pages défiler.
L'auteur prend le temps de poser ses personnages, de construire leur relation petit à petit. On est ici sur deux tropes différents : Enemies to Lovers (et c'est très bien fait) et demi-frères. Je suis assez difficile sur le trope Enemies to Lovers mais le fait d'avoir un roman long fait que l'auteur peut vraiment construire ce passage d'ennemis à amants d'une manière très fluide et naturelle. C'est crédible et on en redemande !
Les deux personnages sont très bien écrits, ils ont une alchimie de dingue et le niveau de spice est plutôt très élevé ! On a deux jeunes hommes que tout oppose, qui vont se rapprocher petit à petit au fil des pages. Les thèmes du roman sont souvent bien plus profonds qu'une simple relation amoureuse et c'est très appréciable. On évite un peu les clichés prévisibles du genre.
Compte tenu de la taille du livre, on aurait pu avoir des longueurs, mais j'ai vraiment trouvé que l'auteur avait réalisé un très bon travail dans la construction de son roman !
On est vraiment passé à deux doigts du 5 étoiles mais j'ai quelques éléments qui m'ont un peu dérangé dans le livre. J'aurais aimé qu'Avi se préserve un peu plus face à l'attitude de Kyran, il lui pardonne un peu trop facilement à mes yeux. Et je n'ai pas trop apprécié la façon dont la dernière péripétie se déroule, un petit texto n'aurait nuit à personne 🙃 On va voir comment je "digère" ma lecture, j'ai encore un peu la tête dans cet univers bien que je sois déjà dans un autre roman donc ce n'est pas exclu que je vienne modifier ma note pour lui donner 5 étoiles 🙂
⚠️ Attention si vous vous lancez dans ce roman, c'est précisé en préambule mais ce livre contient des triggers warnings. Si vous n'êtes pas sensibles aux triggers warnings, l'auteur recommande de lire le roman à l'aveugle (ce que j'ai fait). Si vous voulez vous assurer que vous pouvez le lire confortablement, tous les triggers sont listés sur son site internet.