Sommaire :
La version originale – Love, Theoretically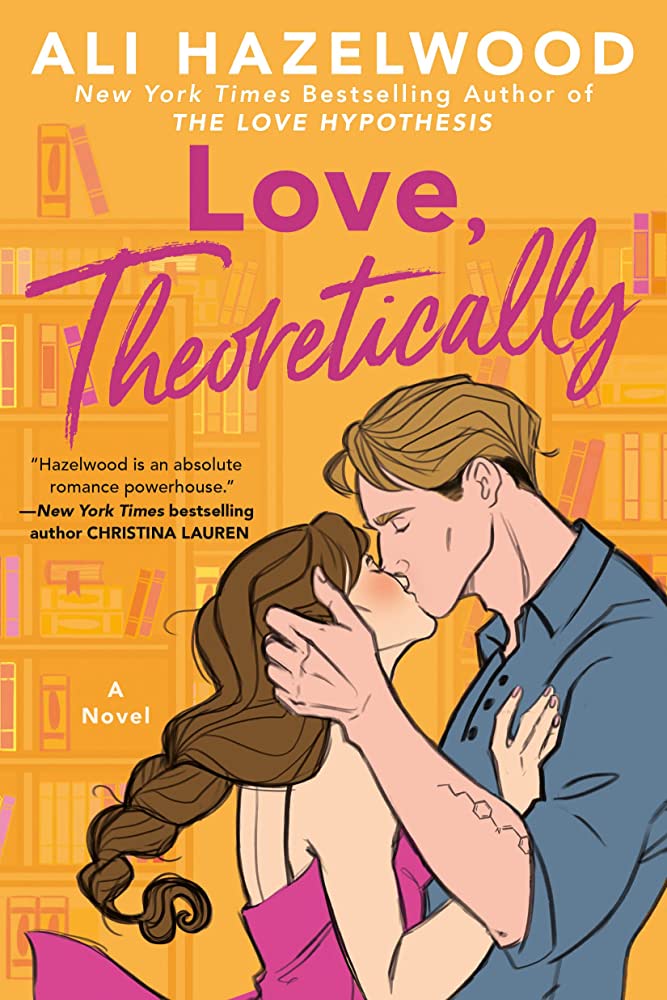 The many lives of theoretical physicist Elsie Hannaway have finally caught up with her. By day, she's an adjunct professor, toiling away at grading labs and teaching thermodynamics in the hopes of landing tenure. By other day, Elsie makes up for her non-existent paycheck by offering her services as a fake girlfriend, tapping into her expertly honed people pleasing skills to embody whichever version of herself the client needs.
Honestly, it's a pretty sweet gig—until her carefully constructed Elsie-verse comes crashing down. Because Jack Smith, the annoyingly attractive and broody older brother of her favorite client, turns out to be the cold-hearted experimental physicist who ruined her mentor's career and undermined the reputation of theorists everywhere. And that same Jack who now sits on the hiring committee at MIT, right between Elsie and her dream job.
Elsie is prepared for an all-out war of scholarly sabotage but…those long, penetrating looks? Not having to be anything other than her true self when she's with him? Will falling into an experimentalist's orbit finally tempt her to put her most guarded theories on love into practice?
La version française
Ce roman n'est pas encore traduit en français.
Mon avis
★★★★ 4/5
"Love, Theoretically" est le troisième roman de Ali Hazelwood, à qui on doit également le célèbre "The Love Hypothesis" et "Love on the Brain". Si j'ai passé un bon moment à la lecture de ce roman, ce n'est pas un coup de coeur pour moi.
Tout d'abord, j'ai beau lire les romans de Ali Hazelwood de manière très espacée, je trouve quand même que les mêmes scénarios ont tendance à revenir dans ses livres. Et même si ce sont des thèmes que j'apprécie, au bout de 3 romans, cela commence à devenir un peu répétitif.
Ensuite, j'ai eu un peu de mal à m'identifier à Elsie, le personnage féminin. Je peux comprendre ses insécurités et son histoire mais tout de même, de là à ne pas corriger quelqu'un qui vous appelle par le mauvais prénom pendant des années, on est rendu loin, trop loin. Elle se laissait trop marcher sur les pieds pour moi et avait toujours tendance à interpréter les choses de manière négative, et ce, même quand c'était on ne peut plus clair.
J'ai aussi trouvé que les déclarations d'amour arrivaient trop tôt. Quand le héros déclare ses sentiments avant même qu'on est vraiment senti l'amour ambiant, ça me fait toujours bizarre.
En revanche, Ali Hazelwood a une plume qui est toujours aussi prenante et son roman passe très vite. J'ai beaucoup aimé le personnage de Jack. Comme tous les personnages masculins signés Hazelwood il peut être assez intense, mais on a vraiment un homme bien construit, avec une vraie personnalité, qui a fait des erreurs par le passé. J'ai aussi adoré Cece, la colocataire de Elsie, j'aimerais bien un roman sur son histoire avec Kirk 🙂
Au final, une histoire sans prise de tête qui se lit très vite mais qui reste assez peu mémorable. De ces trois romans, je pense que c'est celui que j'ai le moins aimé. Et vous, vous en avez pensé quoi ?
P.S : Pour les fans de The Love Hypothesis, sachez qu'il y a un cameo de Adam et Olive 😉