Sommaire :
La version originale – Fourth Wing (The Empyrean #1)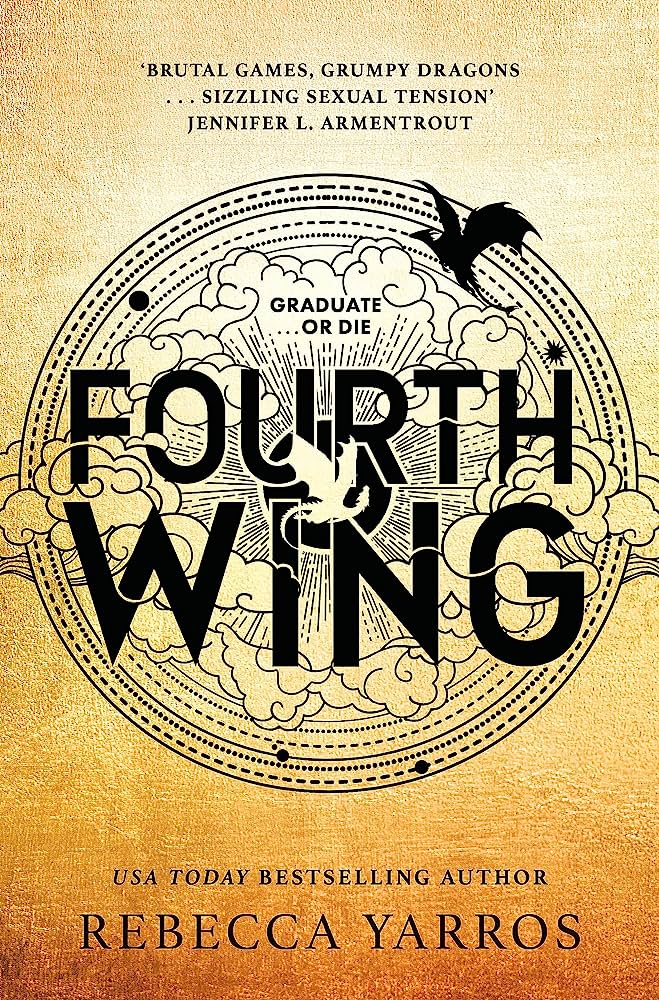 Enter the brutal and elite world of a war college for dragon riders from USA Today bestselling author Rebecca Yarros
Twenty-year-old Violet Sorrengail was supposed to enter the Scribe Quadrant, living a quiet life among books and history. Now, the commanding general—also known as her tough-as-talons mother—has ordered Violet to join the hundreds of candidates striving to become the elite of Navarre: dragon riders.
But when you're smaller than everyone else and your body is brittle, death is only a heartbeat away…because dragons don't bond to "fragile" humans. They incinerate them.
With fewer dragons willing to bond than cadets, most would kill Violet to better their own chances of success. The rest would kill her just for being her mother's daughter—like Xaden Riorson, the most powerful and ruthless wingleader in the Riders Quadrant.
She'll need every edge her wits can give her just to see the next sunrise.
Yet, with every day that passes, the war outside grows more deadly, the kingdom's protective wards are failing, and the death toll continues to rise. Even worse, Violet begins to suspect leadership is hiding a terrible secret.
Friends, enemies, lovers. Everyone at Basgiath War College has an agenda—because once you enter, there are only two ways out: graduate or die
La version française
Ce roman n'est pas encore traduit en français mais vu son succès, je pense que ce n'est qu'une question de temps !
Mon avis
★★★★ 4/5
S'il y a bien un roman qui est partout sur les réseaux sociaux en ce moment c'est bien Fourth Wing et les critiques semblent unanimes ! A l'heure où j'écris cet article, les notes moyennes du roman sont à 4,67/5 pour 291 652 avis, autant dire que c'est exceptionnel.
En général, quand un roman est encensé sur BookTok, c'est un roman que je n'apprécie pas quand je tente de le lire. Mais j'ai passé un très moment avec Fourth Wing ! Pas autant que je l'aurais espéré mais il y a de très bons éléments. Le livre a même réussi à me faire pleurer.
On commence par Violet, un personnage féminin vraiment très bien construit, une jeune fille intelligente, rusée qui souffre d'un corps présenté comme fragile. Souvent sous-estimée, Violet est une battante qui ne lâche rien et surtout qui ne perd jamais sa capacité de réflexion et ça c'est vraiment plaisant !
Du côté de la romance, Fourth Wing est présenté comme un Enemies to Lovers. Désolée mais pour moi, ce n'est pas réellement le cas ici. Certes, ils viennent de deux familles que tout oppose mais ils ne se haïssent pas, ils ne se connaissent pas et ne se font pas confiance, ce qui est très normal dans ces circonstances. Hormis ce point, la romance est bien construite, ils prennent le temps de se connaître, et leur rapprochement est logique et très bien amené vu la défiance qui existe entre eux deux. J'ai beaucoup aimé le personnage masculin mais j'avoue avoir fait une overdose des pensées de Violet sur son physique. Hormis ça, les scènes de sexe sont vraiment top !
Un élément que j'ai beaucoup aimé dans ce roman, j'ai trouvé très astucieux la façon dont l'auteur nous présente le Royaume. Quand Violet a besoin de se calmer et de se concentrer, elle récite ce qu'elle a pu apprendre en étant Scribe, ce qui permet de mieux connaître l'univers de manière très subtile.
Je n'ai pas donné 5 étoiles à ce roman pour plusieurs raisons qui sont très subjectives (comme toute notation 🤓). Je n'ai pas été happée par le roman comme je pensais l'être. Je pouvais le reposer et le reprendre sans avoir d'impatience particulière. Il n'y avait pas d'intrigue de fond qui me tenait en haleine, on avance petit à petit dans le roman sans trop savoir où on va.
J'ai aussi trouvé que l'univers manquait un peu de profondeur. Un point qui est encore à nuancer puisqu'il s'agit du premier tome d'une série mais je m'explique. A l'exception de Violet, qui est un personnage très bien construit qu'on connaît très bien à la fin du premier tome, je n'ai pas la sensation d'avoir des personnages profonds. Après, c'est un roman écrit avec un seul et unique point de vue (sauf pour un chapitre) donc c'est plus complexe de créer des personnages avec un vrai relief. Cela étant, comme évoqué plus haut, c'est un faux point négatif car ce n'est que le premier tome donc je pense que ce point va aller en s'arrangeant dans les futurs volets de la série. Aussi je pensais que beaucoup de personnages allaient être des clichés à première vue et à quelques exceptions près, je me suis trompée. Une bonne surprise !
En parlant de POV, je n'ai pas compris le seul et unique chapitre du point de vue de Xaden. Il tombe comme un cheveu sur la soupe et je ne l'ai pas absolument pas trouvé nécessaire.
Troisième élément, je ne vais pas trop détailler pour éviter de spoiler mais j'ai trouvé deux trois incohérences dans le roman qui m'ont un peu sortie de l'histoire. J'ai réussi à passer outre mais j'ai un peu ressassé.
Et enfin dernier point, il n'y a pas assez de dragons ! Que ce soit des volets et combats ou des interactions, j'ai vraiment trouvé que ça manquait. J'espère qu'on aura l'occasion d'en voir plus dans les prochains tomes. J'aurais préféré un peu moins de scènes où Violet bave sur le physique de son amoureux (il y en a un peu trop, on a compris qu'il était canon) et plus de scènes badass.
Attention, le livre se termine sur un cliffhanger mais la suite arrive dès le mois de novembre ! Malgré les quelques points négatifs que j'ai pu trouver, je peux vous assurer que je vais continuer cette série avec plaisir. Il y a vraiment du potentiel !