La version originale – Galaxies and Oceans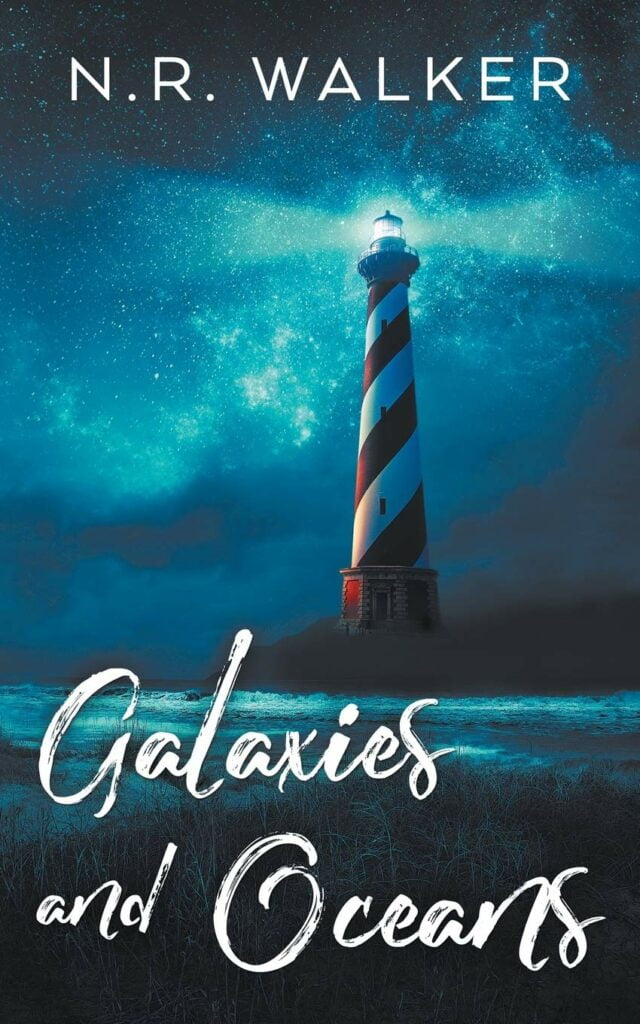 Seizing his one chance to escape, Ethan Hosking leaves his violent ex-boyfriend, leaves his entire life, and walks into the path of a raging bushfire. Desperate to start over, a new man named Aubrey Hobbs walks out of the fire-ravaged forest, alive and alone. With no ID and no money, nothing but his grandfather's telescope, he goes where the Southern Cross leads him.
Patrick Carney is the resident lighthouse keeper in Hadley Cove, a small town on the remote Kangaroo Island off the coast of South Australia. After the tragic death of his lover four years ago, he lives a solitary life; just him, a tabby cat, the Indian and Southern Oceans, and a whole lot of loneliness. He's content with his life until a stranger shows up in town and turns Patrick's head.
Patrick never expected to be interested in anyone else.
Aubrey never expected to be happy.
Between Aubrey's love of the stars and Patrick's love of the ocean, these two fragile hearts must navigate new waters. If they can weather the storm of their pasts, they could very well have a love that eclipses everything.
La version française – Galaxies et Océans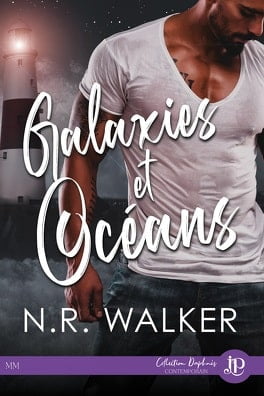 Saisissant sa seule chance de s'échapper, Ethan Hosking quitte son ex-petit ami violent en laissant toute sa vie derrière lui et se retrouve sur la trajectoire déchaînée d'un feu de brousse. Cherchant désespérément à repartir à zéro, désormais un homme nouveau nommé Aubrey Hobbs sort de la forêt ravagée par le feu. Sans carte d'identité ni argent et avec pour seul bagage le télescope de son grand-père, il va là où la Croix du Sud le mène.
Patrick Carney est le gardien de phare de Hadley Cove, une petite ville située sur l'île isolée de Kangaroo Island, au large de la côte sud de l'Australie. Après la mort tragique de son amant quatre ans auparavant, il mène une vie solitaire ; juste lui, un chat, les océans Indien et Austral, et une bonne dose de solitude. Il est satisfait de sa vie jusqu'à ce qu'un étranger débarque et lui fasse tourner la tête.
Patrick ne s'attendait pas à s'intéresser à quelqu'un d'autre.
Aubrey ne s'attendait pas à être heureux.
Entre l'amour d'Aubrey pour les étoiles et celui de Patrick pour l'océan, ces deux cœurs fragiles doivent naviguer sur de nouvelles eaux. S'ils parviennent à surmonter la tempête de leur passé, ils pourraient bien vivre un amour qui éclipse tout.
Mon avis
★★★★ 4/5
J'ai longuement hésité entre 3,5 et 4 sur 5 pour ce roman. Mais au final, je vais lui donner 4/5. C'est un joli roman très romantique qui donne de l'espoir.
Galaxies and Oceans nous emmène en Australie sur l'ile reculée de Kangourou. Nous découvrons l'histoire d'Ethan, qui pour fuir une relation violente, abusive et toxique avec un homme politique influent, se trouve obligé de simuler sa mort dans l'espoir de recommencer une nouvelle vie.
Il croise alors le chemin de Patrick (ou plutôt Patrick croise son chemin) et ils vont se reconstruire petit à petit en s'appuyant l'un sur l'autre. C'est une histoire toute en douceur entre deux hommes, l'un fasciné par les étoiles et l'autre hanté par l'océan.
Comme tous les romans de N.R. Walker, ce roman se lit très vite et n'a pas beaucoup de drama. On évite tout problème de communication. Amateurs de romantisme, vous allez adorer ! De mon côté, j'ai trouvé quelques longueurs sur la fin mais j'ai beaucoup aimé le début de l'histoire.
Attention si vous lisez ce roman, Ethan (Aubrey) fuit une relation violente qui l'a traumatisé, on a donc des allusions à des scènes de violence passées. Cela peut être difficile pour certains.