Sommaire :
La version anglaise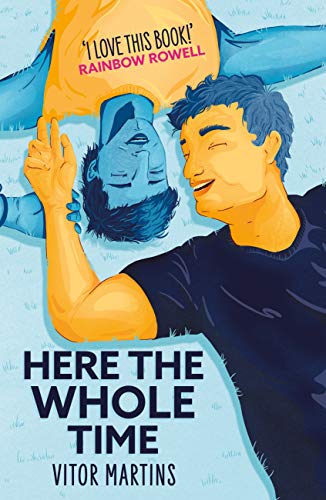 What would you do if you had to spend the next 15 days with your lifelong crush?
Felipe gets it — he's fat. Not chubby. Not big-boned. Fat. And he doesn't need anyone to remind him, which is, of course, what everyone does. That's why he's been waiting for this moment ever since the school year began: school break. Finally, he'll be able to spend some time far away from school and the classmates who tease him incessantly. His plans include catching up on his favorite TV shows, finishing his to-be-read pile, and watching YouTube tutorials on skills he'll never actually put into practice.
But things get a little out of hand when Felipe's mom informs him that Caio, the neighbor kid from apartment 57, will be spending the next 15 days with them while his parents are on vacation. Felipe is distraught because A) he's had a crush on Caio since, well, forever, and B) Felipe has a list of body image insecurities and absolutely NO idea how he's going to entertain his neighbor for two full weeks.
Suddenly, the days ahead of him that once promised rest and relaxation (not to mention some epic Netflix bingeing) end up bringing a whirlwind of feelings, forcing Felipe to dive head-first into every unresolved issue he has had with himself — but maybe, just maybe, he'll manage to win over Caio, too.
La version française
Ce roman brésilien n'est pas encore traduit en français. J'espère qu'il le sera prochainement !
Mon avis
★★★★★ 5/5
Tout d'abord, mention spéciale à un roman qui a pour héros une personne en surpoids. L'auteur, Vitor Martins, a déclaré vouloir écrire des livres dans lesquels il pouvait lui même se reconnaître. Cela donne un roman avec des personnages réalistes et attachants.
J'ai vraiment adoré Felipe, il est très drôle, j'ai éclaté de rire à plusieurs reprises en lisant le cheminement de ces pensées. Il est aussi incroyablement touchant.
Attention Trigger Warning, Felipe est victime de harcèlement scolaire, de grossophobie, par ses camarades de classe. Les scènes de harcèlement (à l'école ou en dehors) font particulièrement mal au coeur mais sont malheureusement, criantes de réalisme.
J'ai beaucoup retenu le personnage de Felipe et son évolution, au point que j'ai trouvé que la relation avec Caio était presque secondaire dans l'histoire.
Je ne dis pas ça dans le sens où on ne la voit pas se construire mais plutôt dans le sens où on suit le parcours de Felipe qui apprend à baisser sa garde pour laisser entrer Caio petit à petit dans sa vie. Et c'est ce qui est le plus beau dans ce roman. Le voir changer, prendre confiance en lui.

Tout au long du livre, il est soutenu et accompagné par sa maman, dans une des relations les plus belles et saines que j'ai pu voir dans un roman. Leurs interactions sont tantôt drôles, tantôt touchantes.
Si vous avez aimé Heartstopper, ce roman devrait vous plaire 🙂 On retrouve le même type de simplicité si touchante qui fait du bien 🍃 J'ai d'ailleurs vu que Alice Oseman recommandait ce roman :
"I loved it so much. I read it all in one day. It's so adorable"

Alice Oseman – Auteur de heartstopper