La version originale – How to Say I Do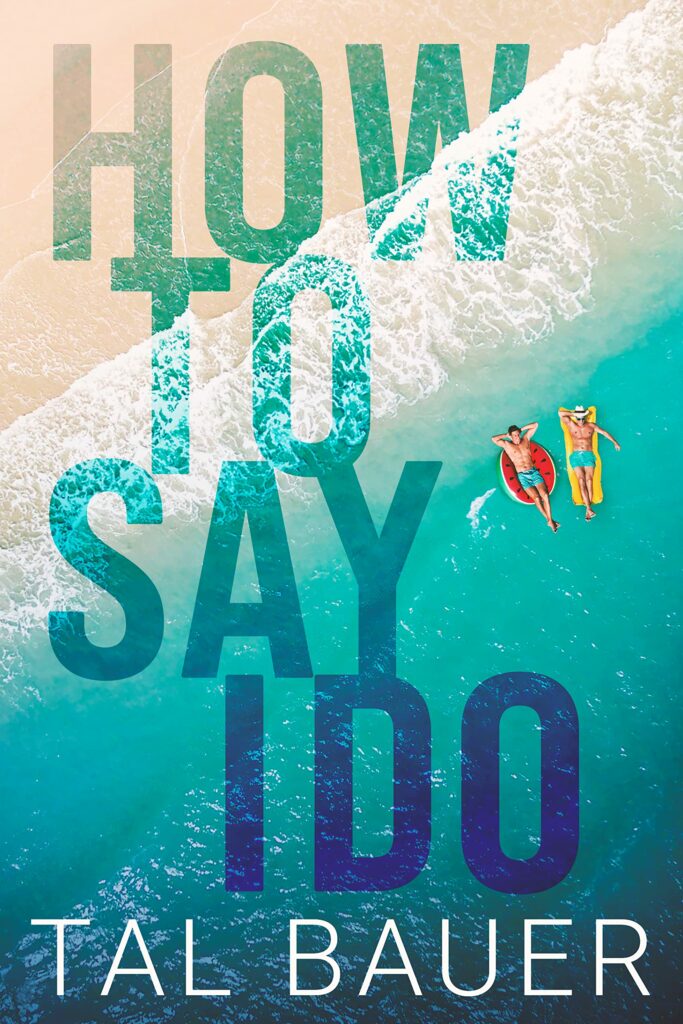 Opposites attract, sure. But when Manhattan glitz collides with Texas grit, will love be enough?

Noël:
Manhattan is my heart and soul. In the cutthroat world of elite public relations, I'm one of the princes. I manage global superstars, predict the up-and-coming trends, easy. And social media? That's my specialty. I can make you, hon, and launch you straight to the stratosphere. My life is champagne glitter and starlight, and everything around me is gold. But then, my own wedding bells turn into alarm bells, and suddenly, I'm off to Cancun—alone. Alone with a first-class ticket to a honeymoon for one. All that gold? Tarnished tin. Everything I thought I knew? Gone.
Cancun is supposed to be where I obliterate myself on margaritas and tropical waves. Forget the past, shake off the pain, and look ahead. It's my strategy, always has been. But beneath it all, I long for someone to see the real me, the Noël I've hidden away for years. I'm so damn lonely.
And then I meet Wyatt.
He's nothing like me. He's a rancher from Texas, he can't tell me whether high waist jeans are in or out, and he'd rather work his fields than rub elbows with celebs. Velvet rope lines and VIP access are meaningless to him. He's also kinder than me, and altruistic in a way I haven't seen since cargo pants died as a trend in the early 2000s. He's the best man I've ever met.
And that's a problem, because all of his big-hearted warmth and Texas gentleness is drawing me in. I'm desperate to surrender, but I can't. Good things aren't meant for me. I'm no good for Wyatt. In fact, I'm his looming heartbreak.
So why am I kissing him?
Wyatt:
I'm a man of the land, made from the Texas soil I work on, strengthened by the vineyard I tend to. It's a world I've carefully nurtured, a balm for the wounds of my past. This life hasn't been easy, but it's mine. I'm fiercely protective of the world I've built for me, my brother, his fiancée, and my nephew. The four of us are everything that matters to me, and my life and my cares extend to my cross fences and the edges of my range. Everything else out there? It's all just dust in the wind.
And then Noël blows into my life.
I'm gone. Captivated, spun around, tipped upside down and torn apart. I can't breathe; being around Noël makes me feel like I'm sixteen again and hiding all my secret fantasies and unspoken desires. I'm down in Cancun with my family, and this isn't the time to be falling for a guy, but how can you not fall head over heels when the man of your dreams walks into your world?
Noël's many multi-hued layers fascinate me and perplex me, and I want to spend every minute unraveling him. Noël's life is glittering gold, and mine is Texas soil, but I can learn to understand Manhattan, pop culture, and celebrities if that means I get to be Noël's man.
But does Noël feel the same? What is this between us? Is it just a week that we both need, a Pause on life, out here in this place so far removed from our real lives? Or is this the start of something new and huge and life-changing for the two of us? What am I seeing in Noël's eyes when he looks at me?
And what's going to happen when this week ends?
La version française
Ce roman n'est pas encore traduit en français.
Mon avis
★★★ 3,5/5
Les romans de Tal Bauer ont généralement des notes stratosphériques. Je n'avais lu qu'un seul de ses romans avant celui-ci, Enemies of the State, je l'avais bien aimé mais sans le trouver exceptionnel. Et là je dois dire que j'ai la même impression.
Je tiens à dire que je pense que le problème vient de moi plus que du livre. Il y a un peu de tropes que je n'apprécie pas trop.
Tout d'abord, on a deux personnages très caricaturaux, le citadin vs le cow-boy, et d'un côté comme de l'autre, on est vraiment sur des extrêmes. Cela manque un peu de nuances à mes yeux. Tout est horrible et superficiel du côté du citadin, tout est idyllique du côté du cow-boy. Je ne doute pas qu'il y ait des parts de vérité mais un petit village au fin fond du Texas, un des états les plus conservateurs des USA, qui n'a aucun problème avec l'homosexualité ? J'aimerais que ce soit vrai. Même remarque pour Wyatt, cet homme est presque trop parfait, personne ne peut être aussi parfait ce n'est pas possible !
Ensuite, on est clairement sur un roman instalove. Je ne sais pas pourquoi il est qualifié de slow-burn, ils se rencontrent et ont déjà des premiers rapports en moins d'une semaine… Ce n'est vraiment pas ce que j'appelle du slow-burn. Les sentiments des deux personnages principaux, en particulier Wyatt, m'ont paru démesurés par rapport à la situation de Noël. Il imagine déjà leur futur au bout de quelques jours. Cela me mettait presque mal à l'aise par moment.
Enfin, j'ai trouvé que ce roman était looooong et parfois très peu crédible notamment sur l'aspect de l'organisation d'évènements, je voyais beaucoup de trous dans la raquette sur ce point. J'en avais aussi un peu marre des tirades sur le vin. Je comprends que Wyatt soit passionné mais il ne faut pas non plus que cela prenne trop de place dans l'histoire et là j'ai trouvé que c'était le cas.
Toutefois, malgré ces éléments, c'est un roman très bien écrit, avec beaucoup de beaux sentiments, des scènes parfois drôles, des personnages secondaires attachants. Je me fais très critique car il avait vraiment des notes élevées donc j'attendais plus mais c'est un bon livre pour s'évader et voyager ! N'hésitez pas à lui laisser sa chance pour vous faire votre propre avis 🙃