La version originale – Time to Shine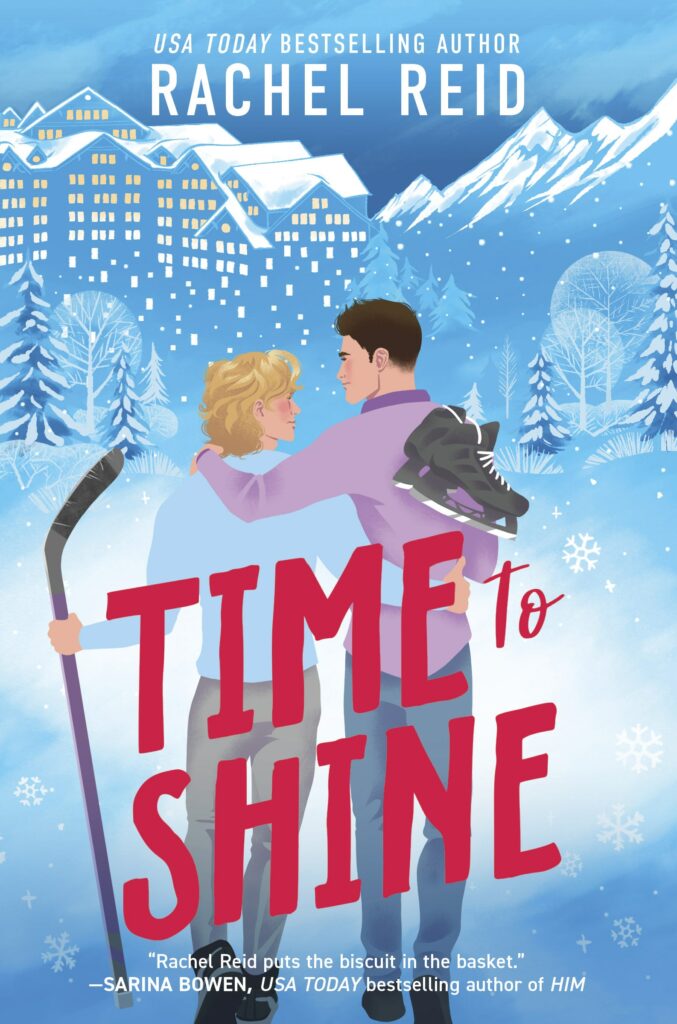 A merry and bright hockey romance about finding your place, finding your people and finding your way back to the one you love the most.
For Landon Stackhouse, being called up from the Calgary farm team is exciting and terrifying, even if, as the backup goalie, he rarely leaves the bench. A quiet loner by nature, Landon knows he gives off strong "don't talk to me" vibes. The only player who doesn't seem to notice is Calgary's superstar young winger, Casey Hicks.
Casey treats Landon like an old friend, even though they've only interacted briefly in the past. He's endlessly charming and completely laid-back in a way that Landon absolutely can't relate to. They couldn't have less in common, but Landon needs a place to live that's not a hotel room and Casey has just bought a massive house—and hates being alone.
As roommates, Casey refuses to be defeated by Landon's one-word answers. As friends, Landon comes to notice a few things about Casey, like his wide, easy smile and sparkling green-blue eyes. Spending the holidays together only intensifies their bromance-turned-romance. But as the new year approaches, the countdown to the end of Landon's time in Calgary is on.
La version française
Ce roman n'est pas encore traduit en français.
Mon avis
★★★ 3,5/5
Le problème avec des auteurs comme Rachel Reid c'est qu'elle a donné naissance à des romans comme Heated Rivalry et The Long Game, donc forcément, la barre est haute, très haute. J'attendais ce roman avec impatience mais malheureusement, je ne l'ai pas apprécié comme je l'imaginais.
Si je n'ai pas forcément adoré ce livre, c'est principalement à cause de la première moitié du roman et c'est à cause d'un élément très personnel.
Quand je lis une romance, je veux qu'elle soit centrée sur les deux personnages principaux. J'accepte qu'ils soient avec d'autres personnes avant qu'il ne se passe quoi que ce soit entre eux à condition de ne pas trop crouler sous les détails.
Mon problème avec Time to Shine ? Casey a des rapports sexuels réguliers (non décrits) avec d'autres personnages jusqu'à plus de 50 % du roman (j'ai vérifié le pourcentage sur ma liseuse).
Alors oui, on n'a pas de détails, non il ne s'est toujours rien passé entre lui et Landon physiquement parlant mais quand même, plus de la moitié d'une romance avec un des personnages principaux qui, bien qu'attaché, continue de coucher avec d'autres personnes, je suis pas fan du tout.
J'ai beaucoup mieux apprécié la seconde moitié du roman. Casey est adorable, Landon est un peu plus difficile à comprendre, je n'ai pas toujours soutenu ses réactions mais j'ai réussi à l'apprécier et j'ai également beaucoup aimé leurs discussions et leur complicité.
J'ai tout de même trouvé quelques longueurs sur la fin. Il y a beaucoup de micro sections avec une alternance de points de vue, des moments de vie, pris de part et d'autres, ce qui donne un côté très précipité (oui je sais c'est paradoxal vis-à-vis de ce que je disais sur les longueurs). Pour être plus claire, c'est un peu comme si on nous faisait un trailer de leur vie sur une période de temps, je me demandais où l'auteur allait s'arrêter.
En somme, une lecture sympa, sans prise de tête mais si je dois vous conseiller un roman de Rachel Reid, choisissez Heated Rivalry ! (Est-ce que j'ai été un peu déçue que Shane et Ilya ne soient pas mentionnés dans le roman ? Ouiiiii 😭)