Sommaire :
Les versions originales – The Nira Chronicles
Kríe Captivity (The Nira Chronicles #1)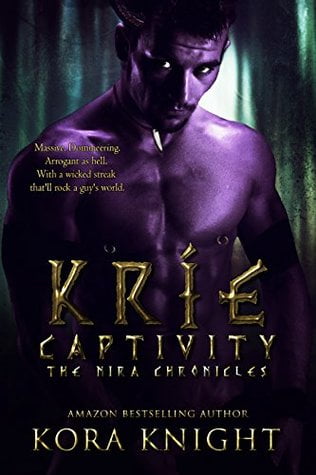 Nira. Astrum Industries' newest charted planet. Freshly discovered. Wholly unexplored. But that won't be the case for long.
Led by Captain Alec Hamlin, a team of explorers make an emergency landing and are soon confronted by their first Niran native. A huge male Kríe packed with muscle, baring small, black horns and fangs. Fortunately, he's friendly. Or so he lets them believe.
With the help of his pack, the Kríe takes Alec's team captive, intending to sell them for profit. But these Nirans aren't just shrewd, they're arrogant and domineering. And most of all, extremely sexual. Which explains why, on their journey to peddle their new wares, they feed Alec's team a powerful aphrodisiac. Nothing like some decadent entertainment on the side.
Soon the team finds themselves feverishly trying to resist the growing urge to mount their seductive captors. But as passion prevails and unexpected bonds form, so much more is suddenly at stake. With no time left, will a shift in Kríe perspective be enough to change the fate of Alec's team?
Zercy (The Nira Chronicles #2)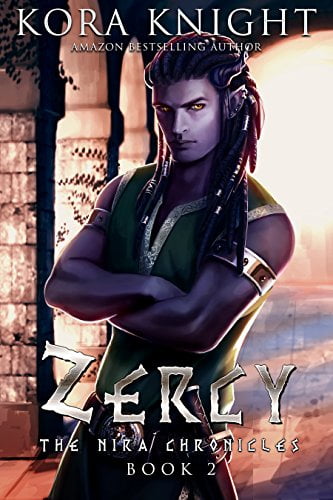 Emergency landing. Uncharted planet. Erotic captivity of epic proportions. Right when Captain Alec Hamlin thinks it can't get any crazier, his team is sold to their captors' mighty sovereign. King Zercy of the Kríe. Ruler of the planet's most formidable species. Man, is he imposing. So regal and larger than life. And way too savagely handsome for Alec's liking. From the first moment he laid eyes on him, he knew the Kríe was trouble, knew he needed to steer clear of him at all costs.
But when Zercy chooses Alec to be his personal pet, all plans to dodge the male fall by the wayside.
Alec is forced to spend each evening in the alluring king's company, each night bound to the seductive king's bed. Wholly at his mercy. Utterly defenseless, in his own mind and most especially his restless body. His struggle is real. Because the more Alec gets to know Zercy, the more he realizes two things. The Kríe king is damaged—unstable, not right, making him unpredictable and highly dangerous. But he is also innately kind beneath the raging storm that torments him. Kind and genuine, with a sad but beautiful soul. Something Alec fights with all he is, not to acknowledge. He can't fall for Zercy.
Zercy is the enemy. The captor of both Alec and his team. Which means Alec needs to get them out of there, before it's too late. Before emotions overthrow logic and take control of the wheel. If only his body didn't crave Zercy so fiercely, and his heart didn't want him just as badly.
With Search and Rescue due any day, and Alec's team getting antsy, Alec is forced to make a decision. He can't have it both ways. Is he the captain of his men, bound to obligation, or is he a man in love with a Kríe?
Les versions françaises – Les Chroniques de Nira
Captifs des Krie (Les Chroniques de Nira #1)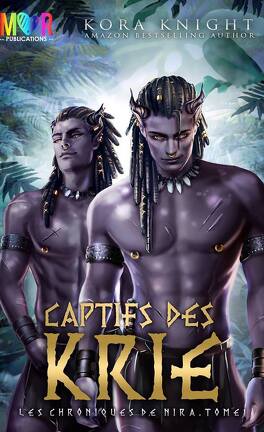 Nira. Nouvelle planète cartographiée d'Astrum Industries, fraîchement découverte, entièrement inexplorée. Ce ne sera pas le cas pour très longtemps.

Dirigée par le Capitaine Alec Hamlin, une équipe d'explorateurs effectue un atterrissage d'urgence et est rapidement confrontée à son premier natif de Nira : un énorme mâle Kríe, bardé de muscles, affichant de petites cornes noires et des crocs. Heureusement, il se montre amical. Du moins, c'est ce qu'il leur laisse croire.

Avec l'aide de son groupe, le Kríe retient l'équipe d'Alec captive, avec l'intention de les vendre afin d'en tirer profit, lors de leur voyage pour retourner dans leur village. Ils vont nourrir les Terriens d'un puissant aphrodisiaque. Rien de tel qu'un divertissement décadent pour le plaisir, car ces Nirans rusés, arrogants et dominateurs sont extrêmement sexuels.

Bientôt, les humains se retrouvent fiévreux, essayant de résister à l'envie croissante de se rapprocher de leurs ravisseurs séduisants. Alors que la passion éclate et que des liens inattendus se forment, il en va tout autrement de leur avenir. Tandis qu'il ne leur reste plus beaucoup de temps, réussir à faire changer d'avis un Kríe sera-t-il suffisant pour faire basculer le destin d'Alec et de son équipe ?
Zercy (Les Chroniques de Nira #2)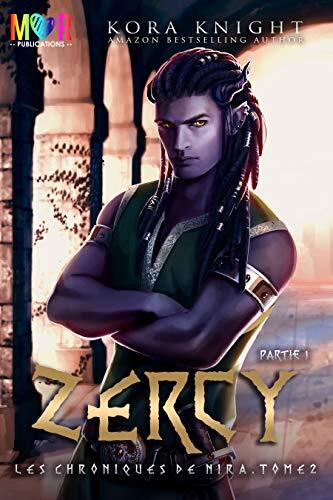 Atterrissage d'urgence. Planète non répertoriée. Captivité érotique de proportions épiques.

Lorsque le capitaine Alec Hamlin pense que la situation ne peut pas devenir plus folle, son équipe est vendue au puissant souverain de leurs ravisseurs : le Roi Zercy des Krie, gouverneur de l'espèce la plus redoutable de la planète. Et bon sang, il est imposant ! Tellement royal et d'une beauté beaucoup trop sauvage au goût d'Alec. Dès qu'il pose les yeux sur lui, il comprend que ce Krie sera source de problèmes et qu'il doit à tout prix se tenir à l'écart.

Mais quand Zercy choisit Alec comme son animal de compagnie personnel, tous ses plans pour esquiver le mâle tombent à l'eau. Il est forcé de passer chaque soirée en compagnie du roi séduisant, et chaque nuit attaché à son lit. Entièrement à sa merci. Totalement sans défense, dans son propre esprit et plus particulièrement dans son corps agité. Sa lutte est réelle. Plus Alec apprend à connaître Zercy, plus il réalise deux choses : le roi des Krie est tourmenté – instable, injuste, ce qui le rend imprévisible et hautement dangereux ; pourtant, il se montre aussi foncièrement gentil et sincère, avec une âme triste et magnifique. Fait qu'Alec combat de toutes ses forces et qu'il refuse de reconnaître. Il ne peut pas tomber amoureux de Zercy, son ennemi, le ravisseur de son équipe. Ce qui signifie qu'Alec doit s'enfuir de là, avant qu'il ne soit trop tard. Avant que ses émotions le submergent et prennent le contrôle de sa vie. Si seulement son corps et son cœur ne désiraient pas autant Zercy.

Avec l'équipe de Recherches et de Sauvetages attendue sous peu, la sienne devient nerveuse, au point qu'Alec est forcé de prendre une décision. Il ne peut pas tout avoir.

Restera-t-il le militaire, à la tête de son contingent, lié par ses obligations, ou choisira-t-il de laisser la place à l'homme amoureux d'un Krie ?
Mon avis
Le tome 1 : ★★★★ 4/5
Le tome 2 : ★★★★★ 5/5
Je suis tombée sur cette série en parcourant des vidéos de recommandations de romances sur YouTube. A la lecture du résumé du premier tome, je me suis dit que ça allait être une romance érotique classique, sans trop de prise de tête.
Et pour le premier, oui c'est clairement de l'érotisme, on est sur une histoire un peu bancale (dans le sens où il y a peu de scénario), un univers intéressant mais peu exploité au profit de beaucoup, beaucoup, beaucoup de scènes de sexes (voire même d'orgies). J'ai longuement hésité entre un 3/5 et un 4/5 pour ce premier tome.
C'est vraiment un roman très étrange, il se passe des choses totalement loufoques mais bizarrement, on continue sa lecture. Le premier tome sert vraiment à poser le contexte pour la suite. Il se termine vite, et la fin laissait présager de belles choses pour le tome 2 donc je me suis laissée tenter et j'ai été très agréablement surprise par le deuxième tome.
Tout d'abord, Zercy, le tome 2, est un vrai pavé avec plus de 500 pages sur liseuse. Le premier tome était beaucoup plus court, c'est d'ailleurs pour ça que je les ai rassemblés dans cet article. On a encore beaucoup de sexe, avec parfois des choses super bizarres, mais les scènes de sexe sont principalement entre les deux personnages principaux (à noter : il n'y a pas de tromperie ou de tierce personne dans leur relation).
Ce qui m'a étonnée ? La solidité de l'histoire et surtout la progression de la relation entre les deux personnages. On est clairement sur une attraction instantanée des deux personnages mais les sentiments n'arrivent qu'après plusieurs mois. L'autrice prend le temps de construire la confiance entre les deux personnages ce qui rend leur relation très crédible. Je vois rarement un travail aussi fin dans la création d'une relation amoureuse. Tout paraît naturel dans l'évolution de leurs sentiments. On oublie le côté érotique pour être vraiment pris dans l'histoire.
Ce tome 2 n'est pas le dernier tome de la série. Si le tome ne se finit pas réellement sur un cliffhanger, on a des indices sur les évolutions à venir pour les personnages principaux. Et ça donne très envie d'avoir la suite ! J'avais lu que l'autrice avait un blocage par rapport à la suite mais en visitant son site, j'ai vu que le tome 3 était prévu pour l'Automne 2023. S'il est du même acabit que ce tome 2, je serais définitivement au rendez-vous ! Bref, ces romans sont des lectures qui sortent vraiment de l'ordinaire, je ne le conseillerais pas comme première lecture de M/M romance mais on passe vraiment un bon moment et ça faisait longtemps que je n'avais pas lu aussi vite (2 jours) un roman aussi conséquent.
En conclusion, si le tome 1 ne vous a pas rebuté avec ces scènes de sexe (le tome 2 est plus soft), je vous invite vraiment à poursuivre la série, vous ne le regretterez pas !