Sommaire :
La version originale – Saint (Fable 0.5)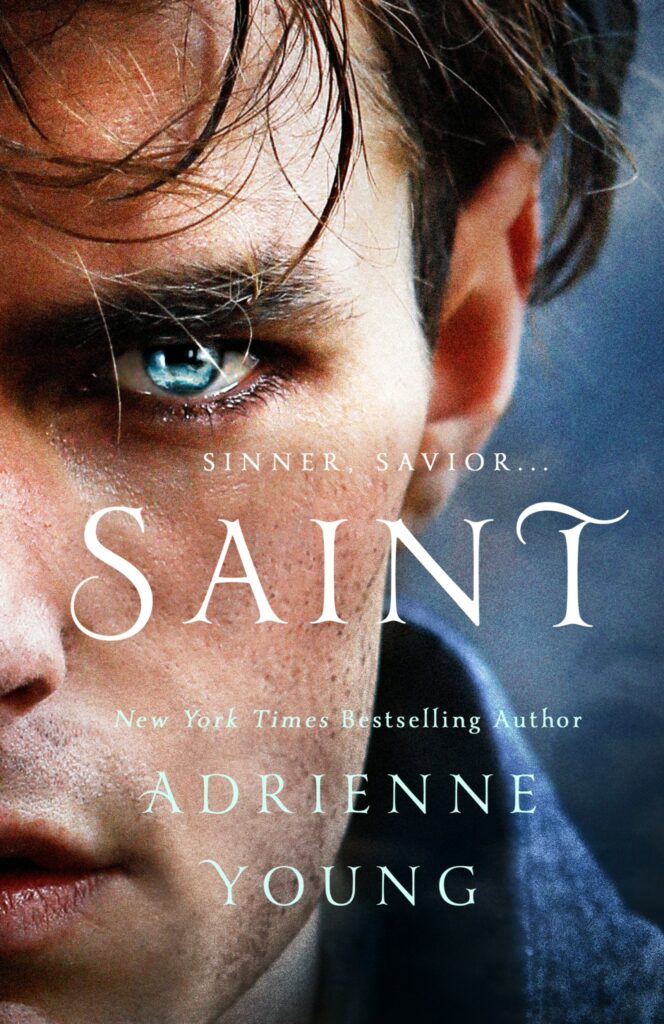 As a boy, Elias learned the hard way what happens when you don't heed the old tales.
Nine years after his lack of superstition got his father killed, he's grown into a young man of piety, with a deep reverence for the hallowed sea and her fickle favor. As stories of the fisherman's son who has managed to escape the most deadly of storms spreads from port to port, his devotion to the myths and creeds has given him the reputation of the luckiest bastard to sail the Narrows.
Now, he's mere days away from getting everything his father ever dreamed for him: a ship of his own, a crew, and a license that names him as one of the first Narrows-born traders. But when a young dredger from the Unnamed Sea with more than one secret crosses his path, Elias' faith will be tested like never before. The greater the pull he feels toward her, the farther he drifts from the things he's spent the last three years working for.
He is dangerously close to repeating his mistakes and he's seen first hand how vicious the jealous sea can be. If he's going to survive her retribution, he will have to decide which he wants more, the love of the girl who could change their shifting world, or the sacred beliefs that earned him the name that he's known for―Saint.
La version française
Ce roman n'est pas encore traduit en français.
Mon avis
★★★★★ 5/5
Avant toute chose, je tiens à dire que je suis totalement partiale sur cette review (qui par définition est de toute façon partiale) car j'adore Saint. Et je l'aime encore plus après avoir fini ce roman. C'est incontestablement le personnage que j'ai trouvé le plus fascinant et le mieux construit de toute la série Fable. J'étais beaucoup trop heureuse lorsque j'ai découvert qu'il aurait son propre roman.
Comme tous les tomes de la série, la couverture est absolument magnifique. J'ai vu qu'ils avaient sorti une nouvelle édition et je n'ai pas trop compris pourquoi, elle est bien moins réussie que la précédente.
Du côté du roman, j'ai vraiment été captée dès les premières pages du roman. J'ai commencé ma lecture en me demandant où l'autrice mettrait le curseur, j'avais un peu peur d'avoir la scène du naufrage décrite dans le roman (ce n'est pas le cas).
Très honnêtement, ce roman a un goût de trop peu. Je n'ai pas senti l'amour légendaire dont on nous parlait dans Fable. Je ne dis pas ça dans ça sous un angle négatif, le roman n'est juste pas assez long pour avoir une relation amoureuse aussi intense. On est plutôt sur l'histoire de leur rencontre et la mise en place de leur empire. Il aurait fallu un autre tome après celui-ci et avant Fable pour pouvoir aller plus loin (qui sait ?).
J'aurais adoré voir l'annonce de la grossesse d'Isolde et la naissance de Fable. Et tant que j'en suis à réclamer, j'aurais également adoré une scène de plongée, c'était mes scènes préférées dans Fable. C'était comme une bulle dans le roman.
Au fil et à mesure du livre, on apprend à connaître Saint, son amitié avec Clove, sa rencontre avec Isolde. Les personnages sont vraiment bien construits, fidèles à ce qu'on a pu connaître d'eux dans Fable et Namesake. J'ai passé un excellent moment entre les pages de ce roman. Saint est vraiment un personnage qui communique ses sentiments par des actes et non par des mots. Ce qui donne encore une toute envergure à la discussion entre lui et Fable à la fin de Namesake.
Cette lecture m'a donné envie de relire toute la série Fable ! Pour le moment, je me suis lancée dans The Last Legacy qui est présenté comme le tome 3 de la série bien qu'il cible soit centré sur la famille Roth. Je vous tiens informés de mon avancement !
---
🌊 Faut-il lire "Saint" avant ou après la série Fable ?
Le roman est présenté comme un préquel de la série donc en théorie, il devrait être lu avant Fable et Namesake. Toutefois, j'ai trouvé ça bien de le lire après avoir lu la série. Il y a tout un mythe autour du personnage de Saint et on met du temps à le connaître et à comprendre ce qui a motivé sa décision d'abandonner Fable. J'aurais donc tendance à conseiller de lire Saint après Fable et Namesake pour conserver le mystère autour de son personnage.