Sommaire :
La version originale : Roommate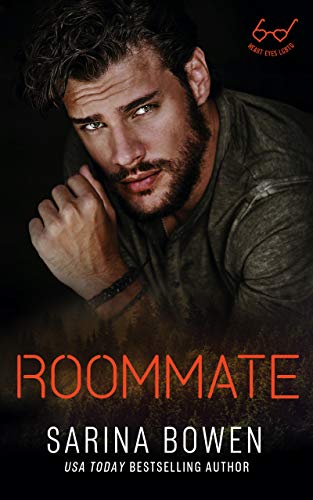 Wanted: One roommate to share a 3-bedroom house, split the rent, and ideally not be the guy I can't stop thinking about.
I'm a man with too many secrets, so the last thing I need is a new roommate with a sexy smile and blue eyes that see right through me. Eight years ago, Roderick left town after high school. We're not friends. I owe him nothing. But back then, I let one of my secrets slip, and he's the only one who noticed.
Part of me knows I should run far, far away. But the other part wants him to come upstairs and spend the night. But if I let him in, I could lose everything.
Seeking: A room to rent in town. I'm tidy, have no pets, and I will feed you homemade bread.
I should probably add: Gay AF, and has no filter. It's no wonder my new landlord is so wary of me.
A smarter man would ignore those hot glances from Kieran Shipley. The broody lumberjack wants more from me than another homemade pretzel, but if I push my luck, I'll end up back on the street.
Too bad I've never been smart with my heart… 
La version française
Ce roman n'est pas encore traduit en français.
Mon avis
★★★★ 4/5
Si c'est une MM Romance écrite ou co-écrite par Sarina Bowen, vous pouvez être sûr que je serais au rendez-vous. Je l'ai découverte avec la duologie Him, qui reste encore aujourd'hui, ma MM Romance préférée et surtout celle qui m'a initié à ce genre.
J'ai déjà lu plusieurs autres MM romances de Sarina Bowen et c'est toujours la garantie d'un bon moment même si, j'avoue, aucune n'arrive à égaler Him dans mon coeur. Qu'on se le dise sans long discours, ce ne sera pas non plus le cas de Roommate bien que j'ai passé un très bon moment. 
J'avais vraiment une affection toute particulière pour Kieran et sa personnalité introvertie. C'était un vrai plaisir de le voir s'ouvrir et s'épanouir au contact de Rod.
Ce livre n'est pas un coup de coeur pour moi à cause de la façon dont a été géré la « dispute » de fin. On connaît à peu près le déroulement des romances, il a toujours un élément perturbateur avant la résolution et le Happy Ever After.
Même si je pouvais comprendre ce fameux élément perturbateur, je trouvais que c'était mettre beaucoup de pression et pousser quelqu'un à faire son coming-out pour de mauvaises raisons. Ce n'est pas anodin et cela doit rester quelque chose de personnel et non une action qu'on fait pour faire plaisir à quelqu'un d'autre. Mais cela reste une histoire agréable à lire, que je relirais peut-être un jour (et vous allez avoir envie de faire des câlins à Kieran).
En revanche, comme toujours avec Sarina Bowen, les fins sont abruptes, bien que l'épilogue fasse une transition avec une série spin-off, Vino & Veritas, que je ne connais pas.
N'hésitez pas à me dire si vous l'avez lue et si vous jugez qu'elle vaut le coup ! Je me suis lancée dans Heated Rivalry mais je suis toujours à la recherche de nouvelles idées de lecture.
—
Ce roman peut être lu seul, à noter que vous allez croiser des personnages issus des séries Le Grand Nord et Etoiles du Nord.