Sommaire :
La version originale – Mortal Skin (Folk #1)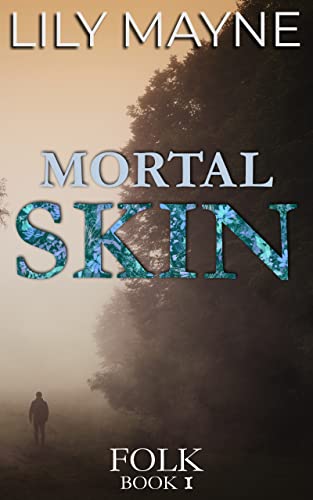 I first saw the Folk when I was a little boy. When they started appearing in my garden, with their unnatural, cruel beauty and honeyed words and veiled taunts. I grew up with big green eyes watching me from the forest. Whispers from the trees. Shimmering skin darting between the bushes. Black creatures always lurking in the shadows.
While they were here, I thought nothing of them. It wasn't until they were gone that I realise it wasn't… normal.
But it isn't until I'm twenty-one, when my life is in ruins, that they come back to take me away.
They say I'm not fully mortal. They say I should be among them. The Unseelie Ruler wants me on her land for reasons no one will explain to me, but it's her aloof, painfully beautiful son who captures my attention and refuses to let go.
The cold, black-eyed assassin prince who strikes fear into the hearts of all Folk. Who I've been warned about, repeatedly.
Who watches me always.
I don't trust the Folk, so I ignore their fearful advice to stay away from him. I ignore all of them except him, despite everything telling me that he can't be trusted—that he's just as bad as the rest of them, that he's playing games with me, the clueless mortal held here against his will.
But I want him.
La version française
Ce roman n'est pas encore traduit en français.
Mon avis
★★★★ 4,5/5
Après avoir dévoré la série Monstrous, j'ai décidé de continuer sur les romans de Lily Mayne avec la série Folk. Je ne suis pas une grande fan des histoires avec des Fae. A mon actif, je crois que je n'ai lu que les séries Acotar et Cruel Prince. Autant dire que ce n'est pas un univers que je connais bien.
Si j'avais eu deux trois soucis de compréhension en lisant Cruel Prince (qui était mon premier roman avec des Fae), je n'ai pas eu ce problème avec Mortal Skin. L'univers est assez facile à appréhender. Le seul point que j'ai du rechercher est la différence entre Seelie et Unseelie que je n'ai pas vu défini (ou alors je l'ai loupé).
On retrouve donc Ash, un jeune homme de 21 ans qui est kidnappé et emmené dans un monde de Fae, où tout le monde cherche à se jouer de tout le monde. Constamment épié, Ash ne peut faire confiance à personne car chacun cherche à défendre ses propres intérêts.
J'ai beaucoup aimé ce premier tome et particulièrement la relation amoureuse qui se crée. Ash est très seul dans ce monde dont il ne connaît pas les codes et se raccroche à ce qu'il peut. On se méfie avec lui, on cherche à deviner qui veut quoi, qui est qui. J'ai particulièrement aimé sa moitié, il est très attachant, très seul et tellement en manque d'affection. On a envie de le protéger !
Il y a de nombreux personnages secondaires intéressants. Lily Mayne a déjà parlé de faire des romans sur certains des personnages en plus de la trilogie. Je serai définitivement au rendez-vous.
Le seul bémol ? La fin. Le roman finit avec un énorme cliffhanger et j'ai trouvé que le serment prononcé à la fin sortait un peu de nulle part. Alors oui, Ash est impulsif, comme on peut le voir dans le deuxième tome, mais je ne sais pas, ça ne me paraissait pas tellement fluide dans la continuité de l'histoire. Bon après, je dis ça mais cela ne m'a pas empêché de me ruer sur le tome 2 🙃