Sommaire :
La version originale – Soul Eater (Monstrous #1)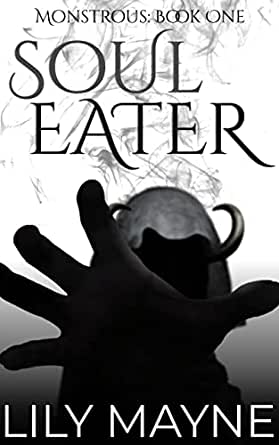 Twenty years ago, monsters rose on earth and began a new age of civilization.
One where humans live in military-controlled, cramped and dirty cities along the coasts, and the majority of the United States is known as the Wastes. A lawless, desolate and dangerous place, teeming with monsters that have claimed the land for their own.
Including Wyn the Soul Eater.
He appears every three years, making his way across the country and slaughtering humans randomly, sucking them dry until they're nothing but husks.
I've only been in the military for six months, but now I'm part of a unit tasked with trying to stop and capture him. And when I'm the only soldier out of hundreds that the Soul Eater leaves alive, I realise that… something about me has intrigued him.
But what is it? What could a twenty-three year old guy from the south, with no one and nothing in the world, have possibly done to capture the attention of a death monster with horns, blackened fingertips and a face hidden in the dark depths of his hood?
La version française
Ce roman n'est pas encore traduit en français.
Mon avis
★★★★ 4,5/5
J'ai décidé de lire ce livre car je cherchais un roman qui se rapproche un peu de Zercy. J'ai vu que Soul Eater était recommandé par Nark sur Goodreads, une lectrice qui a des lectures très similaires aux miennes. J'ai constaté après qu'il était dans ma PAL depuis Février 2022. Je me suis donc lancée !
⚠️ Trigger warning : On est sur un roman un peu plus dark que Zercy. On a des allusions à des formes de torture (voire même des scènes, bien qu'assez courtes). Il vaut mieux le savoir avant de commencer le roman.
J'ai beaucoup aimé ce livre. Il s'agit de mon premier roman par Lily Mayne et je dois dire que j'accroche vraiment à son style d'écriture. C'est dynamique, réaliste, original. La relation entre les personnages se construit lentement, ce qui la rend plus crédible. On ne tombe pas dans les péripéties faciles.
Dany est un jeune homme qui cherche des repères et qui se tourne vers l'armée par défaut. Son tempérament, doux et emphatique, n'est clairement pas compatible avec ce qu'on lui demande en tant que militaire. J'ai trouvé son personnage rafraichissant, je ne m'attendais pas à ce qu'il ait cette personnalité surtout face à un tueur présenté comme effrayant et pratiquement invincible. J'ai beaucoup aimé la façon dont on apprend à connaître Wyn, petit à petit. J'ai eu un coup de coeur pour le très court chapitre avec son point de vue qui clôt le roman.
Le seul point qui me chiffonne un peu c'est qu'on a des éléments non résolus à la fin de ce premier tome mais comme il s'agit d'une série, je me dis que c'est peut-être des points qui seront traités à posteriori. En tout cas, je vais poursuivre les tomes suivants !
J'ai vraiment passé un excellent moment avec eux et j'ai hâte de les recroiser dans les tomes d'après.