Sommaire :
La version originale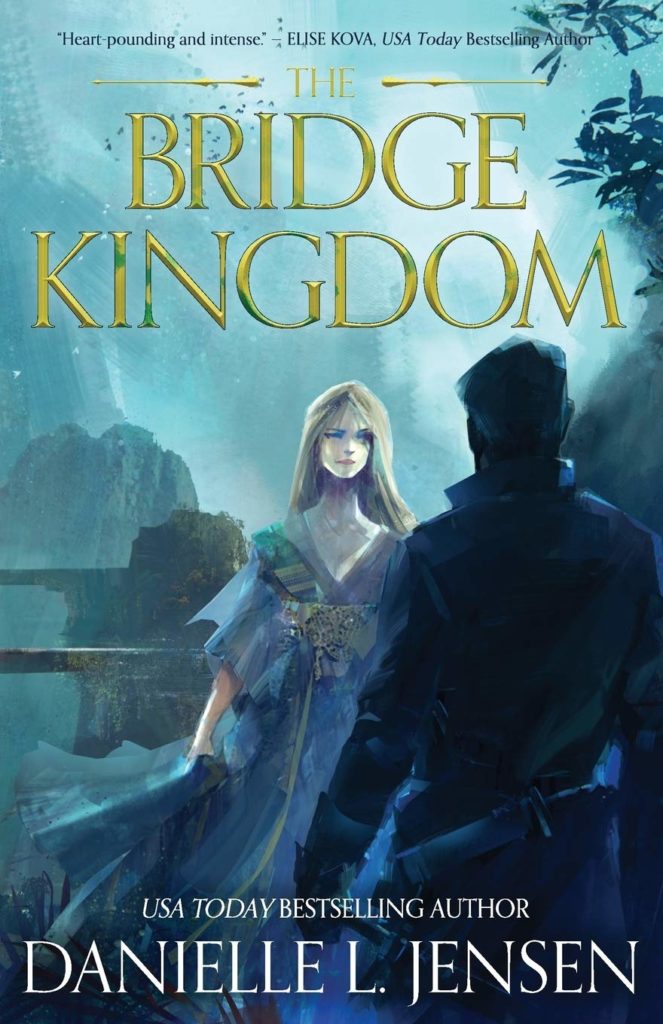 A warrior princess trained in isolation, Lara is driven by two certainties. The first is that King Aren of the Bridge Kingdom is her enemy. And the second is that she'll be the one to bring him to his knees.
The only route through a storm-ravaged world, the Bridge Kingdom enriches itself and deprives its rivals, including Lara's homeland. So when she's sent as a bride under the guise of peace, Lara is prepared to do whatever it takes to fracture its impenetrable defenses. And the defenses of its king.
Yet as she infiltrates her new home and gains a deeper understanding of the war to possess the bridge, Lara begins to question whether she's the hero or the villain. And as her feelings for Aren transform from frosty hostility to fierce passion, Lara must choose which kingdom she'll save… and which kingdom she'll destroy.
La version française
A ma connaissance, ce roman n'a pas encore été traduit en français. N'hésitez pas à m'indiquer en commentaire s'il est disponible, j'actualiserai l'article !
Mon avis
Did Not Finish (DNF) – ★ 1/5
La promesse du livre n'était pas sans rappeler le livre The Book of Ivy que j'avais vraiment beaucoup aimé. Je me suis donc lancée avec beaucoup d'enthousiasme dans cette histoire surtout que les notes affichées sur Goodreads étaient supérieures à 4/5 et là… Déception.
Tout d'abord, le langage employé m'a paru très déplacé de prime abord.
Je m'explique : on arrive dans un univers alternatif, un royaume inconnu régi par des règles « à l'ancienne » et tous les personnes sont ancrées dans cet espace temps jusqu'à l'entrée d'Aren. Et là, on se retrouve avec un personnage beaucoup trop moderne pour être crédible. La façon dont l'un comme l'autre s'exprime a cassé un peu mon immersion dans l'histoire.
Ensuite, le cheminement des deux personnages principaux et leurs décisions respectives au fil de l'histoire n'ont parfois aucun sens. Je retrouve ici les défauts que je peux reprocher parfois aux romans Young Adult. Ici, l'auteur a voulu créer une tension entre les deux personnages que je n'ai pas réussi à capter. L'héroïne prend des décisions qui ne sont pas du tout en accord avec sa personnalité, son histoire.
Au fil de l'histoire, je me suis trouvée quelque peu frustrée et je commençais à être énervée envers le personnage de Lara. C'est à ce moment là que je me suis aperçue que je n'étais « qu'à » 45% du livre… Je m'ennuyais.
Très honnêtement, j'ai été déçue, je suis à la moitié du livre, les deux personnages n'ont interagi seul à seul que 3 ou 4 fois et déjà leur relation change alors qu'ils devraient normalement être plus que méfiants l'un envers l'autre.
L'auteur veut tellement garder de secrets sur l'univers qu'il manque cruellement de fondations, on s'en sent complètement détaché.
Bref, je ne suis pas le genre de lectrice à être découragée par un nombre de pages, mais compte tenu de mon agacement envers l'héroïne et de mes problèmes à me mettre dans l'histoire, je crois que ce livre sera un DNF pour moi et c'est bien dommage, il avait l'air d'avoir tous les bons ingrédients… Pour moi, on est plus sur une fanfiction qu'un roman (mais encore faudrait-il connaître l'univers pour pouvoir s'y immerger).
Cela étant, le livre a de bonnes notes, peut-être que vous saurez l'apprécier, je suis plus l'exception que la règle mais en tout cas, ce sera un DNF pour moi…